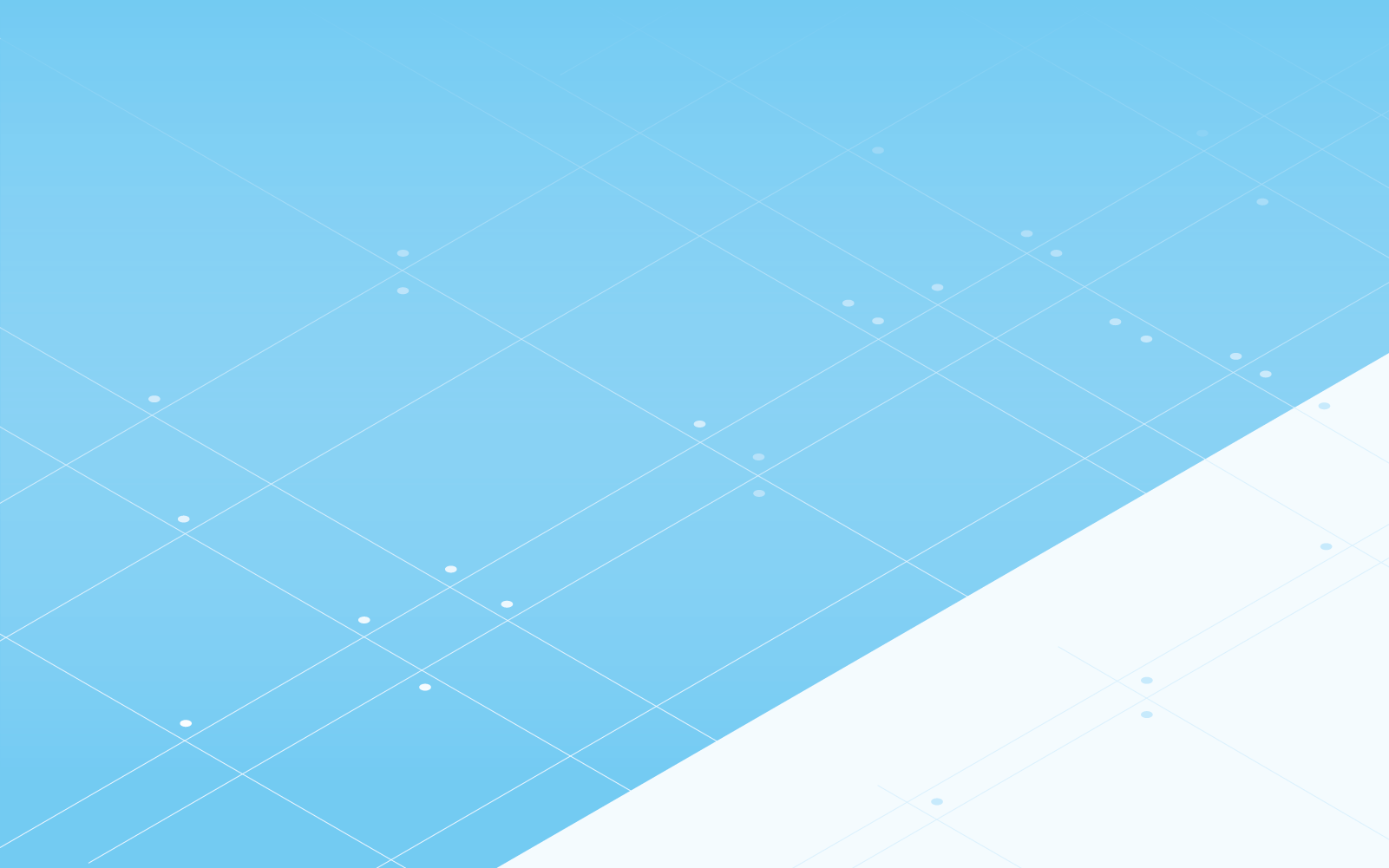 Keeping teachers at the head of the class
Mount Royal's collaborative model for its Bachelor of Education — Elementary is being copied around the country.
For all the talk of problems facing public education — overcrowded classrooms, outdated curriculum, crumbling infrastructure — there's a significant challenge that's often left out of the conversation: the teacher attrition rate.
Approximately 40 per cent of beginning teachers leave the profession within five years and 25 per cent of graduates from Alberta post-secondary institutions did not assume teaching positions in the province, according to 2010 statistics from the Alberta Teachers' Association. The extended integrated practicum in Mount Royal's Bachelor of Education — Elementary (BEd) program is tackling those troubling numbers by graduating experienced and resilient alumni.
"It's shocking. It's a huge concern for everyone," says Kevin O'Connor, PhD, associate professor and department chair. The opportunity to help build the University's new teacher education curriculum from scratch brought O'Connor to Mount Royal from the University of Ottawa in 2012 as MRU launched the degree.
BEd students are in the classroom in the very first semester of their very first year. O'Connor and Professor Gladys Sterenberg, PhD, have built numerous in-school field experiences into the program through internal and external research funds. The "heart and soul" of the direct entry BEd is a capstone 14-week integrated practicum completed in the fourth year and supported by unique school collaborations.
"We've tried to create an experience for our students where they're almost mimicking their first semester as a new teacher, and we're giving them the supports while they're in the field," O'Connor says of the perseverance-building practicum. "And the supports are not only at the school level, but also at the University. There's a (Mount Royal) supervisor, the mentor teacher, the cohort of students. The experience really gives them the confidence, the identity to get through those tough first couple of years (as a teacher)."
Teaching can be demanding, exhausting work, mentally and emotionally. It doesn't start with the first bell of the day and it doesn't end when the kids rush out at the last bell. Did this student really understand today's lesson? Does that student have an undiagnosed learning disability? Does the class have a sense of community and caring? Are all the lesson plans and paperwork done for the day? It can all take its toll.
In the fourth-year practicum students live that new career.
"By week six, I usually start the seminar with a box of tissues. I put it down at the start of the meeting and everybody sort of unloads. I hear, 'Oh, I can't do this. It's so hard. Nobody said it would be 12-hour days,'" O'Connor says. "On the other hand, I would say the majority — if not all — of the teacher-candidates by the end of those 14 weeks of the practicum are saying, 'What an amazing experience!' And they're talking like 'Mr.' or 'Ms.' teacher now.
"They've become teachers."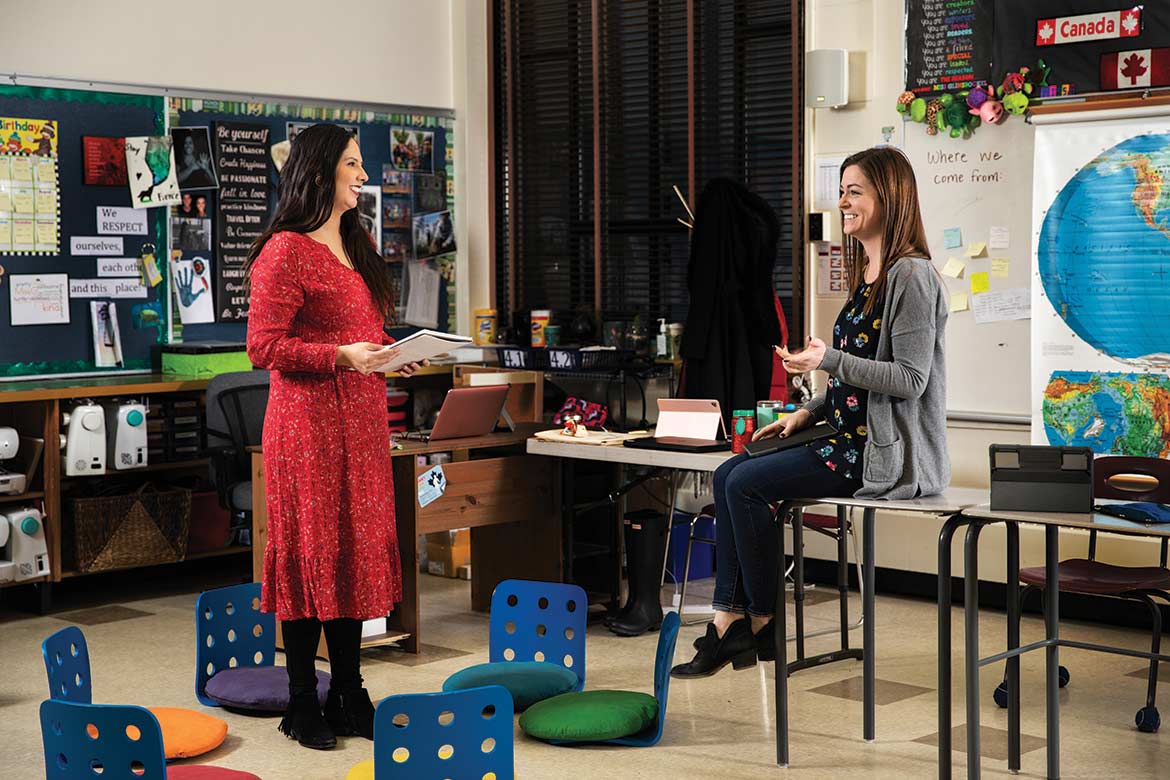 Nikkole Heavy Shields (left) and Brittney Glinsbockel at Connect Charter School
Building a better teacher
Mount Royal's program is built around academic disciplines including indigenization, extended field experiences, in-school seminars and an integrated practicum. Back in 2012, O'Connor and Sterenberg started building relationships with partner schools, one of the signature pedagogies of the newly created degree program. They reached out to four principals who were open to innovation and told them to dream big.
"We asked them, 'What would the ideal teacher education program look like? What would you like to see, not only from a program perspective, but from a student-graduate-teacher perspective? And how would you like to be involved in that process?'" O'Connor says.
"What would the ideal teacher education program look like? What would you like to see, not only from a program perspective, but from a student-graduate-teacher perspective? And how would you like to be involved in that process?"
— Kevin O'Connor, chair, Department of Education
Mount Royal also formed partnerships with school boards and organizations including Tim Hortons, Telus Spark and the Ann and Sandy Cross Conservation Area.
"With that synergy and those partnership meetings and deliberations, we started to develop an innovative, community-based program. It really came down to how do we merge coursework with practical experience?"
In their fourth year, rather than taking courses that are compacted to fit in before the in-school practicum, students are taught at their practicum schools throughout the semester. There are readings and online forums, all overseen by a faculty supervisor. In-school seminars see the teacher candidates, mentor teachers and school principals meet face-to-face to discuss that week's topic and make invaluable theory-practice connections.
Those face-to-face seminars are often the scene of "a-ha!" moments when students tie theory to what is taking place in their classroom. It's not always in the moment, but they can relate what the group has been talking about — whether it's a concept, chapter from a textbook or a fellow teacher candidate's in-class experience — to their own teaching.
"That's something that we think better places them in their practice," O'Connor explains.
What started as a pilot project with four schools has grown into a success story that has school boards knocking on Mount Royal's door to sign on and recruit graduates.
Follow the leader
Heavy Shields, a member of the Kainai Nation from the Blood Reserve, grew up in Calgary. She graduated from Father Lacombe High School and was the 2009 Calgary Stampede Indian Princess. While members of her extended family are teachers, Heavy Shields initially wanted to get into social work. She has a background in working with urban Indigenous youth, but shifted her career focus as she felt she could have a greater impact as a teacher.
"I really feel that at Mount Royal, they put us at the forefront of current education pedagogy, such as inquiry," Heavy Shields says. "They encourage us to take this model of inquiry learning and to go where it leads us. They really prepped us. Even in year one, we were in the classroom right away."
Inquiry-based learning is active learning that poses questions, problems or scenarios to the learner rather than just presenting established facts.
It's not just the teacher candidates who spend time in elementary school classrooms. Every full-time Mount Royal faculty member has to supervise a practicum. "From a personal standpoint, I believe that I am a better teacher by being connected to the schools," O'Connor says.
Another innovation has seen a teacher from Connect Charter School taking on a sessional position at Mount Royal. She recently led the Teaching Science course for third-year Mount Royal education students as part of an integrated STEAM (science, technology, engineering, arts and mathematics) semester.
"She's here sharing her experience, but then also bringing her grades 4 to 9 students with her. Then we're able to provide support the other way to Connect," O'Connor says. "It's a really nice mix, too, where our student teachers and their students are coming back and forth to different environments. Everyone is talking and sharing. It's been a win-win in all cases."
The Mount Royal arrangement is based on the Professional Development School model, in which schools, school boards and universities have memoranda of understanding to share resources. For example, a university might have two professors who work part-time in schools, while a school might send a teacher to the university to work on assessments. It's one of the original initiatives that makes the BEd program stand out. And school boards are noticing.
"At many institutions, there is a struggle to find placements. We don't struggle with that. We are very fortunate as we have our partner schools and school boards knocking on our door and saying, 'Can we have your students train with us?' " O'Connor says. That demand for Mount Royal-trained teachers carries over to employment. The program graduates approximately 90 students a year, with 80 to 85 per cent employment in the first year, which is high.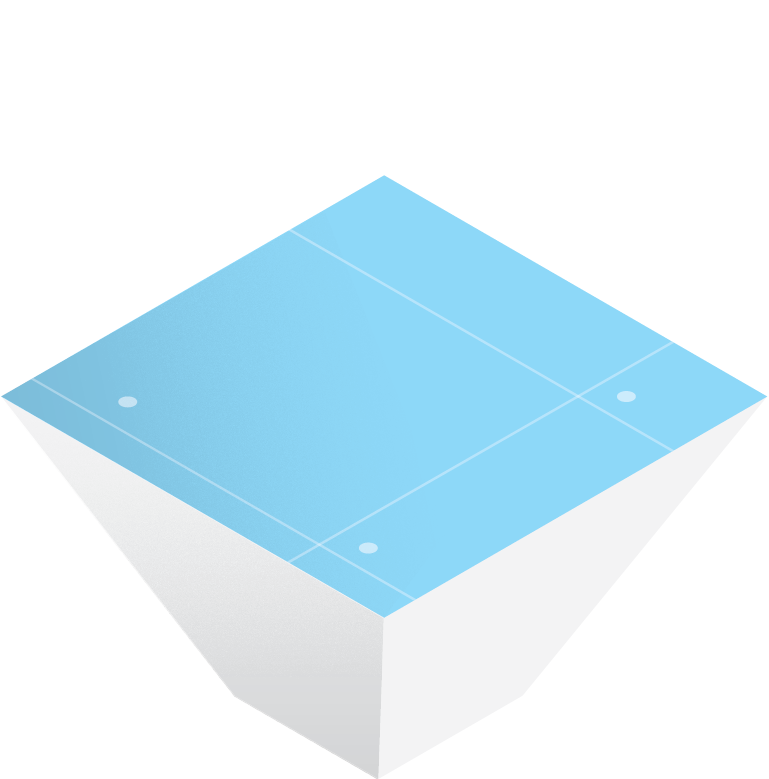 Granting the ability to learn
In 2014, O'Connor and Sterenberg received a five-year programmatic Social Science and Humanities Research Council grant just as Mount Royal began granting degrees. At the time, the $215,990 research grant was the largest the University had ever received.
"Every year for the past five years, we've researched those signature pedagogies, including the 14-week integrated practicum, in-school seminars, cross-curricular integration and indigenization. What we did is we followed a cohort throughout the four-year program, getting their feedback and experience of the impact of these signature pedagogies, and then continued to follow them into their first year of teaching," O'Connor says.
That cohort is now in their second year of their profession. O'Connor says the BEd is using those six years of observation to improve the program and understand how their methods have impacted the students-now-teachers' development. "So, what happened? What worked? What didn't?"
On the practical side, the research has already paid off. The constant feedback loop has led to changes including a redesigned professional learning plan and shifting courses to create themed semesters, such as STEAM, during which science, technology, engineering, visual arts and math are taught in an integrated manner.
Although the BEd is relatively new, graduates of the program are making their mark in the field. All because of a commitment to always learn from each other.
Read more Summit
Future-proofing the next generation
How to inspire brains bombarded by tech-enabled stimulation.
READ MORE