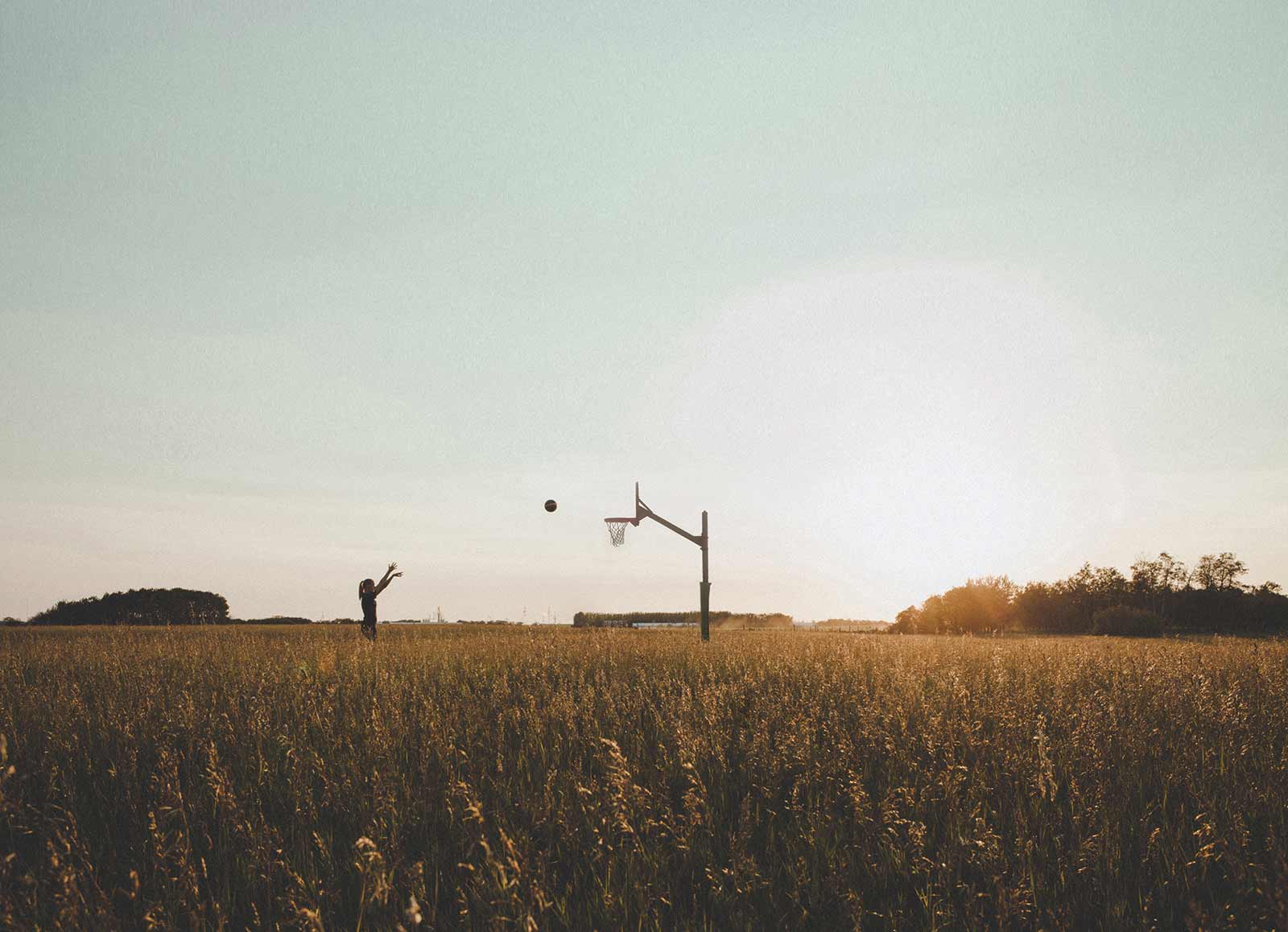 Student athletes donning Cougar blue on the pitch, hardwood or ice must adhere to challenging academic standards combined with their athletic commitments. Teams show up at the beginning of each season ready to compete, but many people don't realize that cultivating a Cougars team starts long before the first whistle is blown. Just who are these fresh-faced athletes, and how did they end up at Mount Royal?
Playing in a premier post-secondary sporting landscape is difficult. And finding the right student athletes that meet Mount Royal University's athletic and academic requirements can be just as hard.
Karla Karch, director of Cougars Athletics and Recreation at Mount Royal University, describes student athletes representing the Cougars as those who have a strong desire to excel in all areas while also being well-rounded citizens.
"They know that being a member of a varsity program is a privilege and honour that is not to be taken lightly," Karch says.
But how exactly do they get here?
According to Karch, the process often takes years to unfold. Potentials can be identified as early as Grade 9.
"This process is ongoing; there is no downtime in a given year. This is because athletes are training all year-round."
With eight varsity teams competing in four sports, the Cougars' success in U Sports' Canada West conference has raised their status from new kids on the block to a desired destination for student athletes.
"Our varsity programs have current and potential recruits from our own backyard of Calgary to all over the world. We have student athletes from the city, province and other parts of Canada, to our internationals from Spain, Australia, the U.S. and Ukraine," says Karch.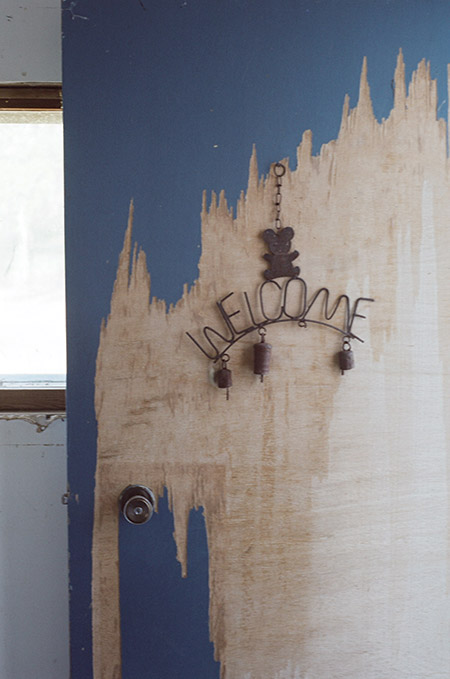 "Each program has its own identity that merges with the identity of the department and our school. The student athletes are a true reflection of who we are."
Last fall, Mount Royal's women's basketball coach Nate McKibbon waited for his inbox to refresh with news of next season's roster while one of his top recruits found herself unavoidably occupied. Autumn is baling season in Vanscoy, Sask.
This fall, McKibbon will have five freshmen committed to his side, including Sydney Tabin, a pure athlete who leaves rural Saskatchewan with grades in the high 90s. The 6-1 shooting guard likes to play on the perimeter, but because of her height, she can defend post as well as wing.
"We identified Sydney in July 2016, saw her play on tape and then went to the U-17 National Championships in Regina. There, we talked to her and her family for the first time," says McKibbon, who arrived on campus in June 2015 via the basketball hotbed of Ontario, where he worked at McMaster University and with Ontario Basketball.
"Even if you are not formally recruiting, you have to still have potential athletes identified early. That way you can start building relationships and begin telling them about Mount Royal. It is not uncommon to have recruiting lists that go back all the way to grades 9 and 10."
When the Tabins first met McKibbon, Sydney was playing for Basketball Saskatchewan, as well as her local club and high-school squad. After visiting MRU, Sydney liked what she saw, but kept her options open. She was being courted by a number of schools, including Laurentian University, where her twin sister ultimately chose to take her basketball talents.
McKibbon and his staff approached the family, beginning to lay out what Mount Royal could offer. The Tabins agreed to come to campus during Thanksgiving, when the Cougars hosted a preseason tournament.
For Sydney's father, Kent, the decision to allow his daughter to head six hours west was an easy one.
"Really it was up to Syd and what suits her. It came down to her needs and goals," Kent says. "We had some input, we did some research, but when we met Nate, it felt meant to be."
Calgary and Mount Royal are not unknown to Kent and Val. In 1995, not long before the pair got engaged, they considered moving to Calgary. Val had her pilot's licence and explored the option of enrolling in Mount Royal's Aviation program. Now an EMT in Saskatoon, Val is comfortable with her daughter leaving home, knowing Sydney will be a valuable and respected member of the Mount Royal community.
"It's more about the people than anything else (at Mount Royal)," Val says. "There is an attention to detail that is noticeable, but might get overlooked unless you compare it with other universities and colleges. I believe this stems from the intent to be professional, and yet personable."
Kent, a member of the Saskatoon Fire Department, noticed the strong focus and connection among McKibbon's team members.
"You can tell Nate has a vision. When they came to the U of S, (it was) watching these girls and their athletic ability, combined with us getting to spend some time with them after, and noticing the way they had bonded," Kent says. "It's an extension; you can feel that there are a lot of great things about this team."
For McKibbon, building a championship team requires bringing in quality people.
"We make sure that recruits fit the team by doing our research. We try and identify coaches, athletes and administrators that have some connection to potential recruits and get a sense of what they are like as people," McKibbon says.
With two strong recruiting classes under his belt, this season marks the first time McKibbon's roster won't have any players remaining from before his arrival.
"We have all the potential in the world. We need to continue to find people who buy into our vision for the future, and we have made some major strides in the two years I have been here, both academically and athletically."
Carving out a future in hockey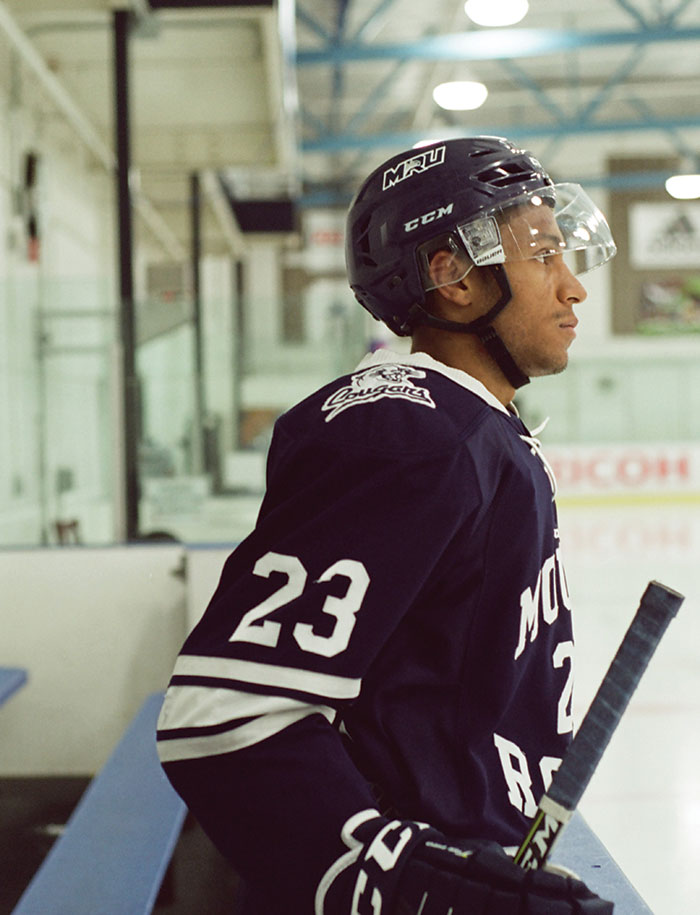 After wrapping up his career in the Western Hockey League (WHL), Jamal Watson had a multitude of options.
A veteran of 328 WHL games, it was the first time Watson had to make a decision about where he wanted to play hockey. Ever.
"In junior hockey, you are getting told where to play. If you get traded, you have no say. This was the first time I had the opportunity to say where I wanted to go," says Watson, a former captain of the Lethbridge Hurricanes and Hockey Calgary standout.
Head coach Bert Gilling pushed for Watson to bring his skills to Mount Royal. Since arriving on campus in 2014, Gilling has helped compile a 98-31-4 record. He was named Coach of the Year for Canada West men's hockey following two seasons with the Cougars.
"On the men's hockey side, there are 35 (U Sports) teams, (with) eight in Canada West. We are all trying to bring in the best student athletes. Nationally, it's very competitive for the top players," says Gilling, formerly an assistant coach with Bemidji State University in Minnesota in the National Collegiate Athletic Association.
The recruiting process starts with a massive pool of potential players. Gilling and his staff collect information on each before beginning to establish a relationship.
Midway through October, WHL teams are allowed only three 20-year-olds on their roster; the rest of the team must be age 15 to 19. In November, the contact information for players who might be cut is shared with U Sport clubs.
"We are generally recruiting the 20-year-old graduating from major junior, primarily focused in Western Canada," Gilling says. "We try to identify who the local area players are, because at some point you have to be able to thin out all (the choices)."
When it came to courting Watson, Gilling didn't waste any time. The two-time 20-goal scorer recalls being contacted around game 60 of his fifth and final WHL season.
"I got a call from Bert in February asking me what my plans were. Of course, at the time I didn't tell him I planned on going to university," says Watson, who had attended main camp with the Montreal Canadiens a year earlier.
With his junior career officially completed, Watson headed back to Calgary. Gilling reached out again.
"Not two days later, Bert phoned me and asked if I could come for a tour," Watson says with a chuckle.
He quickly obliged. Watson was shown the rink and the training facility. Gilling even introduced the rugged right-winger to faculty members in the departments he was interested in. Watson admits he was intrigued, but he also fielded calls from other institutions.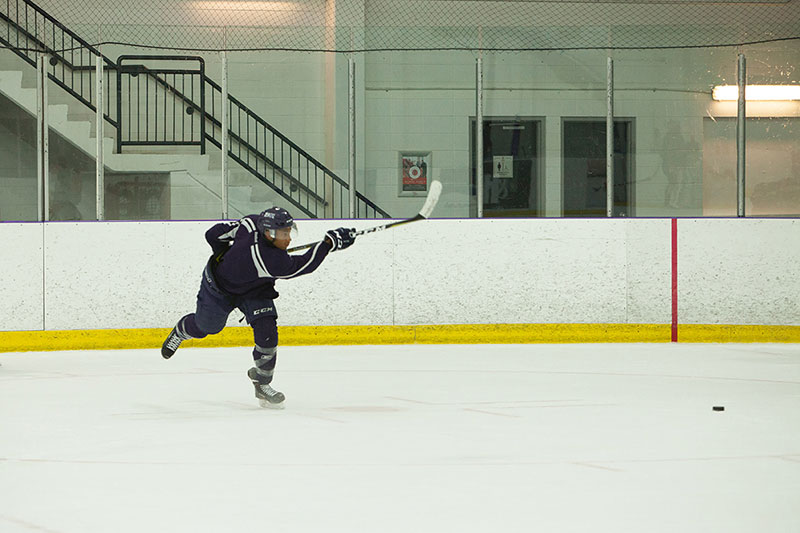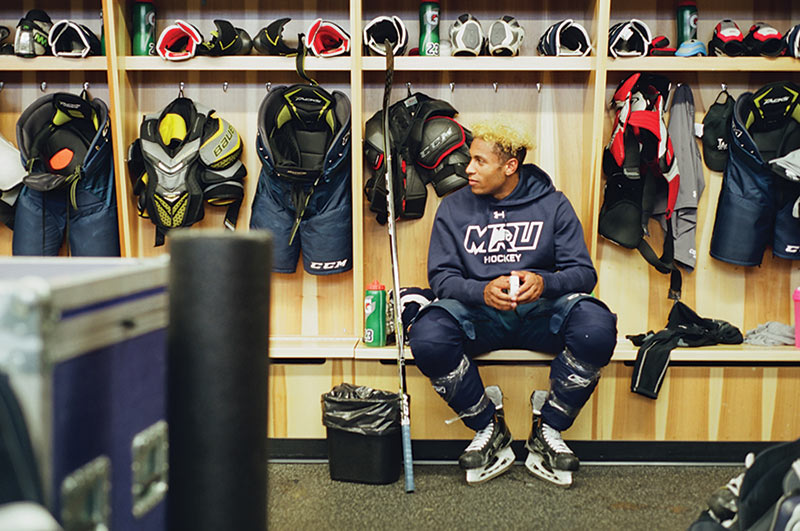 As someone who has helped develop several future NHL players, Gilling says he aims to recruit student athletes who want to keep playing at the highest level. The dream to play pro hockey is still very much alive in his locker room.
"Having alumni like Tyler Fiddler and Cody Cartier go to Europe and, most recently, Cam Maclise going from our program to the Colorado Eagles and helping them win their first-ever championship, the proof is in the pudding now. We're only three years into it, but this development stream is having an effect."
With his first year of Cougars university hockey on his resume, Watson picked up 23 points in 28 regular season games to go along with his All-Rookie Team nod for Canada West. Now a core part of the Cougars as they aspire to bring that first elusive U Sport championship to Mount Royal, Watson remains vital on — and off — the ice.
"Peer-to-peer recruiting is a huge part of what we do here. In Alberta, there are four schools to pick from, so it's very competitive. Right here in the city we have the University of Calgary right up the highway," says Gilling.
Watson continues to help build the Cougars' legacy by lending a hand in convincing the next crop of elite prospects to choose Mount Royal blue. For this upcoming season, Watson has helped secure the services of Kord Pankewicz, a former standout with the Lethbridge Hurricanes.
"I told him my honest opinion. It's been very interesting to see the amount of impact we have on recruits. The identity of your team is the identity of the players and we take pride in that," says Watson.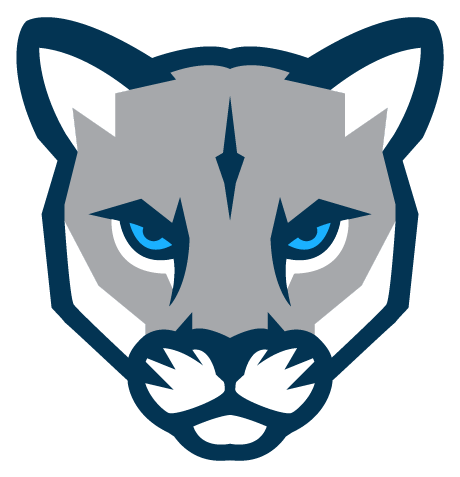 Rebranding the cougars
When Cougar Athletics first approached Mount Royal University Marketing and Communications to take part in a brand assessment, there was understandably a mix of trepidation and excitement. Messing with school history in the form of a logo redesign can be a touchy task for even the most daring of creative teams.
It had been nearly a decade since the Cougars brand was last evaluated, and the gymnasium floor (which displays the logo) also needed an overhaul. The timing was right for the brand committee to take a long look at the past, present and future of the Cougars.
Knowing it was important to earn buy-in up front, the team started with focus groups in the fall of 2016. As they delved into the conversations, it became clear that students and employees wanted the Cougars brand to be more connected to the institution. They also wanted to feel more connected to the Cougars. The community was looking for a mark that could be more inclusive across campus — shared by everyone invested in the success of MRU and its students.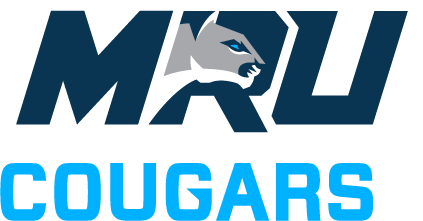 The brand team was inspired not only by Mount Royal's own history — where the Cougars first appeared as a football team in 1960 — but also by storied Canadian and National College Athletic Association (NCAA) institutions. Throughout the design phase, descriptors such as "fierce," "intense," "determined" and "focused" were repeated. Each is a hallmark of not only an athlete preparing for competition, but also a student aiming to ace a challenging course or assignment.
The hard work has already paid off. Members of the Mount Royal community registered in overwhelming numbers that they would be proud to wear the new face of the Cougars. Karla Karch, director of Cougars Athletics and Recreation, says she's "heard from a number of student athletes how excited and proud they are to wear the new brand and represent MRU while they compete across Canada."
The new look, new logo and new brand were launched at a public event on campus on Aug. 25. President David Docherty remarked, "It is for all of us. Together, we can share in this campus spirit, because together, we are the Cougars.
Read more Summit
Rapid momentum
Four years into their new conference status, the Cougars are beginning to take a major bite out of the competition.
READ MORE