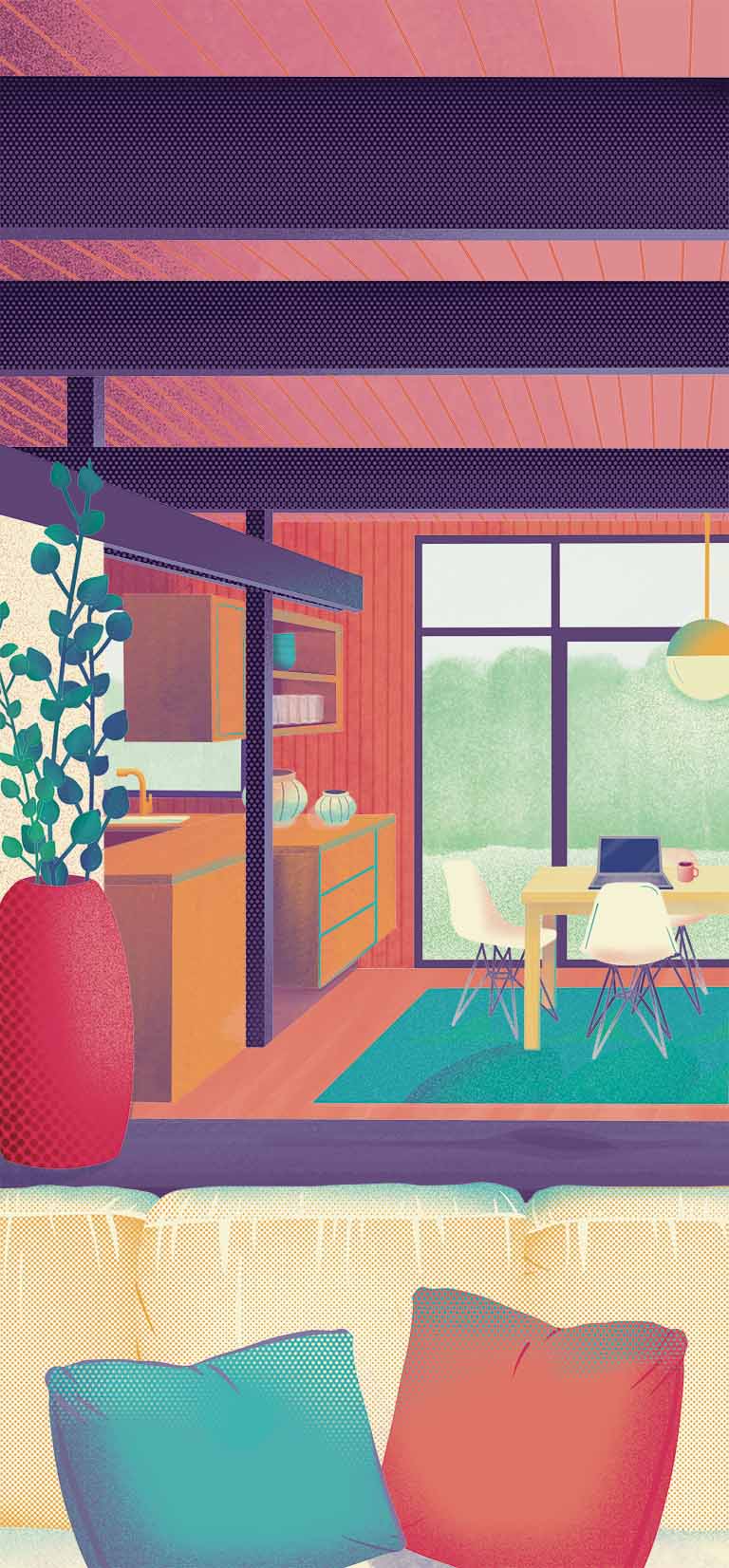 Fall/Winter 2021 issue
Creating a sanctuary through the art — and science — of interior design.
For avid bakers, an ideal kitchen would likely include acres of countertops (with a marble insert for pastry work, naturally), double wall ovens and counter-height storage for heavy items such as a stand mixer. Put a baking enthusiast in a kitchen with zero counter space, a tiny oven and no storage for cake pans, rolling pins and specialized ingredients, and you'll have a cranky cookie maker. Creating a positive indoor environment is dependent on designing the space to support what the end user wants to do in it.
As British interior designer and author Ilse Crawford says in the Netflix series Abstract: The Art of Design, "We spend 87 per cent of our lives inside buildings. How they are designed really affects how we feel, how we behave … ultimately, design is a tool to enhance our humanity. It's a frame for life." Her people-centred approach includes the tenet that "Empathy is a cornerstone of design."
Putting themselves in the shoes of clients to truly understand their needs is central to student learning in Mount Royal University's Bachelor of Interior Design program, says Associate Professor and alumnus Alan Antioquia. The profound impact our environment can have on our mental well-being has been really brought home during the COVID-19 pandemic, he says.
"Designed spaces affect how we feel and function in them. When I started working from home, I was facing a window and found myself daydreaming. I turned my desk 90 degrees so I looked at a white wall. It's much less distracting for me," Antioquia says, noting he also had to buy a larger desk. "It was about, 'Where does my notebook go? How much surface do I need on either side of the monitor?' For good design, it's all about supporting how people use their interior space."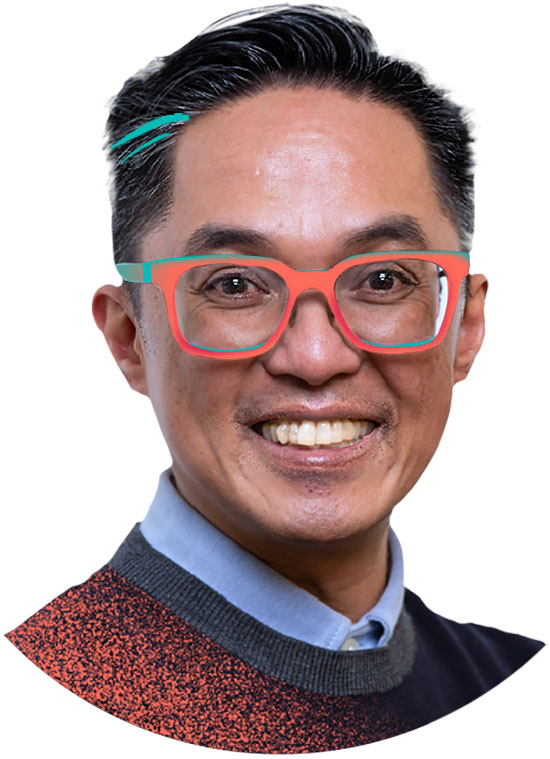 Alan Antioquia
While Mount Royal students learn "good design" in terms of standard applications — the comfortable height of a doorknob, sink and countertop, for example — what suits one person doesn't always work for another. (Antioquia's sister, for example, is five-foot-even, so he designed her kitchen with countertops an inch lower than the standard three-foot placement.)
Interior designers are taught to focus on "user experience." For example, first-year students at MRU create dioramas and then adjust the ceiling, wall or floor plane to result in various interiors. Then, they reflect on how the change affects the experience. Students also visit various areas of campus to gauge their emotional reactions in different spaces. These practical exercises foster a deeper understanding of how interior environments affect the people in them.

Building better moods
In addition to understanding the science behind colours — blue is calming and can help reset an off-balance circadian rhythm, for instance, while red is an energizing colour that can intensify negative emotions — it's also important to consider reactions to the objects in a space. Emotional design, as proposed by Dr. Donald Norman, PhD, of the University of California, San Diego, says that people go through three stages in terms of how they feel about an object: an initial instinctive reaction, followed by a behavioural response based on using the object, and lastly a reflective response.
The incredibly personal nature of interior design is what led Mount Royal alumna Carolyn Reid, who graduated with a Bachelor of Applied Interior Design in 2010, to found hex + o design studio in 2018.
"As interior designers, we can encourage those feelings and emotions in the built environment without people necessarily being conscious of why they are experiencing them," Reid says. For example, a busy floor pattern creates more energy and can direct traffic flow. Although well-suited to the lobby of a commercial building, the same material can create anxiety in a residential kitchen. "A well-designed space improves our relationship with that environment," Reid says. If you know what the user experience is going to be, more positive energy is generated.
Reid was once hired by a client who had moved into a new home, but then said, "This doesn't feel like me." Because there wasn't money for a renovation, Reid countered her client's negative emotional reaction with colour and texture. "It was understanding what her style is, what makes her feel happy," she says. "In this case, I created positive emotions by bringing in items to mirror her style. A favourite sectional was dressed up with bold, graphic pillows and I created a gallery wall."
Layering lighting, colouring, textures and natural elements can also transform a space. Popping a plant or two into the office environment can pay off as well, studies have shown. "Work performed under the natural influence of ornamental plants is normally of higher quality and completed with a much higher accuracy rate than work done in environments devoid of nature," according to "Health and well-being benefits of plants," an online article published by the Texas A&M AgriLife Extension Service.
If you want a space to be used for a specific purpose, using persuasive design can lead people to conduct activities in a built environment. Placing seating so people are face-to-face rather than side-by-side in rows facilitates conversation and collaboration, for example. A round dining table not only promotes conversation among all users, its organic shape is more soothing than a sharp-edged rectangle. Knowing what you want to achieve in a room is three-quarters of the battle, Reid says. "If there is no sense of purpose in a room, I feel the user will have a negative experience in that space.
"For example, if a bedroom has bold colours and competing patterns, naturally the user will feel anxious and/or energetic, rather than the calm, relaxing feeling you want." Layering in lighting, relaxing colours, soft textures and natural elements will create a soothing atmosphere that promotes rest.

The future is making the most of it all
The pandemic changed how people use and view their personal spaces, Antioquia says. Formal dining areas, for example, quickly switched roles to become home offices and homework stations. Before COVID-19, that space was likely reserved for one function that might have taken place seven hours a week, if that. Now, people are looking to make the most out of the square footage they have. Maybe the dining area is an office on weekdays, then the laptop and papers are put away in the sideboard when it's time to eat. After dinner, the space is repurposed for games, arts, crafts, what have you. People want — and need — flexibility in their interior spaces, not rigidity, Antioquia says.
"As interior designers, we can encourage those feelings and emotions in the built environment without people necessarily being conscious of why they are experiencing them."
— Carolyn Reid
Bachelor of Applied Interior Design, 2010
"I think we are heading more into one aspect of sustainable design. In order to reduce the size of spaces we occupy in our environment, spaces should be used multiple times in multiple ways. Adaptability of space is a trend in smaller compact condos, as well. Walls can move to adapt to the function you need at the time, or can be more of a screen to act as a soft divider. These create different spatial experiences."
Get to your comfort zone
You can make a big impact in your living space on a small budget, Reid says. "It can be as simple as artwork and family photos on the wall. Graphically, these can really change the look of a space, but they also bring about positive emotions."
Key to achieving a space that works is understanding how you will be using the area and what elements make you feel happy. In love with the tropics? Create an island getaway-inspired study with touches of turquoise accent pieces, a driftwood-base side table and a big-box bookcase with a palm leaf wallpapered back panel for storage. Layer colour, personal artifacts, natural elements, light and textures to create a space that speaks to you.
Also, be open to changing up your spaces, especially if they are small, to reflect how you use them throughout the year. For example, in the spring, Antioquia moves the furniture in his living room to provide greater access to the patio doors. Come late fall, the furniture is rearranged into a cosier layout that maximizes the view of the outdoors. When it comes to your home, prioritizing what is important to you is always the best place to start.
Reach out
It's impossible to be happy all the time, of course, but everyone deserves to feel good about themselves. Connections help. Reach out to your alumni family.
If you feel like you are needing a bit more support for your happiness and mental wellbeing, there are resources available to you.
View resources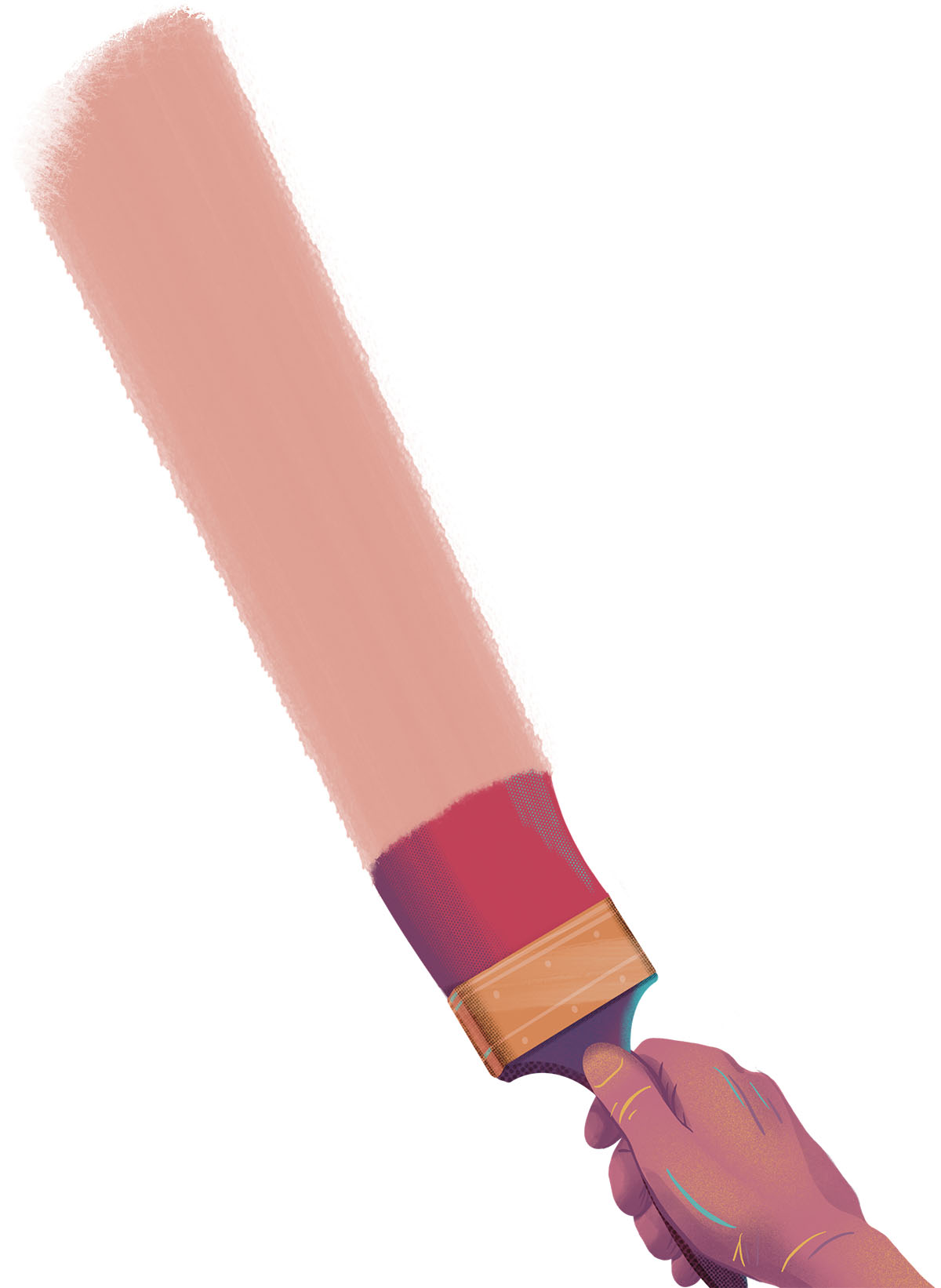 Read more Summit
The contented classroom
These three MRU courses have happiness at their core through a focus on escape, resilience and therapy.
READ MORE