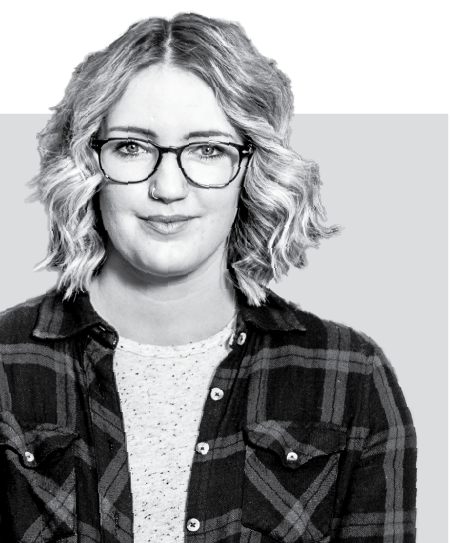 A human connection
Spring 2016 issue
Day after day, I wander through the halls that witness my academic journey as a Mount Royal University student. Making note of little more than the screen in my hand, I walk from one class to another, staring at my phone, replying to unanswered text messages and ensuring that I am up to speed on the well-being of everyone — friends and strangers alike.
It seems more and more the norm is that our connections are stored in the palms of our hands.
Rather than making personal bonds, we increasingly resort to screening the social media profiles of our peers to learn more about them. I myself am guilty of this. I have roamed Mount Royal's halls for several years, feeling linked to my classmates through social media, but often seeking a deeper connection than what 140 characters on Twitter, or a snapshot of life on Instagram, could ever supply.
"This culture of silence that we have created makes us crave authenticity," says Caroline McDonald-Harker, PhD, professor in the Department of Sociology and Anthropology. "We gravitate toward stories or people that normalize our own experiences — this is why initiatives such as Humans of Mount Royal University (HOMRU) and the Living Library are so important."
— Caroline McDonald-Harker, PhD, Department of Sociology and Anthropology
HOMRU and the Living Library are initiatives facilitated by the Department of Diversity and Human Rights. Inspired by the popular Instagram and Facebook page Humans of New York, HOMRU provides a platform for the Mount Royal community to share their unique stories — either publicly or anonymously — on social media. The Living Library is literally a repository of cool folks one can sign out like a book and chat with.
When McDonald-Harker describes society's craving for "authenticity" over social media, she is essentially referring to what the experts call "pseudo-connectivity."
"The difficulty lies within the superficial reality that social media has created," she says. "It has created a different type of community within our society. And, the lack of personalization and authenticity has perpetuated a culture of silence."
We use these public platforms to create a persona that highlights our best selves — whether that's a realistic portrayal of who we are, or, of what we're trying to sell to others. This lack of veracity has resulted in a sense of intrigue toward platforms such as HOMRU, because they're different. HOMRU offers a less processed and more authentic experience, and attracts us because it's an area where students, faculty and staff at Mount Royal share personal stories.
Kevin Padillo
Bachelor of Business Administration — Marketing student, Mount Royal University
Read more Summit
Teaching business with a double bottom line
Some are calling it the "me to we" generation. Today's graduates don't want to choose between chasing wealth and making the world a better place.
READ MORE