Where in the world?!
Mount Royal celebrates a quarter century of globe-trotting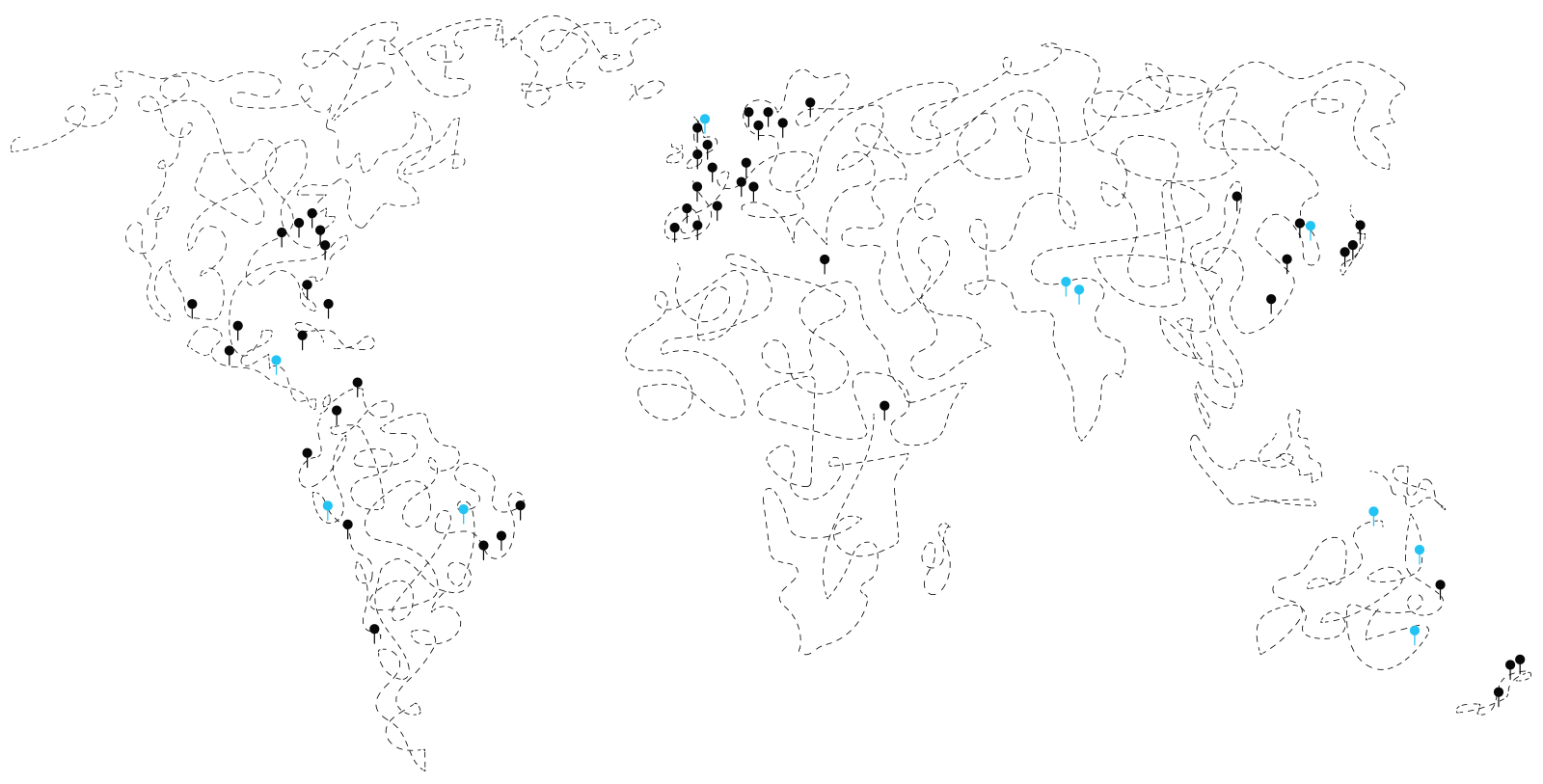 Fall 2015 issue
Just over 25 years ago, Mount Royal's Office of International Education offered eight Mount Royal students the opportunity to partake in an international exchange program. The world has been the University's oyster ever since.
Mount Royal formally embraced international education over two decades ago, when market research began to surface indicating those with a passion for globe-trotting secured much more than a few stamps in their passports. We know there's much to obtain through world-wide education. Mount Royal leaders believe that international experience is crucial to the personal and professional success of students, staff and faculty.
Over the past 10 years, the University has cultivated over 80 partnerships with schools across the globe. Currently, more than 150 Mount Royal students formally complete an international experience, through exchanges, field schools, study tours, or internships each year. In fact, at any given time, students are studying abroad across 27 different countries. Since the 1990s, thousands of international students from regions including Mexico, the U.S., Europe, Japan, China, Korea, South America, New Zealand and Australia have ventured to Calgary to study at Mount Royal.
"Working closely with our international partners, we have managed to create innovative and exciting opportunities for the Mount Royal community to internationalize," says Lorna Smith, who became the director of the City Centre Campus in 1990. Until her retirement in 2015, Smith was responsible for the Office of International Education, including the Languages Institute, which has operated since the 1970s. She quickly began guiding development of a new institution-wide internationalization strategy, one of the first-of-its-kind in Canada and an important factor in achieving Mount Royal's academic vision.
"I am confident that these and new opportunities will continue to expand in the future," she says.
Through Smith's leadership, the Office of International Education was one of the first institutions in Canada to partner with Mexico, and established its first North American mobility partnerships (between the U.S., Mexico and Canada) and its first European partnerships in those beginning years. It is thanks to these partnerships that, over its initial 10 years, the Office of International Education systematically developed a successful range of programs and services. The office was recognized nationally by receiving the Association of Community Colleges of Canada Internationalization Excellence Award in 1995.

Planes, trains and automobiles - just a few recent road trips
Chuncheon
South Korea (2013 - 2017)
The Global Leaders Program at MRU prepares Korean government officials from the Gangwon Province Human Resource Development Centre, Chuncheon, South Korea for the 2018 Olympic Games. This customized, five-week program trains provincial government officials who will be a part of the 2018 PyeongChang Olympic and Paralympic Winter Games in English language skills, while enhancing their understanding of the organization of large-scale events, such as the Olympics.
Haridwar and Phagwara
India (2012, 2014, 2016)
India - The Dimensions of Social, Cultural & Personal Development Field School seeks to increase intercultural communication skills and educate students on the importance of international community development. Participating students are enrolled in the faculties of Communication Studies and Health, Community and Education Studies, among other faculties. The next field school to India will be in Spring 2016.
Guanajuato
Mexico (1999 – present)
Through the MRU - Universidad de Guanajuato bilateral exchange agreement, employees from MRU participate in the Summer Language Exchange Program at the Universidad de Guanajuato, while employees from the Universidad de Guanajuato may participate in the Summer Immersion English Program at MRU. Participants can improve their Spanish skills, study each region's education system, experience Mexican culture and explore ideas for further developing the internationalization of the curriculum.
St. Andrews
Scotland U.K. (2015)
Scotland (General Education) Field School - The inaugural Sustainability in a National Parks Context themed Field School in St. Andrews, Scotland gave students the opportunity to engage in debate surrounding the management of the Scottish environment and compare and contrast with the Canadian park system.
Jesus Maria District of Lima
Peru (2012 – present)
This student exchange with the Universidad del Pacífico (UP) in Lima is one of two institutional partnerships in Peru. The Languages Institute has delivered its own Faculty Development Program, Teaching Through English at UP, over the past three years and hopes to develop these partnerships as local bases where Peruvian post-secondary professors can gather for training to build a train-the-trainer model.
Addis Ababa
Ethiopia (2013 – 2017)
Ethiopia-Canada Maternal, Newborn and Child Health Project: Senior Midwives Tutor Training Program (SMTTP) - in 2013, the Faculty of Health, Community and Education Studies at MRU joined with the Faculty of Medicine & Dentistry at the University of Alberta on a five-year project to reduce maternal and newborn deaths, illness and disease in Ethiopia. SMTTP is an education program for Ethiopian midwives selected to tutor other Ethiopian midwife instructors in pedagogical and clinical skills.
Queensland, Darwin and Canberra
Australia (2006 – present)
Four bilateral exchange partnerships have been created with institutions in Australia. The most recent, with James Cook University in Townsville, Queensland, offers the opportunity for Mount Royal students to study for a semester in Australia, while gaining credits towards their degrees.