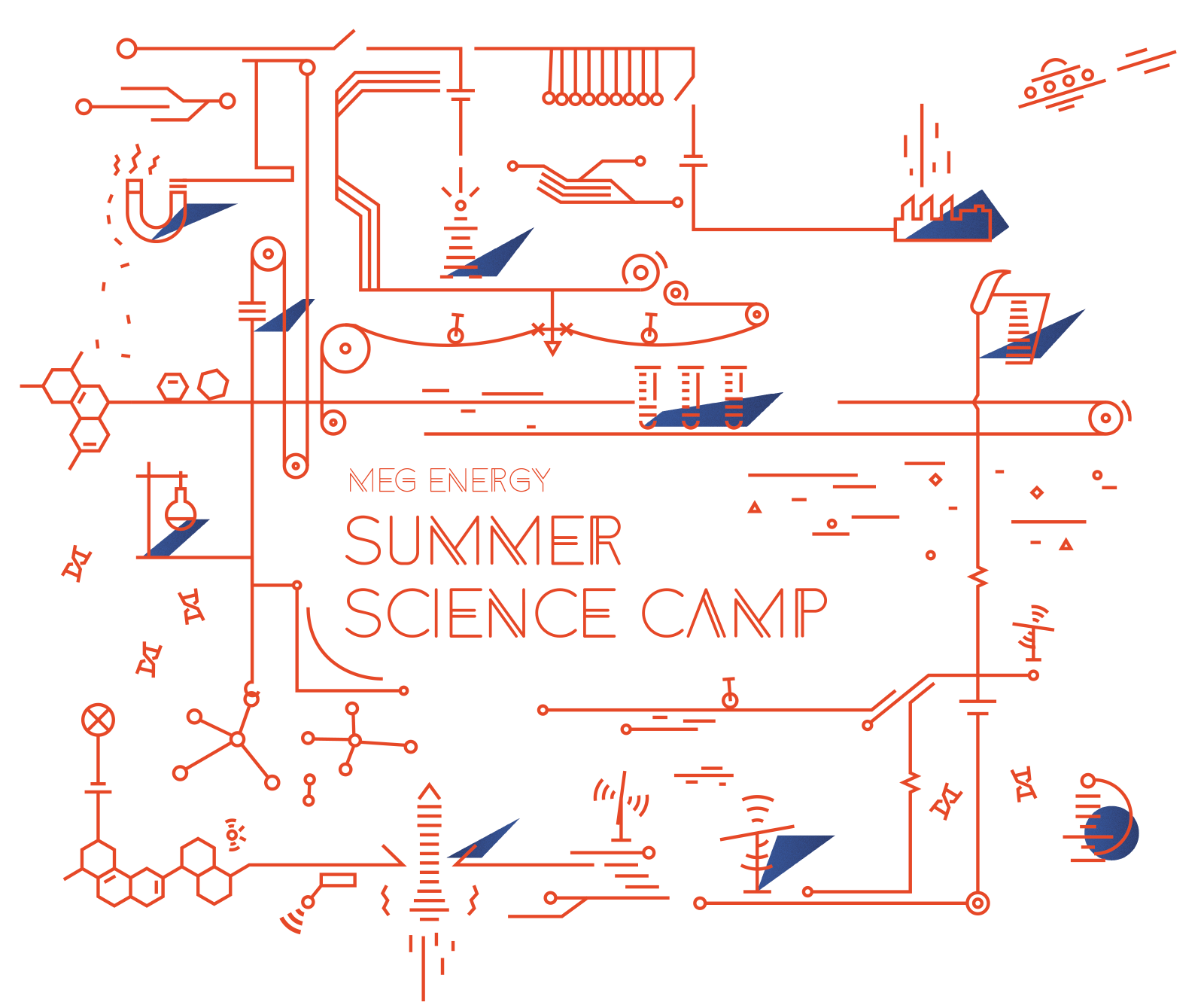 It's the first day of the MEG Energy Summer Science Camp at Mount Royal University for Aboriginal Youth, and the 19 high school students who've travelled up to 12 hours from northern Alberta to participate are being welcomed to Mount Royal for their week-long adventure. At first, everyone's a little nervous and shy, but a question from a camp coordinator perks the group's interest.
"Put your hand up if you plan on getting a post-secondary education!" All hands are raised.
"Who plans on studying sciences?" Almost all the hands go up again.
These eager young people are challenging the status quo. According to a 2006 census, eight per cent of Aboriginal People between the ages of 25 and 64 completed a post-secondary program, compared with 23 per cent of non-Aboriginal People.
The percentage for those living on a reserve is even lower, at four per cent.
The stats are even worse in the areas of science and technology, with less than 10 per cent of Aboriginal degree holders having a degree in science. At Mount Royal University, less than three per cent of students in the Faculty of Science and Technology are Aboriginal.
But this group of Aboriginal youth and others like them are definitely ready to buck this trend. Some are interested in the sciences, others the liberal arts, and there are those, such as Gwen Cardinal from the Saddle Lake Cree Nation reservation, who just can't decide between the two.
"It might sound crazy, but I want to go to Harvard. I want to be a doctor or a lawyer, because it would be interesting and I want to make my mom proud of me," says the Grade 10 student.
Dwight Farahat, Science Camp coordinator and a second year Mount Royal social work student from the Siksika Nation says when one person on the reserve goes to university, they're proof it's possible for everyone else.
"The essays these kids wrote to get into the camp were incredible - they're eager to go to university and passionate about science," Farahat says.
Mount Royal's strategic plan lays out a goal of moving the dial of Aboriginal student representation from over four per cent in 2014/15 to seven per cent of the overall student population by 2025. Initiatives such as the Aboriginal Science and Technology Education Program (ASTEP), which prepares Aboriginal students for careers in science and technology, have seen the number of full-time Aboriginal students entering science and technology programs increase from 25 to 40 over the past three years. The week-long MEG Energy Summer Science Camp, in its second year, is also a positive push in the right direction. This camp includes Aboriginal traditions, knowledge and values alongside exposure to science related post-secondary fields, introductions to university advisors and professors, and other educational opportunities.
"Thinking about careers in science can be intimidating. This week-long immersion camp really opens the doors on how many career options there are, while providing the opportunity to illustrate to Aboriginal youth how their traditions and culture can be prominent in day-to-day life when they leave home," says Wendy Robinson, manager, internal communications, Culture and Community Investment, MEG Energy.
Many of the camp participants credit their families, especially their mothers and grandfathers - often the primary role models in keeping the Aboriginal culture and traditions alive - for encouraging them to pursue their post-secondary dreams in the future.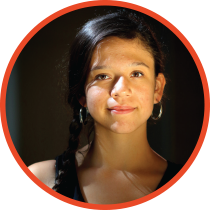 Niyanah Rose Cardinal
Niyanah Rose Cardinal from the Saddle Lake Reservation explains that the benefits of education and pride in the Aboriginal culture are family priorities. At the 150-student school, where her mother is the vice principal, mornings start with drumming and rattles, and there are regular feasts and smudges. Cardinal knows how to trap and has danced pow wow since she was three. Her plan is to go to university, become a registered nurse and then come back to her community.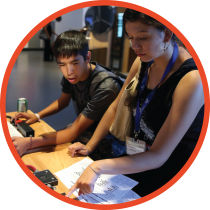 Slade Kenton Delaney and Niyanah Rose Cardinal
Slade Kenton Delaney and Niyanah Cardinal explore electronics at TELUS Spark. With only four months of training, Delaney won the North American All Indian Boxing Championship. He says he loves science and math. When the Cardston youth learned of the MEG Energy Summer Science Camp from his mother, he leapt at the opportunity to apply, writing a two and a half page essay to get in. Delaney says his work ethic comes from his grandfather.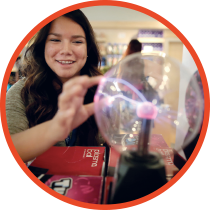 Emily Cardinal
Emily Cardinal explores static electricity by getting hands-on with a Van de Graaff ball at TELUS Spark. Cardinal is one of 19 high school students from Treaty 6, 7 and 8 (across Alberta) who came to MRU's MEG Energy Science Summer Camp in August 2015 to discover her passion for science and technology.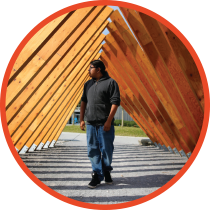 Quincy Davis
Quincy Davis lives on the Blood (Kainai) Tribe Reserve and is going into Grade 11. He likes construction and science, and came to camp to learn more about chemistry and robotics. He wants to be either an engineer or psychologist because he likes to listen to people's problems without judgement. Quincy has a clear view of what is needed to succeed at university. "You're free to choose how you spend your time, between studying, having a part-time job and spending time with friends. For me, it will mean working hard and putting studying first."

Aboriginal grads represent Mount Royal with pride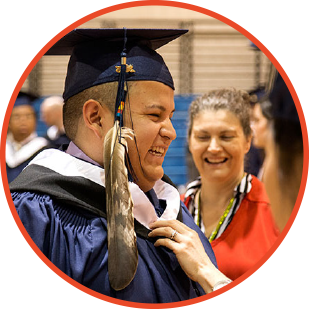 Steve Kootenay-Jobin
Among his brothers, Steve Kootenay-Jobin was the first to pursue a university education at Mount Royal, Starting with the Aboriginal Education Program in 2007, he went on to achieve a Bachelor of Arts (BA) — Sociology. His dedication and hard work was an inspiration to his family, Kootenay-Jobin started a brotherly tradition in his home, one of pursing post-secondary possibilities.
His oldest brother graduated with a Bachelor of Business Administration (BBA) in General Management from MRU, while several of his younger siblings have gone on to successful post-secondary endeavors in Calgary and Vancouver.
But Kootenay-Jobin notes he wasn't the first member of his family to proudly wear a university cap and gown. His mother graduated from the Social Work program at Mount Royal in the early 1990s. He says he remembers dropping her off on campus when he was a child.
"We never had much money, so the barriers were obvious. We had lots of love, but there was no extra money for toys or other stuff that kids at school had," says Kootenay-Jobin, who is Nakoda-Sioux from the Stoney Nation in Morley. "My mom told us education was the way for us to have a better life and to obtain the things we dreamed of."
"I remember in Grade one when the rest of my younger brothers could still stay at home and play. My mother would be grooming me extra carefully, and I would get frustrated as I just wanted to leave and play games. But I remember her explaining that we needed to try harder in everyway possible, including keeping ourselves clean because we are 'being watched.' My mother explained that once this was 'our land,' but our way of life has changed and our people are suffering because they don't know the education of the 'white man.' In his world, education is everything. For this reason, she told me, 'stay in school'."
Kootenay-Jobin says he first chose Mount Royal because of the Aboriginal Education Program, which provides upgrading from grades 10 to 12, as well as additional tutoring, time management skills and advice on what courses to take. Cultural identity is a big part of it. For example, English courses include Aboriginal authors and Native Studies provide role models.
While Kootenay-Jobin graduated from high school, he says he didn't have "great marks," so he welcomed the opportunity to upgrade.
"I didn't know what I wanted to do when I came here. I didn't even know what sociology was. I just wanted a decent life and a decent job," he explains.
As fate would have it, he began working at the Iniskim Centre on Mount Royal's Aboriginal Housing Program in the fall of 2014. It's the largest housing program of its kind in Canada, with 28 single units and four family units on campus.
"I love my job — I give people coming here guidance. They're scared of the unknowns, so I share my struggles and my successes," he says. "As well, I often speak to the nursing, social work, arts, general education and indigenous studies students and I enjoy the outcomes and perspectives people gain through our conversations."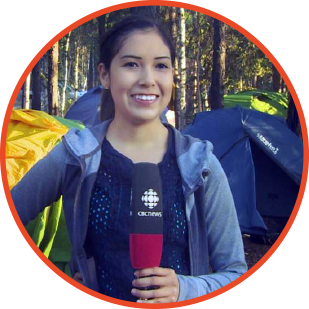 Kelsey Solway
"Awesome" is how Kelsey Solway describes her summer job at CBC Radio Canada North in Yellowknife, where she honed her reporting and research skills.
As a Mount Royal University Journalism student, she worked on the morning and evening news, as well as contributed to programs such as the Eagle Act and Igalaaq. The reach is broad, with CBC North covering four time zones, all three territories and the northern portions of all provinces.
Professional experience was just one of the benefits Solway took advantage of during her time in Yellowknife. She got to learn snippets of Dene, with 50 per cent of Yellowknife speaking it as their first language (there are 11 official languages in northern Canada).
"I learnt phrases like 'mahsi,' which is 'thank you.' It makes me want to learn more Blackfoot too," says Solway, who is from the Siksika Nation in southern Alberta.
Along with learning new tongues, she says the experience of living in the northern community renewed her interest in Aboriginal culture. One of the highlights was attending a dance at the Civic Centre in downtown Yellowknife.
"There were ladies between 85 and 90 years old cutting fish up. The culture here is so rich and the cultural pride is incorporated into everything. It's been a really good thing for me to be around," she says.
Solway has one more year at MRU before she graduates with a Bachelor of Communication — Journalism. In her early days at the University, she spent a lot of time at the Iniskim Centre.
"I really liked the environment and would spend all day writing there. If I heard there was stew and bannock I would come for a cultural meal there," Solway says. "Not only did I meet people from my own reserve, but from other reserves too. When we started talking, we discovered we knew of each other's families.
" Solway's sister, Jacey, is also attending Mount Royal and is in the Nursing program.
The sisters grew up on a ranch on Siksika near Bassano. Solway's family, including her dad, went to a kindergarten to grade 12 school in the small town. She said her parents, especially her mom, pushed her to go to post-secondary. Solway will be the first person in her immediate family to get a degree.
"When I come back to Siksika, I tell my friends how much I've learned. Some say the only reason I got in was because I'm Native. This bothered me at first, but after three years I feel like I've done enough to prove I'm succeeding and doing it for myself," she says.
In 2013, Solway helped organized the Siksika Benefit Concert after the flood. Albertan-bred country artists Corb Lund and Ian Tyson performed, raising $34,000 for the community. She also worked for the Youth Chief Council.
"I was blessed to be raised on the farm so I stayed away from a lot of the stuff going on. The kids on the reserve are in trouble," Solway says. "They need someone to look up to – they need mentors and positive outlets. I tell them you won't always be on the reserve. You have to go out and pursue what you want. If I can do it, you can too."