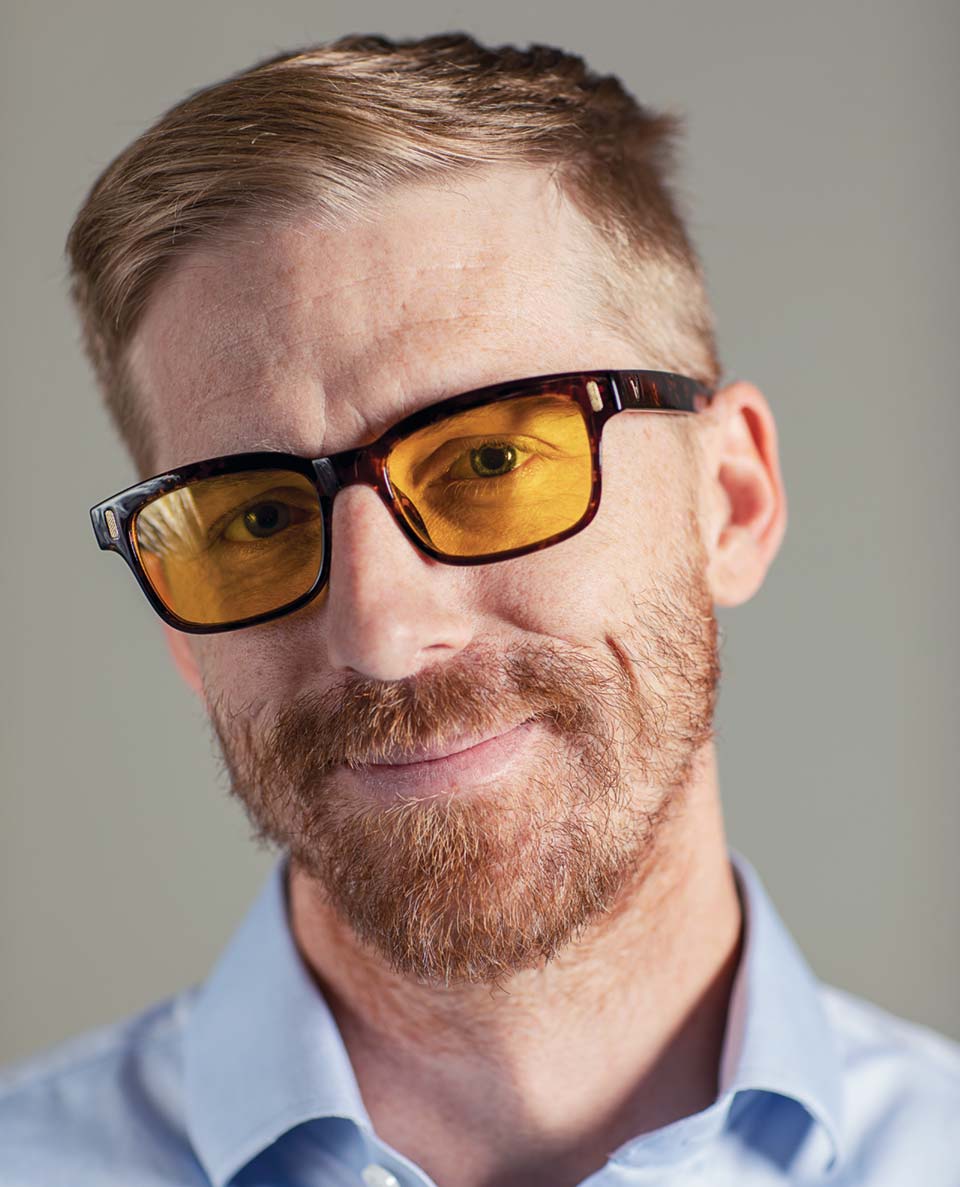 Rolling out legal cannabis
"As a society, our current view of what cannabis is, is extremely narrow and I think that it is high time we allow this plant to show us all of the benefits that she has to offer."
Basil Kelly
Manager of licensed producer relations at Natural Health Services
Alumnus Basil Kelly is blazing a trail through the world of medical cannabis. He is the manager of licensed producer relations at Natural Health Services (NHS), a cannabinoid medical clinic assisting patients in need of access to medical cannabis.
Kelly's experience in the nascent industry has been "overwhelmingly positive," describing those at its roots as having "managed to preserve the quality of open-mindedness and the spirit of teamwork and inclusion that I have always found to be present among cannabis people."
As an employee of NHS almost since its inception in 2015, Kelly's work has been "vast and varied," beginning as a bud genius helping to guide and educate patients new to cannabis.
"Often, for a new patient, having an experienced individual to lean on can make all of the difference in the world for successful treatment," he says. "These days my main focus is working in tandem with Canada's licensed producers to help them offer the best service and medicine, to not only our patients, but all Canadian medical cannabis patients."
With the legalization of recreational pot, Kelly, who is also co-host of The Cannabis Show podcast found on YouTube, predicts the medical cannabis industry will grow and improve. As primarily recreational users are free to light up, more purely medical users, he believes, will seek treatment and the medical industry will be in a better position to help them.
Ultimately, he would like to see a revolution in how cannabis is perceived.
"I want people to know that cannabis is not just about getting high and that the medical potential of this plant has barely had its surface scratched. As a society, our current view of what cannabis is, is extremely narrow and I think that it is high time we allow this plant to show us all of the benefits that she has to offer."
While a general studies student at Mount Royal University from 2002 to 2005, Kelly was a volleyball player for the Cougars. In accordance with the standards set out in Cougars' Student-Athletes Handbook , which state, "The use of illegal drugs by any intercollegiate athlete will not be permitted and will result in immediate dismissal from the athletic program along with written notification to the athlete's parents or guardians," Kelly says he did not use cannabis for most of the year.
"I did, however, consume cannabis (at other times) for many of the same reasons that I consume it today," he recalls. "Cannabis helped me deal with a broad range of issues, from social anxiety to focusing my attention."
Bud out
Visions of pot smoke wafting out of dorm rooms at Mount Royal University have proven a pipe dream, despite the legalization of marijuana effective Oct. 17.
Mount Royal has been preparing for months, and while it has not been easy anticipating the decisions of various levels of government, the University is focusing on education and harm-reduction strategies.
According to Statistics Canada's Canadian Community Health Survey in 2012, 34.6 per cent of Canadian males and 23.4 per cent of females aged 15 to 24 reported using cannabis in the past year.
While a majority of Canadians support legalization and the federal Liberals won their majority government with legalization featured on their platform, there are pockets of resistance when it comes to consumption. Bow Valley College, for example, was given an award in May by the non-smoking advocacy group Action on Smoking and Health for new rules that ban the smoking of anything, including cannabis, on campus. The University of Regina also banned smoking of all kinds on its campus. The City of Calgary bylaw allows council to approve designated areas where cannabis can be smoked. To date, there are no proposed consumption areas.
As the province prepares to offer 300 different cannabis products to licensed retailers, the Alberta government is intent on keeping cannabis away from children, promoting health, maintaining respect for public space and reducing the illegal market, said Kathleen Ganley, minister of justice, during a March panel discussion at Mount Royal organized by the students' association.
"There will be upsides and downsides, benefits and challenges that will arise," Ganley said. "Ultimately, the present federal government ran on a clear platform of legalization and it's incumbent on us (other levels of government) to implement it. Democracy is the will of the people. The people, the voters, have spoken and we'll be ready to go."
Ganley also pointed out that legalization means Albertans over the age of 18 will be allowed to possess up to 30 grams of legally produced cannabis in public and will no longer face minor possession charges in the criminal justice system.
The minister said the province is looking at the federal legislation as a beginning, not an end.
"We're prepared to adjust going forward. It's an interesting policy file; it's not often you see something built brand new. There could be changes due to things we haven't anticipated."
THC and CBD
According to Leaf Science, cannabis contains over 113 different chemical compounds known as cannabinoids. The two most well-known cannabinoids are THC (tetrahydrocannabinol) and CBD (cannabidiol).
Common uses for THC include:
achieving euphoria and relaxation
sleeping better
stimulating appetite
acting as a painkiller and a muscle relaxant
Common uses for CBD include:
treating anxiety
acting as an anti-convulsant and anti-psychotic
reducing pain and inflammation
Mixed strains combine the effects of each, but it is difficult to determine for sure how an individual will react to a given strain on a given day.
Source: leafscience.com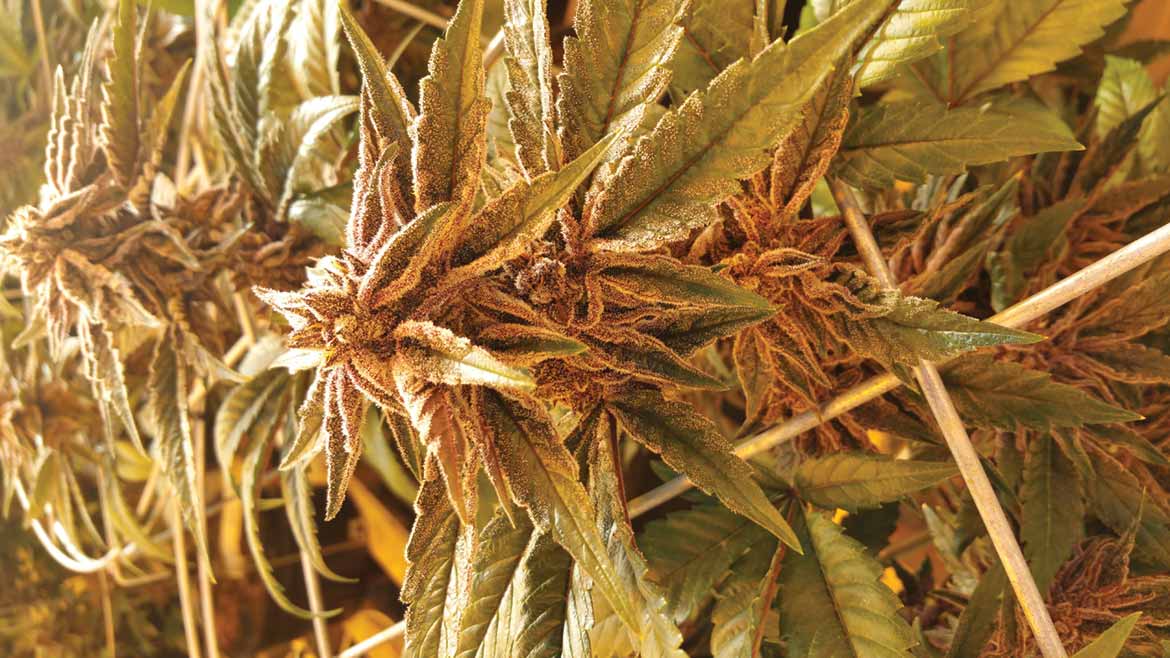 Higher education at Mount Royal
Marijuana and Mount Royal have a history that goes back to the early 1970s. In response to the federal government's move toward lessening penalties for possession, a number of stories in support appeared in Journal 3009 (the communication department's publication, now known as the Calgary Journal. The 3009 came from its room name, Q309.
An editorial in the Nov. 9, 1973, edition of the paper claimed 90 per cent of male students and 70 per cent of female students had used cannabis. It then asked:
"Is marijuana harmful? Is the drug so evil that anyone caught with it should be branded a criminal? If the drug is so harmful, the high percentage of users in this institute of learning should be turning into vegetables and the halls of Mount Royal are being overrun with pothead criminals.
"Marijuana has been popular in North America for over a decade, it has been used for centuries and still there is no proof of any dangers connected with the drug. Maybe it is time we the people demand some satisfaction as to what is going to be done about the situation, before more people are hurt with our ignorant drug laws."
On Dec. 6, 1974, a two-page spread of stories called Decriminalizing Cannabis backed a move by the then Liberal government of Pierre Trudeau to reduce penalties for possession of pot.
The feature included a story headlined, "Pot: A hazy history," that described early medicinal use, recreational smoking starting in the 1920s, "Tea Pads," or marijuana speakeasies in big cities and anti-marijuana laws spreading through the '20s and '30s.
"Cannabis prices are rising" explained that the price of cannabis in Calgary had been caught in an inflationary spiral. The cost of hashish went up from $70 an ounce to $150 an ounce. Marijuana increased from $250 a kilogram to $350.
In the story "RCMP favour proposed law," Calgary RCMP Staff Sgt. Dutch Ryba said he favoured moving marijuana from the Controlled Drugs and Substances Act to the Food and Drugs Act, where it belongs. He said, "It shouldn't be classified with the narcotics."
Ryba didn't favour complete decriminalization, however, because he knew driving while high was dangerous.
Another story profiled a local user and former art student "Dave" who had been busted five times for possession. While his criminal record hindered his job prospects, he remained philosophical.
"I look at the fines and all as a sort of tax on the dope I smoke."
In 1977, a student reporter interviewed cannabis users: Henry, an artist said, "I like it. Food tastes better after a few joints. Besides, it relaxes you without the need for chemicals."
Susan, on the other hand, asked, "Why bother legalizing it? It would just cost more."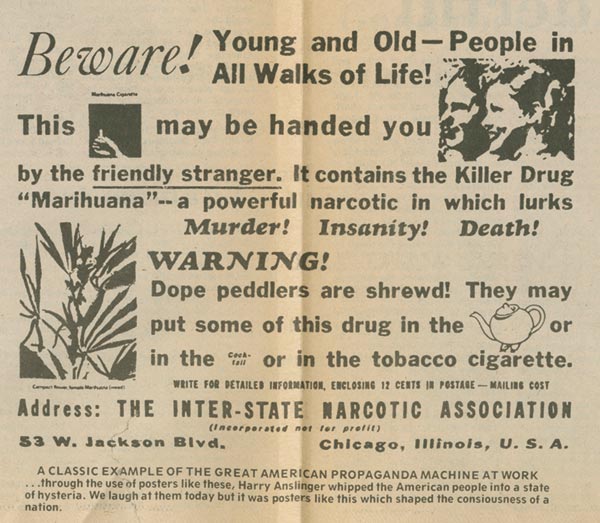 Harry Anslinger served as the first commissioner of the U.S. Treasury Department's Federal Bureau of Narcotics, and is known for his hardline policies. His campaign against cannabis lasted from approximately 1930 to 1937.
More questions than answers
You would think that a criminal justice professor who is also a lawyer, once worked for the RCMP's Coordinated Marijuana Enforcement Team and is a city councillor in Chestermere would know what to expect with legalized pot.
But ask Professor Ritesh Narayan of the Department of Economics, Justice and Policy Studies to look ahead and it becomes clear there are far more questions than answers about even the most basic assumptions regarding legal weed.
As a city councillor, Narayan has witnessed challenges first-hand as the three levels of government try to sort it all out.
"There's a lot of ambiguity as to who should do what, and who is responsible for what," he says. "The municipalities are looking up to the provincial government, who are looking up to the federal government — hoping there will be more clarity. I think that will continue."
While Narayan favours decriminalization of marijuana and other drugs if it comes with an overall focus on health, he is not sure such measures will result in a reduced burden on the legal system. He sees enforcement shifting from criminal trafficking and possession to bylaws and regulations around selling, purchasing and consuming legal weed, and driving and committing crimes while high.
Narayan also predicts a rise in litigation in areas such as second-hand smoke could clog the courts.
"There's so much that's going to happen that the system is simply not prepared for what's to come," Narayan says.
The biggest challenge he says, will be to charge and successfully prosecute individuals suspected of driving under the influence of cannabis. "There are just too many mitigating factors that could render results collected by police as lacking credibility."
For those looking to take advantage of the legalization of cannabis, what the experts do agree on is not to take anything for granted. Reach out to established experts for guidance on consumption and openly communicate with doctors and medical authorities about reasons for use.
Read more Summit
Cybersecurity warriors: frontline of defense
Cybercriminals are hitting large institutions hard, relying on base human emotions and frailties for their illicit gains.
READ MORE