Big moves towards smaller living
Micro-apartments, tiny homes and granny flats make up an increasing number of options to meet the demand for smaller living. There's a shift from the suburban dream/nightmare of single-family homes for a variety of reasons, says Barbara McNicol, PhD, a researcher with Mount Royal's Institute for Environmental Sustainability and a professor with the Department of Earth and Environmental Sciences.
"For some, it's a backlash to 'McMansions,' to the idea that you even have houses for your cars," McNicol says. "You have two groups who are really using smaller homes: the younger people who want to lower their cost of living and really focus on changing their environmental usage, and there is the older crowd who want the economic benefits as well as less home maintenance."
She points out that small living isn't a new practice. In the 1970s, there was the environmentally focused back-to-the-land movement that saw people relocate from urban to rural areas. And the average size of a home on the Canadian prairies after 1870 was about 432 square feet, the minimum area required under the homesteading law, according to The Canadian Encyclopedia.
In 2008, the average area of a new build in Canada was 1,900 square feet, more than four times larger.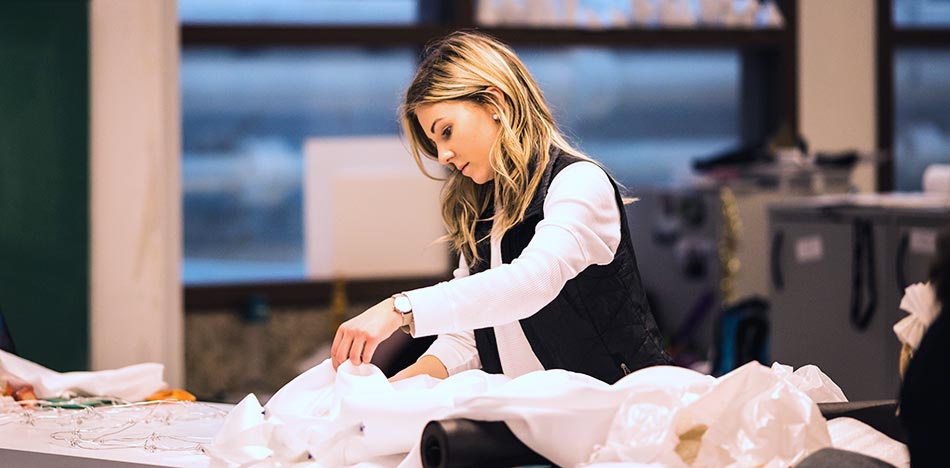 Money money money
The transition to tiny living is increasingly becoming a financial necessity. Canada's overheated housing market has led homeowners and renters in super-hot markets such as Toronto and Vancouver to shrink their residential footprints. A June 2019 report by national research, education and advocacy organization Generation Squeeze says it "takes a typical young person 13 years to save a 20 per cent down payment on an average-priced home in Canada, compared to the five years it took when today's aging population started out as young adults around 1976."
Builders have responded to that need for housing with a lower entry cost than the typical single-family home. "Among the 10 Canadian metropolitan areas (CMAs) with the most condominiums, about one in three (34.3 per cent) of occupied dwellings built between 2001 and 2011 were condominium units. For occupied dwellings built prior to 1981, less than one in 10 (9.4 per cent) of dwellings were condominium units," according to StatsCan.
Along with builders, interior designers are constantly adapting to changes in the cultural, social and political environment and this includes the move towards smaller living. Helen Evans Warren, associate professor and chair of the interior design program at Mount Royal says, "More and more people, for cost and environmental reasons, are living with less stuff in smaller spaces. It's a global phenomenon that is changing how interior spaces are designed."
Evans Warren says students really enjoy learning how to maximize the functionality and flexibility of space, storage and furnishings. They also factor in sustainability, from the obvious need to choose low-energy fixtures and lighting to the less obvious option of low-emission products. Even more critical in small spaces is ensuring good indoor air quality, as well.
Tiny is as tiny does
Kenton Zerbin, a former high-school teacher, is considered an expert in the field of tiny living.
For the past two-and-a-half years, Zerbin and his wife, Melissa, have lived off the grid in a 360-square foot home they designed and built themselves. The home is located in a farmer's field outside of Edmonton, as at the time of its building the municipality did not allow for structures smaller than 5.5 metres wide to qualify as a single-detached home. This was rectified at the end of August when minimum size requirements were removed, paving the way for more little living opportunities.
"Tiny living has been an amazing journey. It has allowed us to grow in ways we otherwise could not."
— Kenton Zerbin, sustainable living expert
Zerbin's home is built to withstand Alberta's harsh winters, a consideration not included in many of the homes featured on popular shows such as HGTV's Tiny House Hunters. At a cost of about $80,000, the home was constructed over eight months with a fraction of the materials required for building a typical single-family home.
Zerbin says, "We wanted a house that aligned with our values, that we could be proud of and that wouldn't burden us with crippling debt."
Without the big mortgage that usually comes with a big house, the couple have the freedom to choose how, when and where they work. Zerbin has built a business conducting workshops on designing and building tiny homes, living more sustainably in a traditional home, and designing and planting edible landscaping.
"Tiny living has been an amazing journey. It has allowed us to grow in ways we otherwise could not."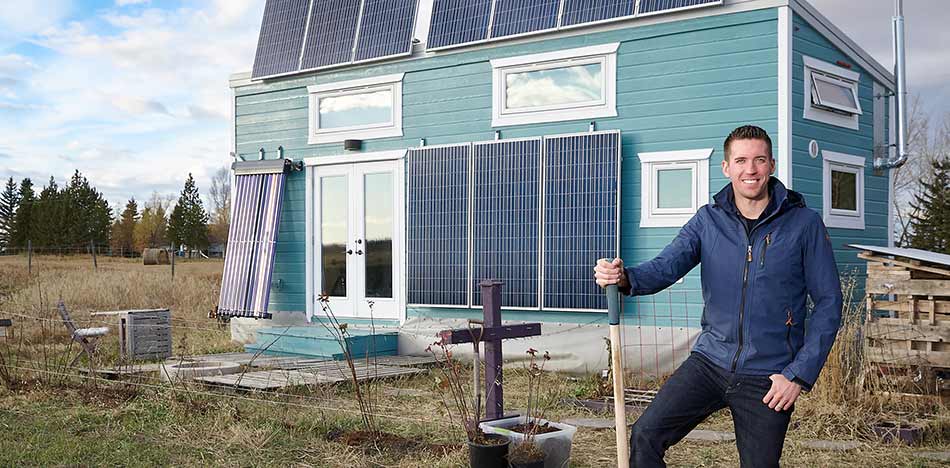 Smaller is better for veteran's village
For interior design assistant professor Alan Antioquia, the experience of working on affordable housing in Calgary was right in line with designing and building smarter spaces. He says, "In many ways, what we have learned in designing and building affordable housing can be directly applied to the growing demand for smaller living."
Antioquia says both affordable housing and smaller living share the goal of maximizing the use of space and reducing costs, while not lowering the bar on the safety, comfort and well-being of people. These goals align well with providing housing and supports for Canadian veterans who are experiencing homelessness.
Taking a homeless vet off the street and putting them into a traditional apartment can be overwhelming. And lonely. That's where 908 ATCO Village, a 15-unit tiny home project that opened in southeast Calgary at the end of October, comes in. The barracks-style community provides peer-to-peer interaction and support, very much like the military, while also allowing for privacy and security for residents. The project is the brainchild of the Homes for Heroes Foundation, an organization spearheaded by Mount Royal honorary degree recipient Murray McCann.
The village's tiny homes are approximately 275 square feet, just the right size to provide a transitional environment. The village also includes a resource centre, counsellor's office, family suite and shared garden. Business leader and philanthropist McCann, who is best known for the establishment of Calgary's Field of Crosses on Memorial Drive, says if the project involved a traditional, condo-style development, the cost would be about $250,000 a unit. Tiny homes cost less than $100,000.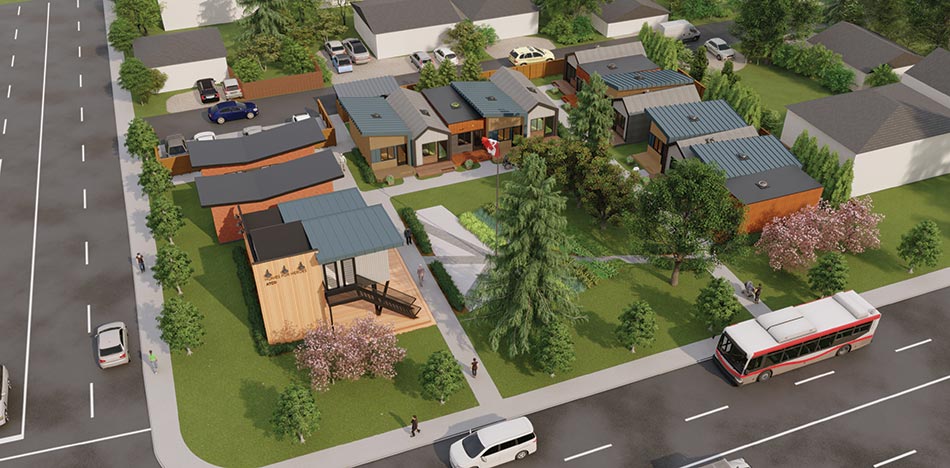 "This makes it possible for people to donate a home," McCann says. "You don't have to donate a wing at a hospital to have a legacy. You just have to make one person's life better."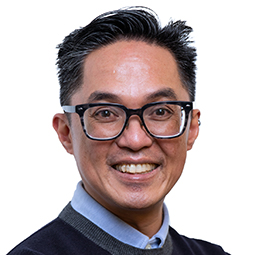 — Alan Antioquia, assistant professor interior design
Homes for Heroes aims to do that for the estimated 160 homeless veterans in Calgary.
The homes are being built by ATCO through a $1.5-million gift-in-kind donation. ATCO was founded by the late Ron Southern, who received a Mount Royal honorary degree in 1996. Marg Southern, his wife and co-founder of Spruce Meadows, received a Mount Royal University Honorary Doctor of Laws earlier this year.
"The first village shows it can be done, but we have many more villages to build given that there are 2,600 homeless veterans across Canada," McCann says. "But the spirit of the people is there and the respect for the military is there, so the potential is there as well."
"When I say reduction of waste, people immediately think about materials. But it's also time. "
— Kevin Read, Bachelor of Applied Business and Small Business, 2004
Building for efficiency and better living
When people hear "modular building," their thoughts tend to turn to trailer parks and school portables. Kevin Read, who earned a Bachelor of Applied Business and Small Business in 2004, aims to change that perception. The 36-year-old is the CEO and president of Nomodic, a Calgary-based modular building company that creates everything from multifamily projects to hotels, remote work camps to single-family homes. Components of buildings — such as Sonder House, a three-storey, 27,320-square foot affordable housing complex that Nomodic recently completed in Terrace, B.C. — are constructed offsite, transported and then assembled on location.
"We have two aspects to our business. The first is turnkey and covers the project from end to end. We sit down with the developer and find out what their business is and what their goals are. Then we build offsite and install it as a permanent structure," Read explains. "The other end of the business is very closely related, and it's our construction team where we do third-party installation contracting of modular buildings, and those may be temporary."
After graduation, Read took the lessons he learned at Mount Royal and applied them in a number of fields, including process automation and corporate strategy, and business development in the construction and energy industries. In 2012, he pushed two L-shaped desks back-to-back in the master bedroom of his 900-square foot bungalow in Willow Park and "started typing away." That business plan would become Nomodic.
"Canada is the second-largest country in the world. We only have a population of 35 million or so. We have one of the richest countries for resources. And they're spread out across that large country. I looked at the shortage of people, the wealth of resources and the size, and I said, 'You know what? These people need to be housed,' " Read says.
Specifically looking at what was being offered for work camps, he decided it came up short. "I said, 'Why don't we just build remote condos?' And that was it."
Seven years later, Nomodic has 100 employees based in Calgary, Edmonton, parts of B.C., Seattle and Toronto, with annual revenues of $40 million. Part of Nomodic's mission is to leave things better than they found them, ensuring that their projects are as minimally disruptive to communities and the environment as possible throughout the build process.
It's estimated that construction waste is responsible for 25 to 30 per cent of what ends up in landfills in developed countries. Nomodic's process can reduce that by half. Building in a controlled environment means any extra material can simply be stored on-site to be used on the next project. Nomodic also reports fewer workplace injuries.
It's estimated that construction waste is responsible for 25 to 30 per cent of what ends up in landfills in developed countries. Nomodic's process can reduce that by half.
In addition, the structures themselves are more energy efficient, Read says. For example, if Nomodic builds a three-storey apartment complex — like the affordable housing units it recently completed in Smithers, B.C. — the insulation factor is essentially doubled because each level is built with its own ceiling and floor. Nomodic homes and buildings are also very quiet.
"When I say reduction of waste, people immediately think about materials. But it's also time. The usual design-build process is very choppy. It's not streamlined, and so it takes a long time," Read says. He estimates that Nomodic builds 30 to 50 per cent more quickly than conventional methods. "There's the process, and the product, and the operation of that building over time. We reduce waste at each point."
Creating Nomodic and building it into a successful business "was a passion, almost a borderline obsession, in a good way," he says with a laugh. "It was really, really exciting. I was really in love with the vision of it all. I could see what it would look like and how happy I'd be to sign that first contract. I was happy to get asked to provide a quote. I was happy to receive my first email."
Read was up working until about 3 a.m. the morning of this interview, a rarity now that the business is humming along. But, he remembers, "that was actually the norm for the first four years at least." His hard work has gained notice, as he has been named as one of Canada's Top 40 Under 40 (2018), one of Avenue Calgary's Top 40 Under 40 (2017) and a finalist for EY's Entrepreneur of the Year (2016).
It's all part of his evolution as an entrepreneur.
"Before, what engaged me was accomplishing a goal and providing a specific product to a customer. Making sure our clients are happy is still important, of course, but my focus is also on my team, my staff. It's about making sure that everything we're doing is moving us in the right direction to accomplish our goals as a team. I want to make sure that the people who choose to show up to work everyday at Nomodic look back and on a daily basis say, 'This is a good choice.' "
This emphasis on positive engagement is also evident in the company's community involvement. There are volunteer and fundraising opportunities for its employees in addition to Nomodic's ongoing relationships with organizations it supports, including the Calgary Drop-In and Rehab Centre and Habitat for Humanity. Read's wife Julia, who is Nomodic's chief financial officer, is a director with the Federation of Calgary Communities and a soccer coach with the Special Olympics.
In a case of déjà vu, Read serves on the Dean's Advisory Council for the Faculty of Business and Communication Studies at Mount Royal, the same council he sat on as a 17-year-old student fresh out of high school.
"I'm just paying it back, and paying it forward. I have to give credit to Mount Royal for a lot of opportunities I find today. I think my career is based on a bit of that helping hand and show of confidence that I received at MRU.
"On the Advisory Council, it's super cool to sit on the other side and picture myself as a student. I consider the things that really made my experience there beneficial and the best it possibly could be."
Read more Summit
Bruce was here
And he happened to learn a thing or two while on campus.
READ MORE