Healthy aging top of mind
Experts are tackling getting older through education and local initiatives
The burgeoning population of seniors in Canada presents an unprecedented and inevitable inundation on our health-care system, housing and social supports — otherwise referred to as the "grey tsunami" by those in the field. At Mount Royal, efforts are underway across the University as faculty members approach the issue of aging through the lens of their own expertise.
The collective impact of aging
The steady increase in dementia diagnoses remains a mystery, but Mount Royal's Sandra Gordon, a professor in the School of Nursing and Midwifery who teaches health for seniors and has experience in geriatric care, points to possible changes in stress levels, a rise in diabetes and overall shifts in lifestyle as possible causes.
There is a single correlation with all dementias, however — aging.
"There is a prevailing stigma around dementia. It's not treated like heart disease or cancer."
Sandra Gordon
Professor, School of Nursing and Midwifery
Gordon played a key role as part of the Mount Royal team that supported the 2017 launch of Dementia Network Calgary — an organization of experts driven by a collective impact model — addressing social problems with people across different sectors who are committed to a common agenda.
"There is a prevailing stigma around dementia. It's not treated like heart disease or cancer is," Gordon says. "We first need to transform the thinking around it."
And changing perspectives is what the group set out to do, as they unveiled their new publication Dementia Connections at their fall launch.
Aging, exercise and mental health
Brain in Motion II is a study being led by Marc Poulin, PhD, a member of the O'Brien Institute for Public Health at the University of Calgary. It is a followup to Brain in Motion I, which was completed in April 2016. Julie Booke, PhD and a professor in the Department of Health and Physical Education, has become the liaison to the study for Mount Royal, allowing the two institutions to work together and best utilize available resources.
The studies are looking at the effect of a six-month aerobic exercise intervention on cerebral blood flow and cognitive function in older adults who are at increased risk of Alzheimer's disease and related dementias.
"It's great that Mount Royal has the opportunity to be a part of such a large study," Booke says. "It provides research opportunities for students, material for classroom assignments, practicum opportunities and also creates learning experiences for Recreation staff as participants use the facilities."
Social inclusion and nature
As the question of how to improve senior care and well-being becomes more prevalent in and around Calgary, it may be that one answer is simply to return to our roots.
Interacting with nature is an emerging theme, with various organizations and key players across the city and province discussing and acting on the opportunity.
"Spending time in nature leads to increased confidence, socialization skills and optimization of performance," says Genevieve Currie, a professor in the School of Nursing and Midwifery and sponsor of the We. Are. Nature. workshop and connections fair that took place in the fall of 2017. "When you bring people together in nature, they become more comfortable with themselves and in interacting with others."
The MRU Inclusive Community Garden, also a project of Currie's, has been putting into practice the notion of taking advantage of the nurturing aspects of nature for three years. The project entails a wide-ranging collaboration between the students' association, nursing students and faculty members.
Every Friday morning, buses bring local seniors to MRU to spend a few hours in the garden planting and growing seeds.
"Through these memories we can support them by exposing them to just being outdoors ... Nature gives us perspective about life and death."
Sonya Jakubec, PhD
Professor, School of Nursing
The garden is for day-care children, too. Bringing together children and adults to do a task together removes physical and mental barriers that are often encountered between these two groups.
"In the Planting Seeds Project, we're no longer researchers or participants," Currie says. "We're all gardeners."
MRU's Sonya Jakubec, PhD, professor in the School of Nursing, co-presented this fall with Alberta Parks on research that also points to the important role nature can play in end-of-life care. In a provincewide survey conducted in 2015, Jakubec found that more than 90 per cent of people working as caregivers or nearing the end of their lives feel physical, emotional and spiritual comfort when outdoors.
"Sensory experiences can evoke calmness, relieve stress and help people find peace, whether it's the feeling of dirt under their fingers or the grass under their feet. Through these memories we can support them by exposing them to just being outdoors," she says. "Nature gives us perspective about life and death."
Jakubec's work on identifying nature as a conduit for grieving has been well received and was published by the College and Association of Registered Nurses of Alberta. Jakubec continues to work with Alberta Parks and Alberta Health Services on integrating nature and park access into community health.
Preparing the professionals of the future
For Jocelyn Rempel, professor in the School of Nursing and Midwifery, it's about being prepared. For the past decade, Rempel has taught students who will soon be on the forefront of seniors' health.
"It's not uncommon for students to come into the Bachelor of Nursing with a little bit of an ageist view, not necessarily being keen to work with older people," Rempel says. "I teach the third-year Seniors' Health course that focuses on gerontological nursing. Students get experience with seniors during their three-week on-sites, where some of the people they are working with are experiencing Alzheimer's or related dementias."
As the age demographic shifts, the need for geriatric specializations in nursing will grow. Community care initiatives are expected to continue as a burgeoning trend.
"We're really trying to get students passionate about working with seniors, because as it stands, we are not ready for the boomers. There is a serious opportunity for students to specialize and fill the predicted gap in our health-care system."
Joy, empathy and understanding
Social inclusion and the arts contribute to aging well
"I think people have this idea that older people have cardboard cut-out personalities. But it's not like that at all," says English honours student Breanna Massey. She came to this realization not long after moving into a nearby seniors community. After a year of living among older adults, Massey concedes that her misconceptions of this age group were quickly dispelled after getting to know the people of Garrison Green. "It's just a very positive place to be. Everyone is full of life and kindness and very willing to engage with me and with the community programs."
Since 2015, MRU students taking English or classes at the Conservatory have been working closely with United Active Living's Garrison Green residence to offer a variety of programs in music and creative writing.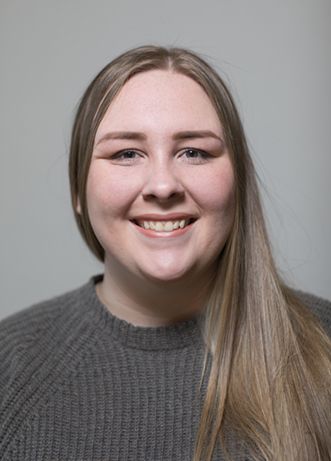 "It's just a very positive place to be. Everyone is full of life and kindness and very willing to engage with me and with the community programs."
Breanna Massey
Writer-in-residence at United Active Living's Garrison Green residence
Massey's residency within the Garrison Green community is part of the Life-Writing Project, in which third- and fourth-year English students are paired with elder partners for a semester to produce a work of creative non-fiction that tells a story about the resident's life. The collaborations so far have produced stories, poems, music and visual art. Four small anthologies of the written projects have been published under the supervision of English professor Richard Harrison.
In the final year of her degree, Massey is the second student to live at Garrison Green and the first to do so year-round. As the writer-in-residence, she works with residents on short-story writing. She helps lead other programs such as game nights, conversation circles and book discussions, and joins the group on community outings.
"We know that as people age, social isolation becomes a problem," explains David Hyttenrauch, chair of the Department of English, Languages and Cultures and one of the architects of the Life-Writing Project. "They can detach and start to 'check out.' But they start to check back in because of this project. The ice is broken and they start participating in other group activities there."
Massey's partner in the Life-Writing Project was a woman with dementia. "That was a new experience for me. I was kind of nervous, but my partner was incredible. She has a wonderful capacity for feeling and for understanding."
The challenge of coping with memory loss has presented some of the most poignant experiences in the Life-Writing Project, according to Hyttenrauch. "We've lost some of the residents since we started, and others have gone through cognitive decline, some quite quickly. We have invested in them deeply and it's difficult to see — for students and all of us."
In Massey's case, her partner's memory loss proved not to be a barrier to completing her story. "We always had wonderful conversations, but I would come in a week later and she wouldn't remember me. I spent four months working with her and what got to me was that even though I was getting to know her very well, she didn't know me and yet she continued to trust me and open up to me."
I'm a lot more willing now to stop and take the time to listen out of interest, because I know it's beneficial to the other person. I take more time now."
Breanna Massey
"Most of the residents at Garrison Green are not experiencing dementia, and overall, they have an active social life," Massey says. Far from being isolated, her neighbours are always eager to engage in conversation. "Everyone wants to chat when they see me. I give myself half an hour to get out of the building so I won't be late for class anymore," she adds with a smile.
It was all of this attention and acceptance that made her see that it was she, not they, who had been living with some isolation and loneliness. "I'm not in my own 'student world' anymore," she says.
Massey appreciates the friendships she's made and how the "very joyful experience" has enriched her own life and infused it with greater empathy. "I'm a lot more willing now to stop and take the time to listen out of interest, because I know it's beneficial to the other person. I take more time now."
Massey's term as writer-in-residence finished in June. "This was a wonderful way to end my degree. It's been a really incredible experience to get to learn about people's lives and to get to know them as individuals," she says.
Unearthing memories and rediscovering talents
Wendy Martin, 87, participated in the Life-Writing Project for two semesters, and only has praise for it.
"This was a wonderful idea that made me write again," says Martin, who now pens poetry almost daily.
"I've continued writing and I've realized how important it is to let my family know about my life — about all that happened before they were born."
Many of the residents' stories uncovered and shared along the way include dark moments from the past, such as growing up during the Depression, surviving the Second World War — and, for one resident, time spent in a Japanese-Canadian internment camp.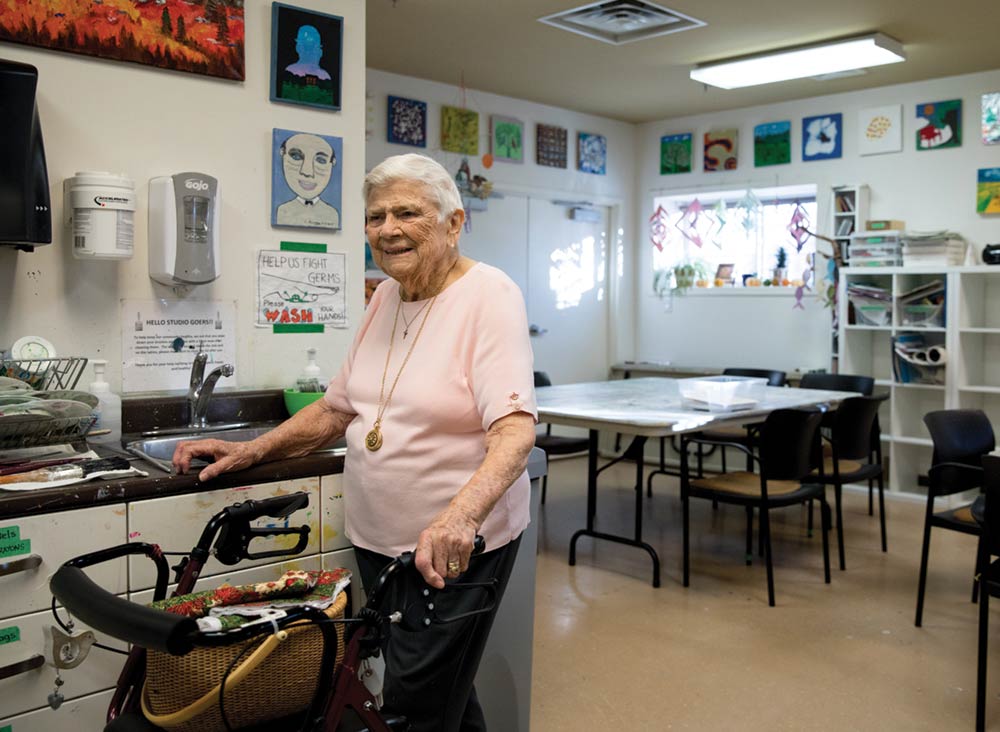 Wendy Martin is a Life-Writing Project participant who is now writing poetry again.
But there have been light moments, too. Talking about the past has helped residents recall memories they'd lost, happy stories and moments from childhoods with parents who died long ago.
"One of the things that made me say 'yes' was the laughter I heard," says Martin about when she decided to participate. "I can remember coming in that front door and there was a roar of laughter and I thought, 'Oh, that's the place to be.' We have laughed our heads off at some of the stories from the past."
"I can remember coming in that front door and there was a roar of laughter and I thought, 'Oh, that's the place to be.'"
Wendy Martin
Resident of United Active Living's Garrison Green community
Hyttenrauch believes everyone involved has benefited from the Life-Writing Project. "Every person who has touched it has made it what it is. It's constantly moving. It's stimulating, emotional, rewarding and difficult. It has been amazing to watch," he says.
Martin says that through the project, she came to reflect on her own life differently. "I looked back at the little things that we did together, the closeness we had as a family and later in my life with my husband," she recalls thoughtfully. "This project made me look back at that and see I didn't have a dull life. I had a fun life. I met all sorts of people, and I did all sorts of things along the way."
Hyttenrauch says that's really the point of the Life-Writing Project. "For the students, this is a one-on-one relationship with a person, capturing their life experience in a meaningful way," he says. "It has connected the energy and skill sets of our students to a community that needed them. That's the core of it for me."
Reforming a dementia diagnosis
Reading between the lines
Think of the memory of someone with dementia as a long piece of yarn that's been cut into random pieces. Instead of a life laid out in a single, unbroken string that follows a linear narrative, their memories are a jumble of segments and scraps.
"Each one of those pieces is like a point in time. Then take all of those pieces and squeeze them together to make a ball. Each point in time can then exist next to any other point in time." Mount Royal alumna Susan Macaulay (Public Relations diploma, 1987) developed this analogy after a decade as the primary care partner for her mom, who lived with Alzheimer's disease.
"Nothing is in sequence. So an event that happened when you were six years old can be right next to an event that happened just yesterday at the age of 78."
An unwavering advocate for those with dementia and their families, Macaulay began her website, "My Alzheimer's Story," in 2014. Her unusually optimistic writings on Alzheimer's disease and other kinds of dementia (including two articles published by the Journal of the American Medical Directors Association) are helping positively alter the way these diseases are viewed.
"I think we need to change the way we perceive Alzheimer's disease and the people who live with it."
Susan Macaulay
Alumna and founder of the dementia advocacy website, "My Alzheimer's Story."
"I think we need to change the way we perceive Alzheimer's disease and the people who live with it. We have this negative narrative that's all about loss and tragedy and despair, which causes us to treat the people who live with Alzheimer's disease and other dementias in ways that are not conducive to them living as fully and productively as they could," Macaulay says.
What upsets many family members and friends is that they see their loved one's reality as a devastating loss, and the resulting stress can be overwhelming.
"I feel if people were able to reframe it, if they were able to see and look at the person as having a brain that is changing rather than a brain that is ravaged, then they would have more capacity for hope, and compassion, and love."
As Canada's population ages, it's time to stop thinking of those with dementia as having a brain that is fragmented, unravelled and ruined, she stresses. Macaulay sees it simply as a new type of "normal," a state of being in which those diagnosed may still lead joyful and productive lives. This, however, depends on the support of society and the understanding that everyone experiences and remembers life differently.
Staggering statistics
1 in 5 women and 1 in 10 men are at risk of developing dementia.
Dementia Network Calgary
564,000 Canadians are currently living with a dementia diagnosis.
Alzheimer Society of Canada
For every person diagnosed, another 10 to 12 lives are directly impacted.
Dementia Network Calgary
From 1971 to 2010 the proportion of Canadian seniors in the population grew from eight to 14 per cent.
Statistics Canada
In 2015, the number of people in Canada over the age of 65 surpassed those under the age of 15 for the first time ever.
Statistics Canada
The scope and cost of dementia
Contrary to popular belief, dementia, or "senility," as it was once more commonly called, is not a normal sign of aging. It is a progressive disturbance of synaptic activities, and as of right now, there is no cure.
Twenty-five thousand new cases of dementia are diagnosed in this country every year, according to the Alzheimer Society of Canada. By 2031 (when all baby boomers will be age 65 or older), the number of Canadians living with the disease is expected to reach 937,000 — a staggering increase of 66 per cent from 2017. Last year, the combined cost of dementia to the health-care system and caregivers was $10.4 billion. By 2031, that cost will skyrocket to $16.6 billion, according to a StatsCan estimate.
Dementia is an umbrella term describing 50-plus different diseases resulting in a decline in mental ability. Alzheimer's disease is the most common, followed by vascular dementia (which occurs after a stroke), mixed dementia, Lewy body dementia and frontotemporal dementia. Causes are mainly undetermined, but can include Parkinson's disease, Huntington's disease, normal pressure hydrocephalus (the build-up of cerebrospinal fluid), alcohol abuse, substance abuse, depression, delirium and head injuries.
The person behind the disease
People living with dementia are often described as "difficult." But Macaulay points out that how they're acting might be attributed to how they're being treated. Resisting when someone tries to take your clothes off is not strange behaviour, she points out. Nor is becoming restless after being forced to sit for a long period, or refusing food you don't like.
"The first thing for caregivers is to step into the person's reality, and don't expect them to step into yours. And don't ask them questions about what they remember or put pressure on them to recognize you. And when they don't recognize you, ask yourself, 'Does it really matter?'"
Although those with dementia are different, they're still people, says Gaye Warthe, PhD, registered social worker and professor in the Department of Child Studies and Social Work, "They are contributing. Just be willing to recognize it's a new kind of relationship and embrace it."
"The first thing for caregivers is to step into the person's reality, and don't expect them to step into yours."
Gaye Warthe, PhD
Professor, Department of Child Studies and Social Work
Accepting that evolving connection is as important as deriving new ways to house and care for those with dementia.
Research is leaning towards creating innovative communities where people with dementia can thrive in a secure environment. Hogewey in the Netherlands is a carefully designed "dementia village." The 5.3-acre care facility has a town square, a theatre, a garden and a post office. There's even a bar. Caretakers wear regular clothes and are unobtrusively integrated into the society. "Patients" have been observed to eat better, take fewer medications, live longer and seem happier. Members of the surrounding communities also use the facilities.
Research is also looking into lifestyle factors that may help slow or stave off dementias, such as exercise, a healthy diet and not smoking.
Inspired by Hogeway, Canada's first community specifically for those living with dementia will open in Langely, B.C., in 2019. The Village will be comprised of six bungalows housing 78 residents, with care provided by 72 expert staff.
Roughly 56,000 Canadians with dementia currently live in hospitals, according to the Alzheimer Society of Canada, a less-than-ideal situation. Hospitals aren't set up for long-term care, and function best as short-term stops on the way to community-based continuing care.
"With Alberta Health Services, and as a nurse, our goal is to try to keep people as independent as possible," says Jocelyn Rempel, a registered nurse and professor in Mount Royal's School of Nursing and Midwifery. If possible, the patient's home is the best place for them to be. But if there are health and safety issues — forgetting to clean out the fridge or go shopping, neglecting medications, wandering — an independent living facility might be the next option.
Suspect abuse?
When exploitation and mistreatment of a senior by their caregiver is suspected, people can turn to the Alberta government's Office of the Public Guardian and Trustee, as well as their local police service. The City of Calgary's 311 line can also assist.
"Some people actually show an improvement in those environments because they have that structure and the supports they need," Rempel says.
In Canada, a National Strategy for Dementia-Friendly Communities was published in November 2016, and provincial dementia care strategies are being developed. A federal bill (C-233) passed in 2017 details an outline for the future and provides $100 million towards a dementia strategy, along with extra funds for respite care. The Alberta Dementia Strategy was unveiled in December 2017, with Alberta Health Minister Sarah Hoffman stating that nearly $7 million had already been spent on initiatives. The First Link program, which connects caregivers to support systems after a diagnosis, has received about $2 million.
Read more Summit
Carrying the stories
Mount Royal's storyteller-in-residence, opens up about humanitarian causes, raising kids, his upcoming album and the legacy he hopes to leave.
READ MORE