Over time, old injuries can lead to general aches or pains that just hang around. Getting to the root of that old injury sometimes requires something to restimulate the body to recovery. Acupuncture is that something.  
Using very thin needles and inserting them into strategic points of the body helps stimulate your body's natural healing process. Acupuncture can help with numerous conditions, but its main use is to reduce pain and inflammation and leads to improved function of the affected areas by restoring biochemical balance in the body. 
Common injuries or conditions that can benefit from acupuncture treatment:
Stress and anxiety
Aches and pains (neck, back, knee, shoulders, etc)
Arthritis
Tendonitis  
Headaches
Respiratory tract issues
Gastrointestinal issues
Eye disorders
Meet our practitioner
---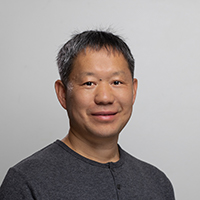 Lake Zhu
Traditional Chinese Medicine Doctor and Acupuncturist
Lake is a Registered Acupuncturist and a Doctor of Traditional Chinese Medicine. 
Lake diagnoses the root cause of a health issue through the principles of Traditional Chinese Medicine and treats patterns of disharmony in the related organs and their respective energetic meridians to help with the body's natural healing process. This treatment is effective for a wide range of issues including:
Stress and tension
Depression
Anxiety
Insomnia
Digestive disorders
Fertility
Headaches and migraines
Stroke
PTSD
General pain and injuries
Lake is a strong advocate of using simple, preventative and natural methods to maintain well-being to avoid complex health interventions.
Lake is also passionate about sharing well being with his community, and has been teaching Tai Chi, yoga and meditation with The City of Calgary and MRU Recreation since 2000.
Credentials
Doctor of Traditional Chinese Medicine
Registered Acupuncturist
Address
4825 Mount Royal Gate SW
Calgary, AB T3E 6K6
U216, Wellness Services
Hours of operation
Monday - Friday: 8 a.m. - 8 p.m.
Saturday: 9 a.m. - 2 p.m.
Sunday: Closed
Subscribe to our newsletter