Everyday functions and movements impact your body's alignment. Sitting, standing, walking, running ⁠— every movement is connected and feeds into your body's posture and general alignment. One little piece being out of place can impact all other areas of the body. That's why we have chiropractors. To get your body back to its proper alignment and things functioning as they should, pain free.
Chiropractic care focuses on the neuro-musculoskeletal system and restoring proper alignment ⁠— especially of the spine. Our chiropractors practice conservative chiropractic medical care and take a hands-on approach to restore proper function to the spine, extremities and associated muscular system. 
Two common chiropractic treatment styles include the diversified chiropractic technique and active release therapy. The diversified technique encompasses a variety of treatments such as specific manual manipulation, trigger point therapy and soft tissue therapy. Active release therapy is a soft tissue system and movement based massage technique that treats problems with muscles, tendons, ligaments, fascia and nerves.
Common injuries or conditions that can benefit from chiropractic care treatment:
Back pain
Neck pain
Shoulder pain
Chronic pain
Herniated or slipped discs
Headaches
Sciatica
Sports injuries
Meet our practitioners
---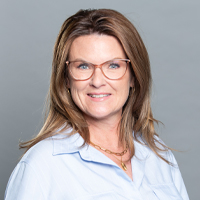 Dr. Allison Gross
Chriropractor
Dr. Gross has been in practice since 1997 and at MRU Injury & Prevention Clinic since 2002. She takes considerable pride in the fact that she provides comprehensive care using a variety of techniques in her practice and does not hesitate to refer to her colleagues.
While improving spinal mobility and function is her primary focus, she also uses many different muscle therapy techniques including the following:
Kinesio taping
Trigger point release
Graston soft tissue mobilization to release scar tissue, adhesions, and tightness in muscles
Stretching and strengthening programs
She really enjoys the multidisciplinary collaboration amongst practitioners (medical doctors, physical therapists, massage therapists, athletic therapists, and acupuncturists) at the MRU Injury & Prevention Clinic.
Credentials
Doctor of Chiropractic (Summa Cum Laude): Canadian Memorial Chiropractic College, Toronto
Bachelor of Science (Distinction): University of Alberta, Edmonton
Address
4825 Mount Royal Gate SW
Calgary, AB T3E 6K6
U216, Wellness Services
Hours of operation
Monday - Friday: 8 a.m. - 8 p.m.
Saturday: 9 a.m. - 2 p.m.
Sunday: Closed
Subscribe to our newsletter