MRU's BounceBackYYC program challenges students to find solutions to Calgary Downtown Revitalization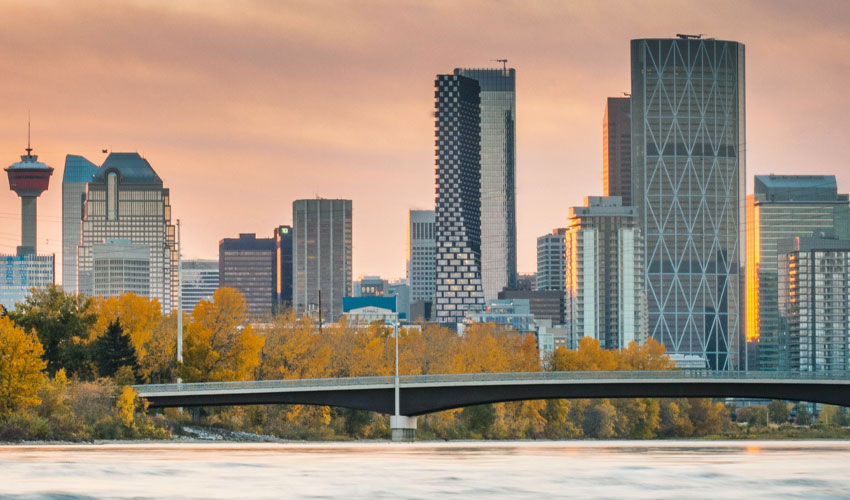 Nov. 2, 2021
Over a 72-hour period this Halloween weekend, more than 100 students from Mount Royal University generated solutions to Calgary's downtown revitalization challenge as part of this year's BounceBackYYC Hack-a-thon.
As the Calgary economy recovered after the global financial crisis (2008-2009) the city's large-scale office developments couldn't keep up with demand. This led to long term commitments being made for new office projects, many of which took years to build. Allied with the most recent global pandemic, Calgary's economy has borne the brunt of the global decline and uncertainty in commodity (oil) prices.
These economic events have taken a toll on Calgary's downtown offices. Downtown office property has reduced in value by $16 billion or 60 per cent over the past five years. Today, 30 per cent of the downtown office space remains vacant, equating to 12 million sq. ft. This has heavily impacted the city's finances and, in April 2021, energized the creation and approval of Calgary's Greater Downtown Plan (GDP). 
"The Greater Downtown Plan draws attention to the essential role that the downtown core plays in Calgary's future. A strong and successful city requires investment in the downtown core," says Sheryl McMullen, program manager for the city's Downtown Strategy.
The city of Calgary has committed an initial $200 million of the $1 billion capital investment required to resource the GDP. With implementation led by a dedicated Downtown Strategy team, the GDP is a long term plan that will take ten years to complete.
"How should this $200 million be spent? This is a challenge we set for this year's BounceBack YYC students. The issue of downtown revitalization is important for many students. They have chosen Calgary as a place to study and have a range of choices when it comes to building their careers and families," says Dr Simon Raby, PhD, Academic Director for the Downtown Revitalization Student Challenge.
Solutions focused on attracting post secondary students, young professionals and young families to live, work, play and connect in the downtown core. The three challenge tracks included:
Safety Track
About the track: Students focused their solutions on improving the safety of living, working and socializing downtown. Students explored the plights of women commuters, those with mobility impairment and the value of inclusive sidewalks.
Winning Team: The winning team, Safety 1st, proposed the design of an app that would help those walking in the downtown find safe routes to their destination, and could alert others if areas were deemed unsafe.
Transportation & Transit Track
About the track: Students built innovative solutions to improve transportation and transit, including the Plus 15 experience, introducing a trolley network for better connection between 17th Avenue S.W. and the downtown core, and door-to-door GPS tracking of Calgary's transit system.
Winning Team: The winning team, Parking Patrol, proposed the democratization of expensive downtown parking by designing an app (iPark) that would enable existing owners to sublet their spaces to commuters for as little as $10 a day.
Vibrant Community Track
About the track: Students raised the challenges for residents and visitors creating meaningful relationships and the opportunities to turn empty office spaces into inclusive spaces for art, music and culture.
Winning Team: A multicultural inclusive 'Kaleidospace' in the downtown core to celebrate arts, music and traditions.
These student teams now have bragging rights, and will receive support from MRU's Institute for Innovation and Entrepreneurship to explore how they can bring their ideas to life.
Leading up to and during the hackathon weekend, students delivered over 600 customer discovery and solution testing interviews with Calgary residents, offering essential insights to the Downtown revitalization challenge. Competition judge Susan Thompson, Insights Manager of Avison Young, highlights:
"It's important to hear from Calgarians about their experiences, including challenges and opportunities, within the current downtown framework," says Raby. "Valuable feedback and data are essential to implementing future development initiatives that will create a downtown that provides for our future needs."
BounceBack YYC is a strategic initiative of Mount Royal University's Institute for Innovation and Entrepreneurship.
For further information or to arrange interviews, please contact:
Peter Glenn, Senior Media Relations Officer
403.463.6930
mediarelations@mtroyal.ca