2019 Spring Convocation ceremonies a moving celebration
New alumni poised to make a difference in their communities and the world
The 2019 Spring Convocation ceremonies ticked off a number of firsts for Mount Royal University. For the first time ever, five cohorts of Mount Royal University graduates crossed the stage at five separate ceremonies, officially becoming MRU alumni.
The University welcomed 1,736 new graduates, its largest graduating class to date. This year's graduating class surpassed last year's total of graduates of 1,703.
Among those 1,736 graduates was the first-ever cohort from the Bachelor of Interior Design. The inaugural group was comprised of 30 students who crossed the stage to accept their parchments along with their fellow Faculty of Arts graduates.
The University also officially installed its tenth president and first vice-chancellor, Tim Rahilly, PhD on June 5 during the Bachelor of Arts' graduation ceremony. The Lieutenant Governor of Alberta, Her Honour Lois Mitchell, was in attendance for the ceremonial changing of robes and presidential oath.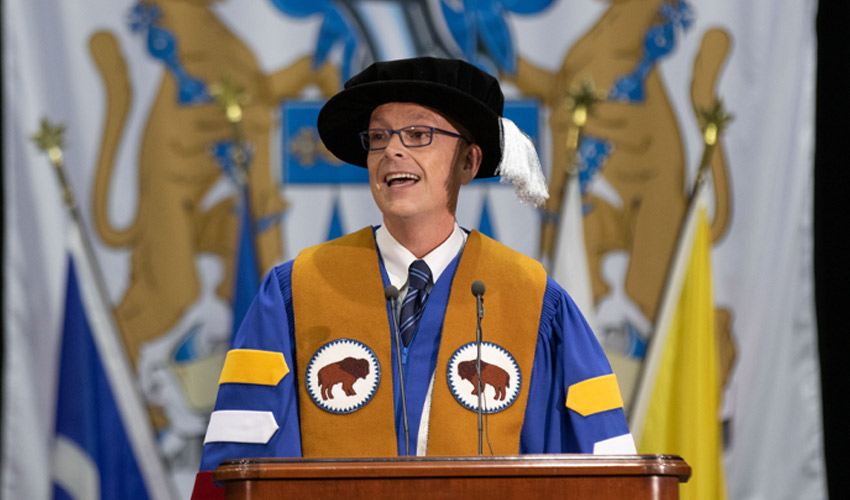 A notable graduate included campus entrepreneur and Barrow Coffee founder Ryan Wenger. The certified heavy-duty mechanic turned successful small business owner crossed the stage at the fifth and final ceremony on June 7, collecting a Bachelor of Business Administration - General Management to go along with a minor in Innovation and Entrepreneurship.
For the second consecutive year, the celebration incorporated a number of Indigenous elements. Opening remarks were accompanied by a Blackfoot blessing from 2016 honorary degree recipient Clarence Wolfleg (Elder Miiksika'am), who started off each ceremony with a meaningful story about his heritage, citing the characteristics of honour, courage and humility. Wolfleg was joined by 2017 honorary degree recipient Doreen Spence (Elder Grandmother) .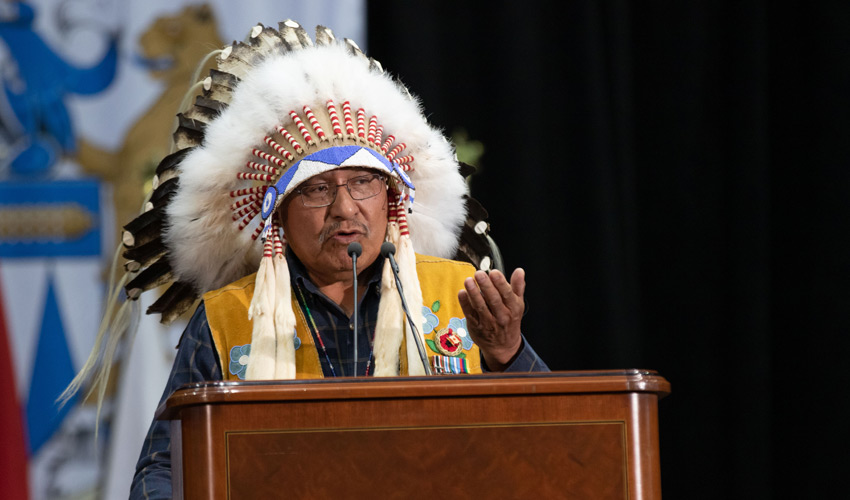 The campus Elders also bestowed 70 medicine bags to self-identified Indigenous students as they crossed the stage. To close out each of the ceremonies, the honour song Wolfleg gifted the University in 2018 was performed by the Sorrel Rider Singers for this year's students-turned-graduates before the ceremonial tassel toss.
Honorary Doctor of Laws Recipients
Mount Royal recently moved to Part 1 of the Post-Secondary Learning Act, enabling the University to grant Honorary Doctors of Laws. As part of the celebrations, each recipient addressed graduates and guests.
Dating back to the Middle Ages, honorary doctorates are often accompanied by the Latin words honoris causa, which translates to "for honorific reasons." They are presented on behalf of Mount Royal University's Board of Governors on the recommendation of the General Faculties Council.
Wednesday, June 5
Bachelor of Arts
Dawn Farrell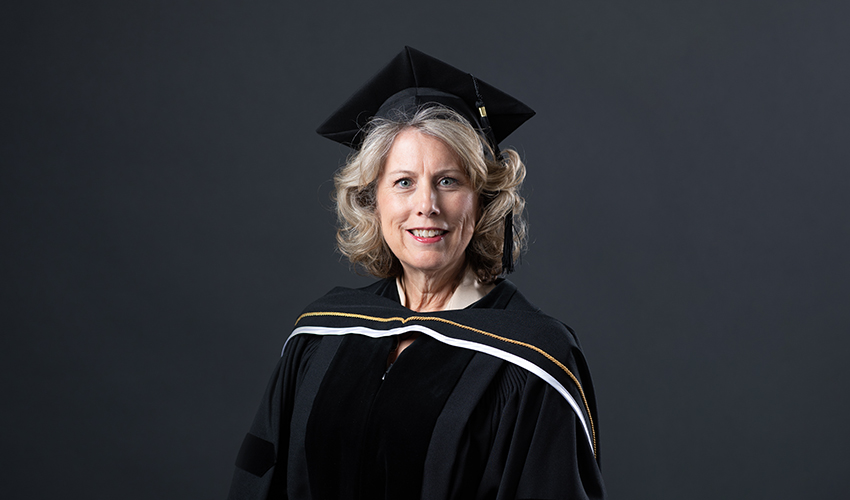 Mount Royal's 2019 Spring Convocation season officially got underway with former Mount Royal University board of governors member and current president and chief executive officer of TransAlta Corporation Dawn Farrell receiving the intuition's first-ever Honorary Doctor of Laws.
With 30 years of experience in the electricity industry, Farrell is an accomplished business and community leader. She is a strong advocate for Canadian business and sits on the board of directors for the Conference Board of Canada and the Business Council of Canada.
Throughout her career, Farrell has generously shared her leadership and work ethic broadly with the Calgary community, lending her support to community initiatives such as Calgary's United Way Campaign, the Calgary Stampede and Momentum.
During her speech, Farrell thanked Mount Royal for the honour of receiving an Honorary Doctor of Laws, saying she was pleased to appear in front of an audience of arts graduates, as that was the faculty from which she received her master's in economics from the University of Calgary. She reminisced about her first introduction to Mount Royal in 1986, when she taught a course in economics to first-year students. She continued her relationship with the institution, returning to serve on the Foundation Board of Directors as well as the Board of Governors, helping to lobby to transition the school from a college to a university.
She lauded the exemplary level of instruction at Mount Royal, saying, "I know that all of the deep work that you did here at Mount Royal to earn your degrees makes you some of the most employable people in Alberta, Canada, and globally."
Describing herself as someone who loves school, she spoke of the importance of publicly-funded educational institutions. "I am so very grateful that I live in this country, with its passion for educating all of those who will put in the effort and do the work."
Farrell listed her parents as well as former teachers, professors, bosses and mentors as critical to the success she has achieved, especially as she learned to "study and research with a vengeance."
After witnessing numerous positive changes at TransAlta during her tenure, Farrell says she is optimistic for the future. Alberta is richer today than it has ever been, she said, citing the fact that if Alberta were a country, it would be the 11th wealthiest country in the world. She said there will be countless more changes to come that the day's graduates will witness, and that they will be more networked than ever before. Those networks can be accessed to make change, she said.
"You are the emerging leaders that will combat those fear monsters who run around social media and try to undermine our confidence and our right to a prosperous and peaceful life. What I know about you, because you're graduating from Mount Royal, because you live in Alberta and Canada, because you are educated, and because you've been taught how to think, study and research, problem solve, and argue, you will find ways to move us along."
Thursday, June 6 - Morning ceremony
School of Nursing and Midwifery and Social Work Diploma
Ann McCaig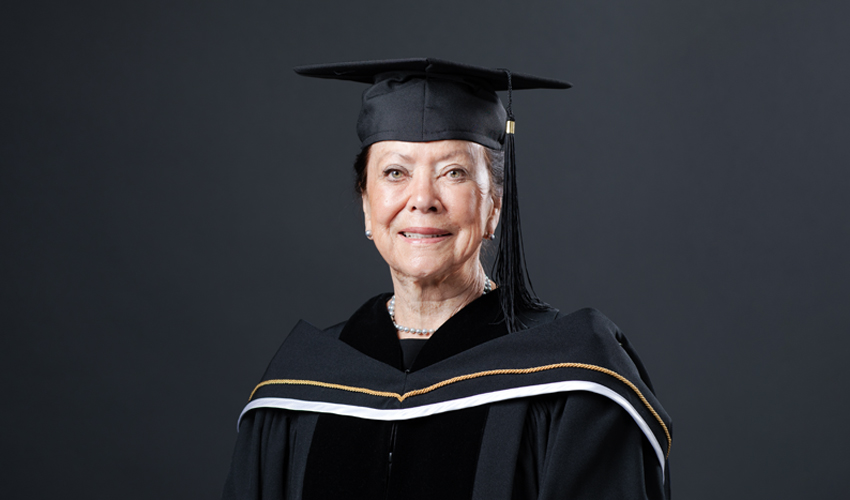 The second and third ceremonies saw two of Calgary's most prominent philanthropists receive Honorary Doctor of Laws. During the morning ceremony, with graduates from the Social Work Diploma program and the School of Nursing and Midwifery in attendance, Mount Royal recognized Ann McCaig as an advocate of advanced education, medical research, health care and youth development, and a passionate supporter of arts and culture.
A committed supporter of Mount Royal's Military Memorial Bursaries, McCaig is a member of the Order of Canada and the Alberta Order of Excellence. Her volunteer efforts in the areas of medical research and health and youth development have strengthened the quality of life in Canada, Alberta and Calgary. She is a director of the Gairdner Foundation, which recognizes advancements in biomedical research, the honorary chair of the Alberta Bone and Joint Health Institute, chair emeritus of the Calgary Health Trust and a board member with the Calgary and Area Child Advocacy Centre.
McCaig began her address by remembering and paying tribute to the 75th anniversary of D-Day, saying that the average age of those who fought at Juno Beach was 23, about the same age as many of the graduates. "Remembering those who have fought for our freedoms and the many privileges we all enjoy has always been very important to me," she said, mentioning the hundreds of Mount Royal students who have served in the Canadian military, and the 29 who made the ultimate sacrifice.
"Our freedoms, such as pursuing an advanced education, come at a very high cost, and education is a privilege that comes with great responsibility." She went on to quote her cousin, Bruce Schnell, the former vice-president of the University of Saskatchewan. "Society asks each of us to accept the obligation of service to the broader society, especially those who come to us in a time of need. The concepts of university, profession and service are intertwined. You will find your greatest rewards and job satisfaction come from providing service to others."
The skills and knowledge obtained while earning a university degree will assist the graduates in making the world a better place, McCaig said, and that their responsibilities now include support of their school, protection of the environment, and to continue to learn.
"I want to encourage you to consider the place continuous learning has in your life. As you go forward, do so with the attitude that as much as you know now, there's much more to learn."
She wrapped up her speech by encouraging the new alumni to look for opportunities to help others, and to work together with others. "You can all make a difference," she said. "Be grateful for the privilege of living in Canada, and committed to showing your gratitude through serving."
Thursday, June 6 - Afternoon ceremony
Faculty of Health, Community and Education (Except School of Nursing and Midwifery and Social Work Diploma)
Marg Southern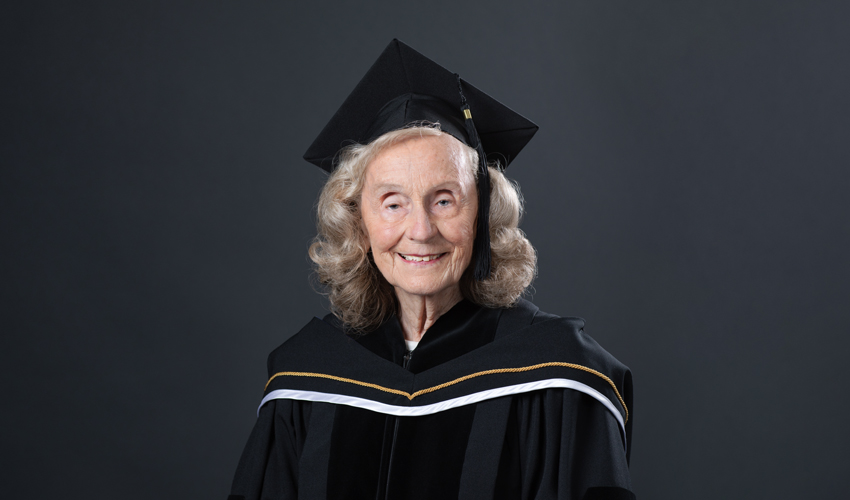 The afternoon cohort of the Faculty of Health, Community and Education graduates witnessed Spruce Meadows founder Marg Southern receive her Honorary Doctor of Laws.
Southern has participated on numerous corporate, community and non-profit boards locally, nationally and abroad. Her passion for sport and recreation has benefited many. A commitment to ensuring Calgarians enjoy parks and green spaces led Southern to become a founder of the city's first Parks and Recreation Board, which banked land for future recreational use, helped develop Fish Creek Park and preserved Nose Hill Park. She was an inaugural member of the Calgary Downtown Tree Planting Committee, planting 500 trees during Calgary's centennial.
She began her speech by mentioning how deeply touched and honoured she was to receive her honorary doctorate, but that the day is about the graduates. She urged the new alumni to savour the moment, and to celebrate the end of an important chapter and the beginning of a new one, which will require them to be bold and daring.
"Your success will greatly rely on your courageous and resilient mindset," Southern said, and that great lives are those that are not cluttered with regrets. In order to not be regretful, one must be a leader, she said.
"Real leadership is as much about bringing out the best in others as it is about doing our personal best," Southern said, and continued on to say that, to her, leaders do not get embroiled in politics, give credit where credit is due, and are not afraid of criticism.
Success will come from being resilient in the face of adversity, Southern said, and that continuous learning is pivotal for building strength. "You need to keep your skills portable, flexible, and continually updated."
She finished by congratulating the graduates on their achievements, and iterated that a positive attitude will carry them forward. "The remarkable thing is that we have a choice every day regarding the attitude that we will embrace for that day. Life is 10 per cent of what happens to you, and 90 per cent of how you react to it."
Friday June 7 ― Morning ceremony
School of Communication Studies, the Faculty of Continuing Education and Extension and the Faculty of Science and Technology
Don Braid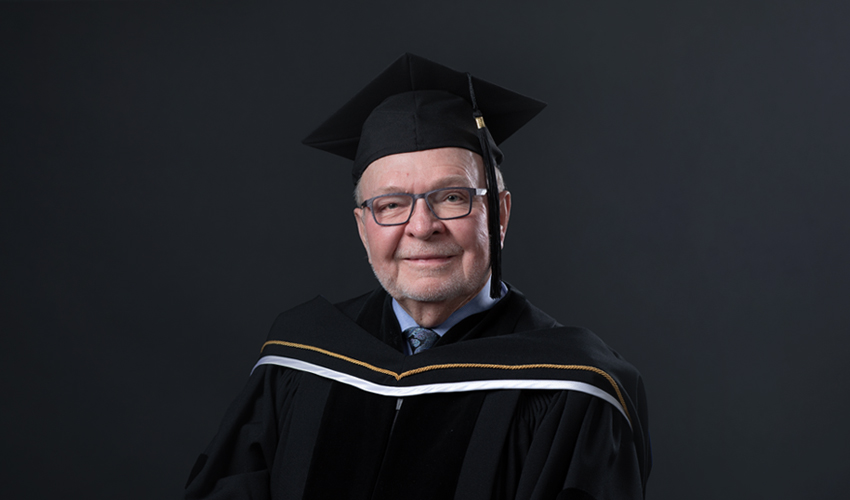 Friday's morning ceremony saw Don Braid, a political columnist since 1978, receive an Honorary Doctor of Laws for his resolute dedication to exemplary journalism. Well-known in his field, Braid has written columns for the Montreal Star, Montreal Gazette, Toronto Star, Edmonton Sun, Edmonton Journal and Calgary Sun. He became the Calgary Herald's provincial and city columnist in 1987, and today his columns often appear across the country in the National Post as well as other Postmedia papers and digital channels.
Subjects of his reporting and columns have included every Alberta government since Peter Lougheed's and every federal government since the original Trudeau's. Braid has covered numerous key moments in Canadian history, ranging from the election of the Parti Quebecois to the negotiations of the Meech Lake and the Charlottetown Accords.
Braid began by saying how pleased he was to be able to address the new alumni, some of whom were graduating from the University's journalism program.
"It's challenging times for (journalists), and recognition from such a wonderful university is truly appreciated," he said, noting that he has worked with numerous graduates from MRU.
Braid shared stories from his fascinating career, including memories of being woken by the secret police in Mogadishu, Somalia, during the early days of Soviet influence, poked with guns and tossed around. He said it was likely because he had asked "the wrong question" at some point, and that it was his first experience with "raw political power." Later in the Soviet Union he was shadowed constantly by the KGB, and even asked to be a spy.
"Those early episodes did show me how fortunate we are to be in a country that values fairness, freedom from arbitrary punishment, freedom of speech, tolerance of others." We may not always reach those ideals, however, Braid said, and in fact those ideals are being severely challenged today.
The divisiveness of the recent provincial election in Alberta, which Braid described as "ugly," is worrisome to him. The attacks on social media were like nothing he had ever seen before.
Considering himself an early adopter of technology (he started using a computer for work in the early '80s), Braid said he can see the uses for social media, and he tried to participate, but now he ignores most of it. Social media can change people for the worse, he says, and cause serious harm to psyches.
The digital age is scary, and the graduates are going to have to figure out ways to manage it. "I think we have to pay attention to another category of potential disaster. We can't set it aside. I'm talking about the insidious threats from inside our networks - identity theft, ransomware, loss of privacy, sabotage of governments, sabotage of elections - and most frightening of all, perhaps, the digital invasion of power plants, dams, even military bases."
Countries can now attack each other without firing a shot, he said, and that the graduates are the world's best hope for solving these sorts of problems. "You surely have the capacity. You can do this," he said, thanking the crowd.
Friday June 7 - Afternoon ceremony
Bissett School of Business
David Johnston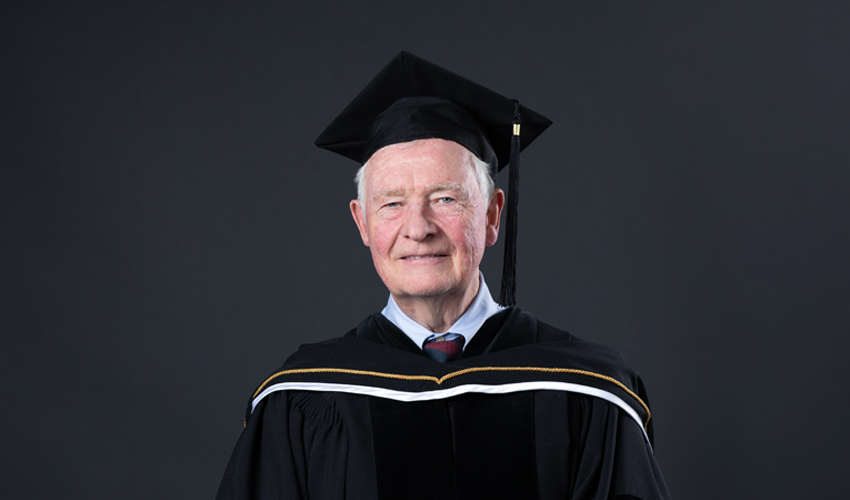 The Right Honorable David Johnston, former governor general of Canada, was honored as the fifth and final Honorary Doctor of Laws recipient of the Spring 2019 Convocation ceremonies.
David Johnston served as the Governor General of Canada from 2010 to 2017, the 28th since Canadian Confederation. He is also a revered academic, media personality and author.
In addition, his depth of knowledge and ability to articulate complex issues made him well suited to broadcasting and journalism. After hosting the panel discussion programs, The Editors and The World in Review, throughout the 1990s, Johnston was also sought to moderate two federal leaders' debates and one Ontario provincial leaders' debate.
Johnston greeted the graduates in both French and English, and reminisced about living in Montreal on the west side of Canada's original Mount Royal, or Mont Royal. He then moved on to speak about his latest book, titled Trust: Twenty Ways to Build a Better Country. It came about because he said he is concerned about the erosion of trust in public institutions, and so examined where trust actually comes from in his work. He came to the conclusion that trust is fostered by trusted individuals, not by institutions themselves.
Johnston then shared three stories with the graduates about how to become that trusted individual, each of which spoke to the importance of education, integrity, influence and balance in life, as well as how perspectives can be changed by using critical thinking and examining points of view.
As people get older, Johnston said, they tend to move from a "me" to a "we" perspective. The final story was about a colleague who was an amateur magician, and whose last trick was to turn water into "wine" using an eyedropper of fluid. It worked as a metaphor for interactions with others, and how positive actions, however small, can completely transform the "culture," or the "nature," of surroundings.
"That's what you do when you move from 'me' to 'we,' " he said. "That's what you do with an act of kindness, an act of concern, being smart and caring. You not only change the life of the person whom you helped. You change your own life in a way, and you change the entire culture around you."
He then moved on to answer his own question, which was, "Who owns the university?
"My answer is that nobody own the university, but there are some people who are special stewards of the university," Johnston said, mentioning faculty, staff, board members, members of the external community, and the graduating class of 2019.
"I was so taken when I arrived to see the sign saying, 'You Belong Here,' and at the end of your programs you'll see another statement from the Alumni Association stating, "You Will Always Belong Here,' " he said.
"That sense of belonging is really important. Of all the stewards of this university, you, in many ways, are the most important. You've come here at a very formative stage in your life and you've given a lot of yourself. With any luck, it's been a period of great joy and great formation (development)."
He urged the graduates to see themselves as special stewards of the University for their lifetimes. "You belong here. It belongs to you."
Centennial Gold Medal recipients
This year Mount Royal awarded four Centennial Gold Medal recipients, one from each faculty. Any Mount Royal student, staff or faculty member can nominate an eligible student for the Centennial Gold Medal.
Nominees were considered by the selection committee in terms of the following criteria: must be graduating from diploma and degree programs, must have a cumulative GPA of 3.7 or higher and the student must have demonstrated leadership through involvement in campus and community activities.
Gabrielle Dickson - School of Communication Studies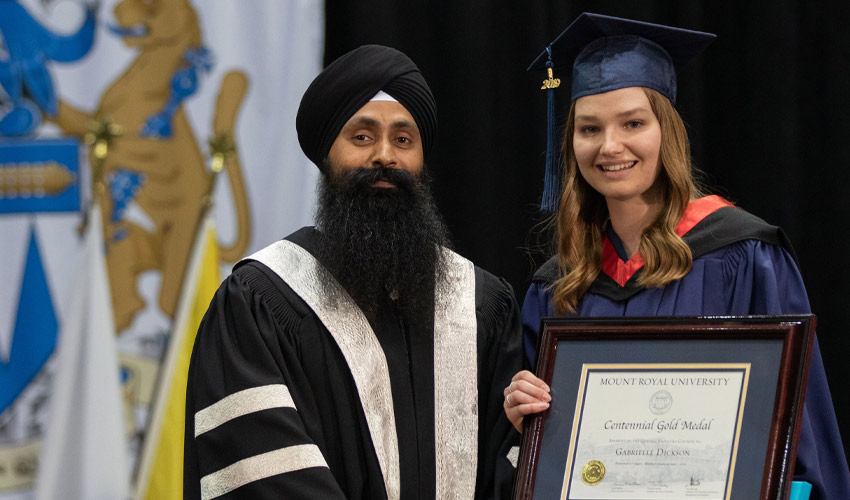 A dedicated volunteer, Gabrielle Dickson was a valued resource during New Student Orientation and contributed extensively to the International Student Support Centre and the Information Design Society. She was a peer mentor through Student Learning Services and a workshop co-creator and presenter on behalf of the Information Design Program at the Explore STEM Conference in May 2018.
Dickson achieved a Bachelor of Communication - Information Design and was selected as the 2019 Centennial Gold Medal Recipient for the Faculty of Business and Communication Studies. She leaves Mount Royal with a cumulative GPA of 3.98.
Kevin Hayes - Faculty of Science and Technology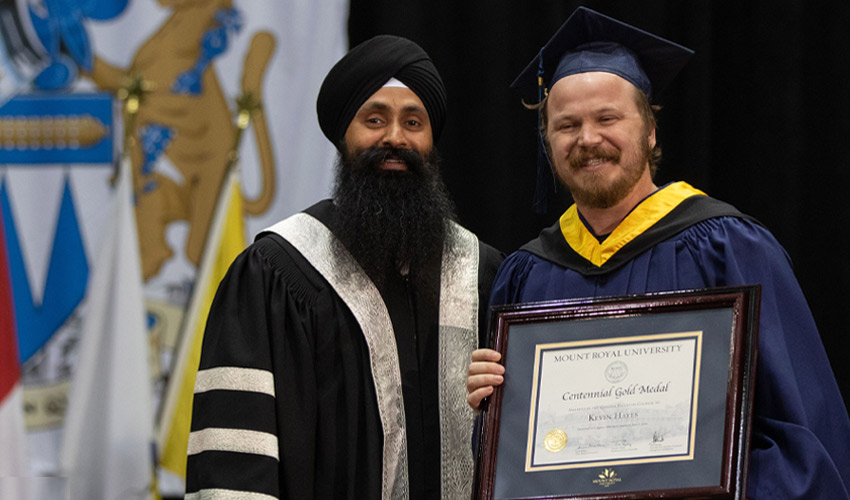 A research assistant with Professor Gwen O'Sullivan, PhD, throughout 2017 and 2018, Kevin Hayes helped present their team's work in the Metals Section of the 2018 International Network for Environmental Forensics conference. The group is using a new instrument, the first-of-its-kind in Calgary, to bolster investigations into wildfires, arsons, oil spills, chemical releases and other environmental forensics. Hayes also assisted in the delivery of Science Odyssey workshops, a science educational outreach program.
Hayes earned a Bachelor of Science - Environmental Science and has been selected as the 2019 Centennial Gold Medal Recipient for the Faculty of Science and Technology. He leaves Mount Royal with a cumulative GPA of 4.00.
Toluwanimi Okunola - Faculty of Health, Community and Education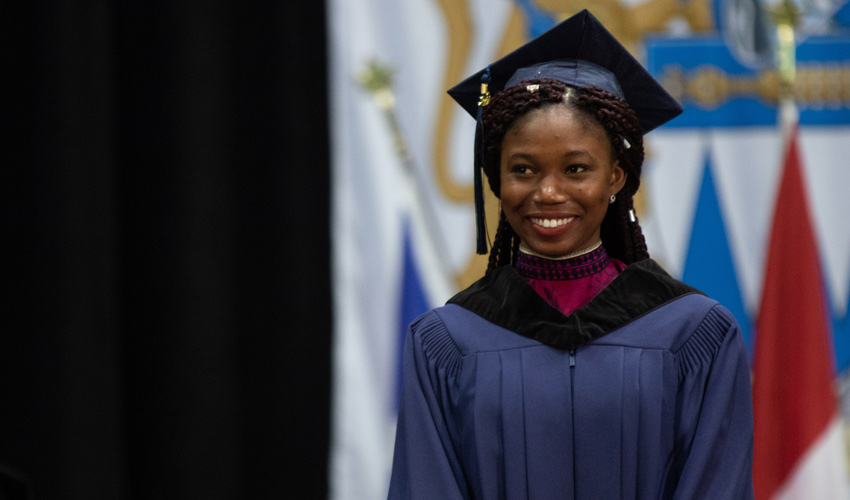 Originally from Nigeria, Okunola was a student leader at New Student Orientation on three occasions. She volunteered with the Healthy Campus Office as a peer health educator for two years and with Student Learning Services as a mentor to a first-year students through the MAPS Peer Mentorship program.
Okunola graduates with a Social Work Diploma and has been selected as the 2019 Centennial Gold Medal Recipient for the Faculty of Health, Community and Education. She leaves Mount Royal with a cumulative GPA of 3.92.
Zoe Slusar - Faculty of Arts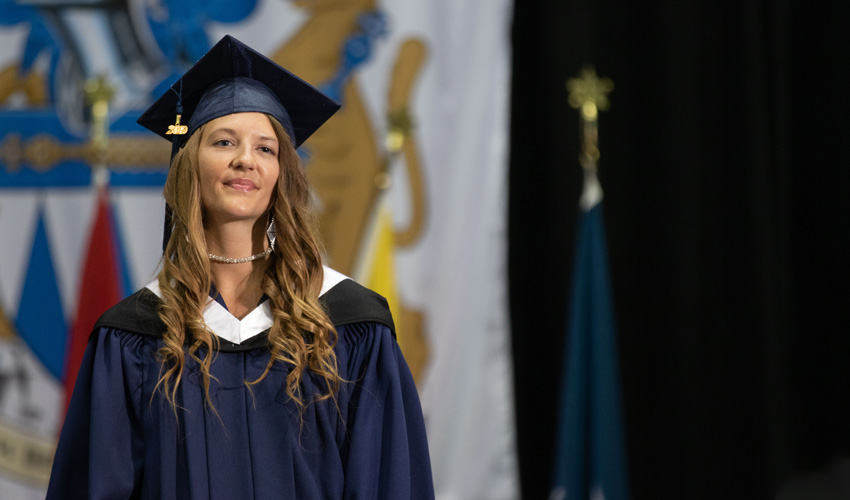 For three consecutive years Slusar presented at Mount Royal's Student Leadership Conference and organized events supporting campus diversity, human rights and artistic expression. She also proudly collaborated with artist Ryan Willert in the creation of the Indigenous mural on Main Street. In addition, she represented her fellow students as vice-president of student affairs with the Students' Association of Mount Royal University.
Slusar graduates with a Bachelor of Arts - Anthropology (Honours) and was selected as the 2019 Centennial Gold Medal Recipient for the Faculty of Arts. She leaves Mount Royal with a cumulative GPA of 3.97.
Governor General Silver Medal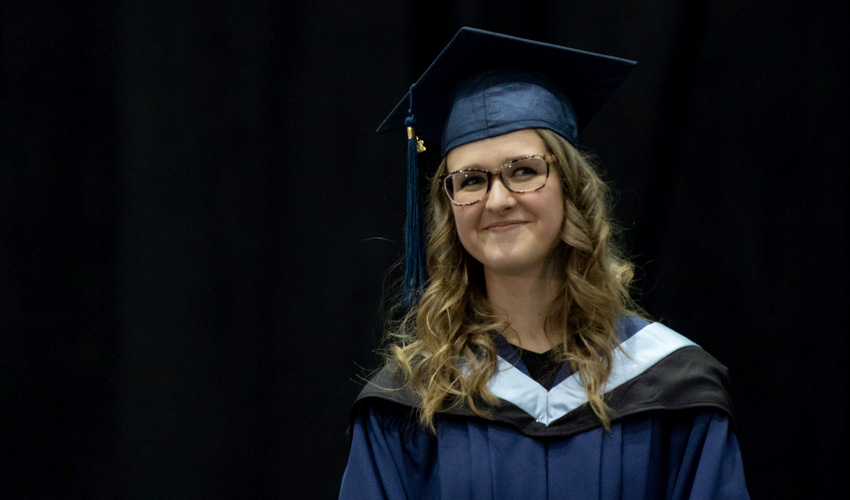 Other award recipients included Katelyn Stone, who was presented the Governor General Silver Medal. Stone graduated with a Bachelor of Education and achieved the highest academic standing of any program, a perfect GPA of 4.0.
The Governor General Bronze Medal recipient was Alexander De Boer, who graduated with an Aviation Diploma. The bronze medal is awarded to the person with the highest academic standing in a diploma-level, post-secondary program. His GPA was a perfect 4.0 as well.
The Governor General's Medal, established in 1873 in recognition of exceptional academic achievement, is one of the most prestigious awards that can be received by a student in a Canadian educational institution.
June 7, 2019 ― Jonathan Anderson, Michelle Bodnar