Adapted Physical Activity Symposium turns obstacles into opportunities
Amazing Race Canada contestants among presenters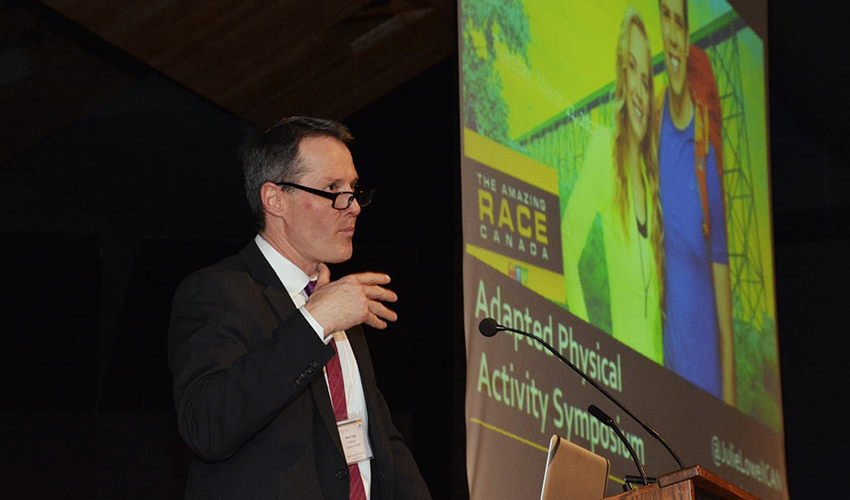 Students in Mount Royal University's Health and Physical Education program hosted three days of inspiring presentations and informative workshops from March 23 to 25 at the 2017 Adapted Physical Activity Symposium on physical literacy, adaptation and disabilities.
The symposium, presented in partnership with Mount Royal University and the Steadward Centre for Personal & Physical Achievement, University of Alberta, featured distinguished guests from across the country and around the world, including: Mayor Naheed Nenshi; Amazing Race Canada contestants, Lowell and Julie Taylor; and sports medicine physician from Harvard University, Cheri Blauwet.
Over three days and in various locations around Mount Royal's Lincoln Park campus about 70 events took place that delved into para-sport and recreation, explored inclusive communities and collaboratively broke down silos across the sector.
"This experience meant everything to me. Being a part of the organizing committee and seeing all of our work come together was amazing," says Kirsten Kirwer, one of the student organizers. "The opportunity to network and learn from others in the field and share our stories has allowed me to expand my perspective of the adapted physical activity world."
More than 200 participants attended the sold-out event, including experts in the field of adapted physical activity, Mount Royal students and faculty, and other industry stakeholders.
"This was an amazing opportunity for our students to network with a broad array of professionals and academics, and other students from across North America," says David Legg, professor and co-chair of the symposium. "It was also one of the only times the entire sector was able to meet to celebrate and share best practices."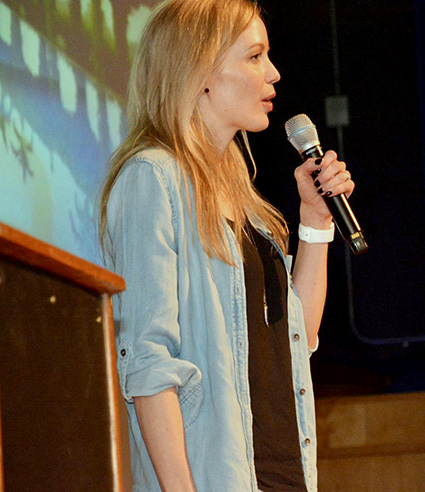 Thursday's keynote speakers, Lowell and Julie Taylor, recent contestants on Amazing Race Canada, delivered a powerful, light-hearted and moving presentation that discussed how they dealt with Lowell's visual impairment on the show, and how they work through the barriers presented in everyday life.
They recounted challenges experienced in his youth, as the father of a young family, and as a contestant with his wife on an adventure reality television show, and how how those challenges could be easily turned into opportunities.
Complete with a video presentation of bloopers and blunders that would be expected of a blind contestant in a competition of that nature, Lowell's "dad jokes" accented their story as he and wife Julie led a captive audience through their experience on the show, and in their day-to-day lives. Their upbeat and positive outlook, set a tone of humility and perseverance for the Symposium.
"We really wanted to be a part of the voice for inclusive sports and share how sport helped pull me through hard times with going blind and gave me a passion. My blind passion for sport," joked Lowell. "Our goal is to help inspire others with disabilities to realize they can do more than they, or others, think they can. With the right supports they can do amazing things.
"We want to challenge people to choose their attitudes and responses to the challenges in their lives ― to turn their obstacles into opportunities."
Mount Royal is no stranger to adapted physical activity. Not only is Mount Royal one of the only post-secondary institutions in Canada to have a disability sport (wheelchair basketball) as part of its intramural program, but it also is in its sixth year of offering the Children's Adapted Physical Activity (CAPA) program, which provides adapted children's programming. Its contribution to the field was also recognized by the City of Calgary, when Mount Royal's Recreation team received an Accessibility Award in 2011.
The MRU campus has played host to multiple national and regional training camps and championships for a variety of disability sports, and in just these past few weeks has added a Functional Electrical Stimulation bike, which is now housed in the main fitness centre.
This bike, purchased through a successful application of over $70,000 from the Neilsen Foundation, will allow persons with spinal cord injuries the opportunity to exercise in an inclusive setting, and allow faculty to participate in associated research with colleagues from other Alberta hospitals and universities.
April 5, 2017 ― Brendan Greenslade