School of business produces first crop of BBA Honours graduatesWith the completion of the 2016 fall semester, a handful of Mount Royal University students have capped off their academic careers with a singular distinction.
Mount Royal's newest accreditation, an Honours Bachelor of Business Administration (BBA (Hons) has been issued by the Bissett School of Business to eight successful students.
The BBA (Hons) has been designed for high performing students who are interested in gaining an additional in-depth perspective into their major.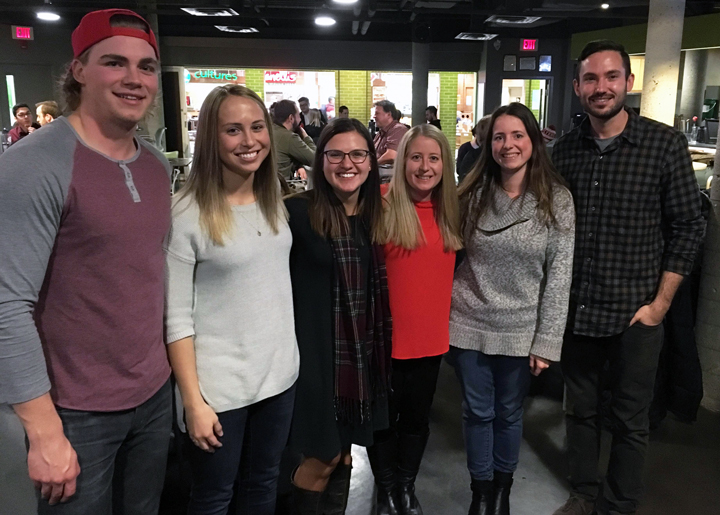 To gain entry into the program, all BBA (Hons) candidates were required to attain a 3.50 grade point average in their most recent 20 courses. Admission into the program was competitive and therefore, far from guaranteed. Over and above the core BBA courses, the Honours students were required to take three additional courses: Business Statistics II (MGMT 2263), Research Methods for Business (MGMT 5110), and the Honours Research Project (MGMT 5120).
Leah Hamilton, PhD, was part of the development of the BBA Honours program from its initial stages. Hamilton is professor in the Department of Management, Human Resources, and Aviation at the Bissett School of Business.
"It has been wonderful to champion this Honours program over the last few years and to take it from the conceptualization stage to the completion of our first cohort of Honours BBA students," says Hamilton.
Hamilton began working with these eight students in January 2016 when she taught the Honours pre-requisite course, Research Methods for Business, during which she helped the students develop their thesis proposals.
"Since that time, I've watched each of them complete their research projects. I'm fiercely proud of their accomplishments," says Hamilton. "Supervising the Honours students has been the most rewarding experience I've had at MRU."
As a member of the "Elite Eight," Jeremy Roberts, a recent BBA Honours graduate majoring in management with a minor in finance, sees the distinction as extremely rewarding, and perhaps something he didn't initially think was possible.
"It means to me that I have pushed myself, but perhaps that's more of a credit to Mount Royal and what I learned on previous co-ops. It completely changed my approach and everyday thinking," says Roberts, who also recently completed level one of the Chartered Financial Analyst (CFA) course and plans to complete level two in June of 2017.
According to Roberts, critical thinking is the biggest take-away from his Mount Royal Honours experience.
"I felt like the Honours Program was something that really stood out, as far as differentiating myself from other graduates. Especially coming from a slightly smaller university. Over the course of the last year, I have broadened my thinking, based on what Leah has taught and with the applications my research project has for business."
Roberts' research project was based upon mergers and acquisitions in the energy industry, positioned around the Tobin's Q ratio, which Roberts describes as essentially a market value measure in stock markets that gauges the value managers are able to create with a given amount of assets.
In simplistic terms, the BBA Honours grad suggests, "The information provided in my research is valuable for any business professional in the energy industry pursuing mergers and acquisitions, and the findings show that the energy industry transactions should be treated differently than transactions occurring in other industries."
The rewarding challenge did come with its fair share of hiccups and roadblocks along the way, however.
"With my thesis overall, I had pretty high expectations of what I wanted to do. But maybe not the know-how of how to complete it. Throughout the last year I persevered and got everything done that I wanted to accomplish.
"Having someone like Leah and Alan (Dwyer), my supervisor, guide me with something I am passionate about, not limited by a course outline or a rubric, it was exactly what I wanted. I would recommend it to any other students who would want to push themselves."
Completion of a BBA (Hons) provides students the means by which they can demonstrate their ability to undertake research at a professional standard and communicate the results in a professionally acceptable way.
Anja Meier chose to complete her research by conducting two studies within five months, an ambitious undertaking that led her to feel more connected to the Mount Royal community.
Meier completed her thesis by researching millennial career expectations during a recession. Her work began in May 2016 with three exploratory focus groups; she then took the information gathered during the focus groups and examined it further with an online survey of third- and fourth-year business students.
Her main findings demonstrated that business students' career expectations do not change given the economic climate. Rather, future career expectations seem to be driven by gender. Male business students have higher career expectations than female students, even after controlling for awareness of the recession and general feelings of entitlement.
"Males expected to be paid more and promoted faster in the long run. It was something I sort of predicted from my initial focus groups and literature review," says Meier.
With her research completed, she believes this experience has helped with her own employment opportunities moving forward. Meier notes that she has been meeting with potential employers and the topic of discussion often finds its way to her thesis.
"It paid off by preparing me for the future. It's been a learning experience on both ends, it's been nice to provide feedback with what worked and what didn't. It was more challenging being the first crop but also very rewarding."
While over 300 students will graduate with a BBA from Bissett this year, only eight of them will have an Honours designation. No doubt, these eight students are among the best and brightest in their faculty. Meier and Roberts join Daniel Boychuk, Carson Brown, Shamaila Butt, Ziterah Loudon, Matt Taylor, and Danielle Tomiak as the first BBA Honours cohort.
"The transferable skills students develop when they complete an honours thesis are invaluable - for our organizations, and for our communities," says Hamilton. "Honours BBA programs are extremely rare. We are proud to offer this program at Bissett and to celebrate the academic accomplishments of our talented students."
Jan. 9, 2017 ― Jonathan Anderson