It takes a village to get to a mountain
Successful crowdfunding campaign results in Everest excursion for students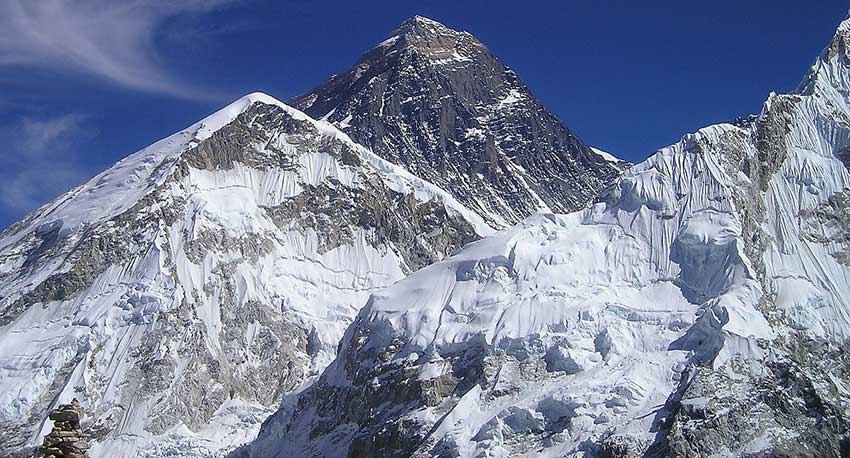 A group of 10 Mount Royal University students, one graduate and one passionate professor are travelling to the Mount Everest base camp in a bid to further understand how extreme altitude affects the human body.
Trevor Day, PhD and professor in the Department of Biology, is lead organizer of the expedition and is conducting studies on the effects of low oxygen on the human body with the help of MRU students, as well as facilitating the projects of collaborators from the University of Alberta, the University of Calgary, Queens University, Syracuse University and University College Cork in Ireland. There will also be a respiratory therapist, an internal medicine physician, a cardiac surgery assistant physician and alumni on the trip.
"We are trekking to 5,300 metres, making some simple but meaningful measurements every day during ascent and descent, and then make more comprehensive measures on rest days, starting in Calgary (1,100 metres) or Kathmandu (1,400 metres), and again at 3,440 metres, 3,820 metres, 4,370 metres and 5,160 metres," says Day.
"Everest Base Camp is about 5,300 metres and you start to get acute mountain sickness symptoms above 3,000 metres."
With the help of the research team, Day will continue to peruse data to develop a, "simple and portable test that will allow us to understand and control breathing during high altitude field work." The information will ultimately lead to the development of a portable diagnostic tool that would help identify acute mountain sickness resulting from oxygen deficiency in the body.
Day specializes in integrative cardiorespiratory and cerebrovascular physiology, which means he studies how the heart, lungs and brain talk to each other. His innovative on-campus work has involved flipping subjects upside down on a tilt table to measure their brain blood flow and monitoring respiratory responses to low oxygen.
As an expert in human physiology, Day feels that there is no better model of studying the dangerous medical condition of hypoxia (oxygen starvation) than exposing young, healthy people to low-oxygen air for a sustained period.
Online donations support MRU students
The costs associated with organizing and executing this initiative are understandably high, so a crowdfunding campaign was initiated to offset some of the expenses for students.
Shaelynn Zouboules, a third-year Bachelor of Science student majoring in General Science who will be embarking on the trip, says they were fueled by enthusiasm for the project.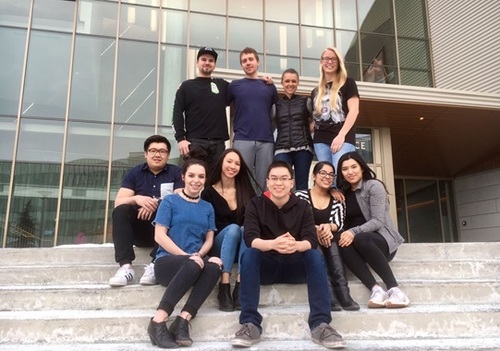 "Our excitement, combined with a passion for science, made us want to share details about our expedition with others, which helped to spread the word, an important component of any crowdfunding campaign," says Nysten.
"It was up to us to get the word out through social media, personal emails and word of mouth."
Cassandra Nysten, fourth-year Bachelor of Science student majoring in Health Science, agrees that the crowdfunding support was of tremendous value.
"We have all been in post-secondary for the past three (or more) years, and so we are each living on a student budget."
When the crowdfunding campaign initially launched, a goal of $4,000 was set, however, the goal was quickly increased.
"We bumped up the campaign fundraising goal to $10,000 after we reached our initial goal of $4,000 in two days," says Day.
This added cash is much appreciated.
"Our students need to self-fund their flights to Kathmandu, as well as $2,000 US in trekking fees (hotels, lodges, flight to high altitude, food, guides, porters, park passes), and some other incidentals like travel insurance and tips for guides and porters," say Day.
"It's an expensive trip," he says.
"Science is a team sport"
The MRU group travelling to Everest will work side by side with a handful of individuals from a variety of post-secondary institutions, healthcare organizations and MRU alumni.

"Science is a team sport, and we often work in teams to collect data and carry out studies in the lab and the field," says Day.

Thirty-one people will embark on their 23-day trip to the Khumbu region of Nepal on May 4, with 15 days of the expedition dedicated to intense investigation and discovery.

"This is an amazing experience for students to be involved in research, and learn how to problem solve in less than ideal environments."

With teams from other universities participating, MRU students will have the opportunity to collaborate with investigators and experienced trainees from other institutes, as well as learn new skills.

The team will arrive in Kathmandu on May 5 to begin their journey and data collection.

May 3, 2017 — Rob Petrollini