MRU Nursing Students and Faculty Experience a Partnership Approach to Health Promotion in La Vega, Dominican Republic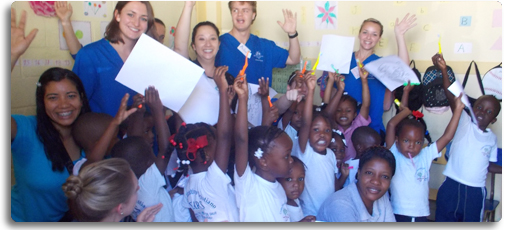 A group of nursing students incorporated an international dimension into their studies this past February, by participating in a Field School to the Dominican Republic, and have returned with an enriched understanding of the complexities in promoting community health.
As part of a second year nursing course looking at health promotion and including a professional practice community placement, 11 successful students, after a vigorous selection process, joined faculty Margot Underwood and Dr. Judith Gleeson, on this 2 week international community placement working primarily in two schools on the outskirts of La Vega, Dominican Republic.
The main purpose of the Field School was to provide second year nursing students the opportunity to see first-hand how health promotion strategies and the determinants of health impact the health and wellness of communities. The focus of their work in these schools was health promotion to children, preschool to grade 5, in the areas of personal hygiene, oral hygiene and sleep hygiene. MRU students collaborated with the teachers to prepare and present half hour lessons and activities around these topics. They then took the education one step further by providing similar sessions to the children's parents, in an effort to help parents support their children in these areas. The group also worked with older youth promoting "healthy choices for a healthy future". Topics included staying in school, leadership, communication with teachers and parents, and education about smoking.
Associate Professor, Dr. Judith Gleeson points out the importance for her students to incorporate an international experience into their studies. "It's an invaluable opportunity to be immersed in another culture and language and to apply concepts they are learning in a much more challenging environment."
MRU nursing students, peer mentors and faculty gather following an orientation meeting at the Maria Auxiliadora Centre
Although this was the first group international experience for nursing students at MRU, Assistant Professor Underwood has built a long standing partnership with the Dominican Republic schools, and has been taking groups of health professionals and volunteers on such experiences over the past 10 years. She and her colleagues have spent many years examining student and partner relationships and perspectives upon returning from Field School experiences, so as to help carefully prepare the next group of students prior to departure. They also work hard to ensure that these experiences are collaborative, and meet the identified needs of the international communities involved.
"The key to a successful experience by all is to build a healthy relation with the community first", says Margot Underwood. "Having this strong relationship already established, allows us to work well with the teacher, health teams, and the community, and to make a difference."
Two students selected for the Field School, Megan Vanderzwaag and Aidan Wonneck, felt that the international Field School served as a very positive experience for MRU students, giving them deep cultural hands on experience in their field, contributing to personal growth, and preparing them to work within diverse communities.
There were large learning experiences for the students as they saw directly the challenges that many communities around the world face, such as poverty, lack of education, poor living and working conditions, not having access to clean water or adequate food, abuse etc. They learned that it is important to understand the context of a community before an individual is able to provide care to that community.
"I plan to use this experience to increase my goal of becoming a more effective community nurse, and to help me appreciate the complexities behind promoting community health." Aidan explains.
Upon returning from the Dominican Republic, the nursing students are continuing to grow, learn from and share their experiences through weekly critical reflection meetings, lunch and learn events and a final project. There will also be opportunities for these students to help mentor and prepare future students selected for the Field School.
The students were pleased and honoured to learn upon their return that they had each received the Campus Alberta Grant for International Learning (CAGFIL) funded by Alberta's Ministry of Advanced Education and Technology (AIAE). This scholarship supports innovative study abroad initiatives that create opportunities for Albertans in all areas of study.
An international experience like this can often lead on to another, as Aidan Wonneck demonstrated upon returning from the Dominican Republic to find out that he had been selected for a second opportunity, this time taking him on a Field School to Hawaii.
"I plan to use the learning I have developed from this experience for the Hawaii Field School trip I am involved with in November."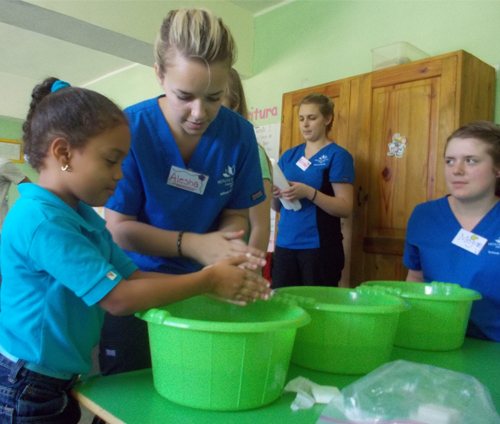 MRU nursing students promote hand hygiene with students in Maria Auxiliadora school. From left to right: Alesha Giesbrecht, Kirsten Geiger, Megan Vanderzwaag
Underwood and Dr. Gleeson are extremely pleased with the first MRU Nursing Field School to the Dominican Republic. They feel that they collaborated in a deeper way with the Dominican and Haitian partners and that the students provided important health promotion teaching for youth and their parents in only two short weeks. They also found that the extra time spent together as a group on this Field School allowed faculty to engage on a deeper level and in a different way with their students, thus further supporting their learning and investing further in their futures. They are already starting to make plans for next year!

- Marisa Norona, March 17, 2014