Honorary degree recipient returns to talk PTSD
Alberta's 17th Lieutenant Governor, the Honorable Donald S. Ethell to speak of his personal struggle
Sponsored by MRU's Peace Studies Initiative, Alberta's 17th Lieutenant Governor, the Honorable Donald S. Ethell, will be visiting campus on Feb. 2 to deliver a special lecture about post-traumatic stress disorder (PTSD) in the Canadian military.
"The whole general goal of the Initiative is to talk about violence and conflict from the perspective of those who experience it," says Mark Ayyash, PhD, director of the Peace Studies Initiative and professor in the Department of Sociology and Anthropology.
"Talking about PTSD is important for a number of reasons. This is a continuing, ongoing issue within the military that has tragic consequences," says Ayyash, noting the recent tragic triple murder-suicide in Nova Scotia perpetrated by a sufferer of PTSD.
"That kind of case gets the headline," says Ayyash, "but more often than not the violence isn't directed outward."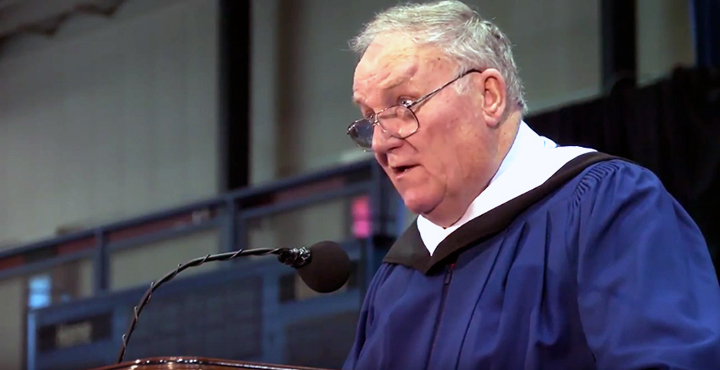 A 2016 Globe and Mail investigation estimated that 54 soldiers had committed suicide after returning home from Afghanistan, a number that is not talked about by the military.
Candid about his personal experience with PTSD, Ethell is a decorated soldier who served with the Army for 38 years. He retired as a colonel after having served in West Germany during the Cold War and being deployed on numerous peacekeeping operations to places such as Cyprus, Lebanon, Syria, Jordan, Egypt, Israel, Central America and the Balkans.
During Mount Royal's Spring 2015 Convocation ceremonies, Ethell received an Honorary Bachelor of Arts (Psychology) Degree for his exceptional community service and commitment to the University. He spoke with emotion at the ceremony, saying that it was the accumulation of several experiences that lead to his eventual diagnosis.
When named Lieutenant Governor of Alberta in 2010, Ethellwas expected to find an area on which to focus. It was obvious that it would be mental health and PTSD. He helped create (with the participation of Mount Royal and other Alberta organizations) the Lieutenant Governor's Circle on Mental Health and Addiction, and has become an outspoken advocate for sufferers, working to break down the stigma surrounding mental health. The circle's programs now reach thousands.
The support of friends and family have been pivotal to his recovery process, he says.
"PTSD is chronic," Ethell says, "but you can work through it." He has found a treatment that is working for him.
"I want people to see that recovery may look different for each person, but it is possible. Once you reach out for that help, everything changes for the better."
PTSD in the Canadian Military
All are welcome to the Moot Court (EA 1031) from 11 a.m. to 12:15 p.m. on Feb. 2 to listen to the Honorable Donald S. Ethell speak, which will be followed by a roundtable discussion on PSTD with Richard Wright, Lieutenant-Colonel (Ret'd), and Lloyd (Tex) Leugner, Warrant Officer (Ret'd). Afterwards, members of the audience will have the chance to ask questions.
2017 Peace Prize ― March 15
This year's Peace Prize is going to the
Honorable Douglas Roche, O.C.,
for his work on nuclear disarmament and human security. The proceedings will take place at the Jack Singer Concert Hall, Arts Commons on March 15, and
tickets are on sale now.
"Douglas Roche is a very powerful and inspirational speaker," says Ayyash. "People will get the chance to hear someone who's worked long and hard towards international peace building as a civil society activist, as a parliamentarian and senator, and as Chairman of the United Nations Disarmament Committee."
"What are the chances that you're going to get to see and hear someone who has worked so diligently at the local, national and international levels as Mr. Roche has done?"

Additional Peace Initiative events include:
A Nuclear Janus: The Return of Disarmament With David Mutimer
March 14 in Moot Court (EA 1031) from 6 to 7:30 p.m. Event is free. No RSVP required.

David Mutimer is professor of International Politics and chair of the Department of Political Science at York University, and will speak on the history of nuclear 'proliferation' control, how we have reached the state we are in, and consider what might be possible going forward.
Everything You Treasure - For a World Free from Nuclear Weapons Exhibit
March 29 to 31 on Main Street

This exhibition consists of three sections: What do we treasure?, Learning more and Changing Our worldview. It is designed to provide a forum for dialogue, a place where people can learn together, exchange views and share ideas and experiences in the quest for a better world. Find more information at mtroyal.ca/events.
Watch Former Lieutenant Governor of Alberta Don Ethell's acceptance speech at Mount Royal's Spring 2015 Convocation ceremonies.
Ethell is also featured in the Fall 2015 Summit article, "Changing skies."
Jan. 20, 2017 ― Michelle Bodnar