Historical sketchbooks open a window into Marion Nicoll
While most of Mount Royal University's art acquisitions are on display throughout the campus, some treasures are available only by visiting our archives - including a remarkable set of sketchbooks by renowned artist Marion Nicoll.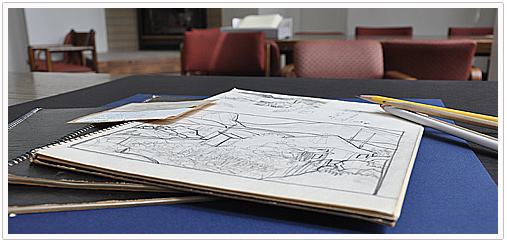 "Marion Nicoll has inspired a generation of Calgary artists and creators," says Mount Royal Archives Art Consultant Jen Dunne."It is inspiring to see the inner workings of her creative process.

"While art tends to be appreciated in its final rendition, these sketchbooks can tell us a great deal about Marion Nicoll's interest, passion and skill. The looseness and gestural quality of her ink and pencil sketches show her appreciation of the subject, form and movement."

A sketch of Nicoll

Arguably Alberta's most influential female artist, Nicoll began her career in the 1930s after graduating from the Provincial Institute of Technology and Art (now Alberta College of Art & Design) and becoming the institute's first female instructor.

Ultimately, ACAD named itsstudent-run gallery after Nicoll's legacy.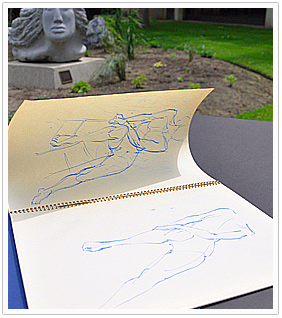 To have this rare piece of her history here at Mount Royal is a special privilege says Pat Roome, PhD, Director of Mount Royal University Archives, pointing out that they have, in turn, become a piece of Mount Royal's history.

"When the artist is well known and her work is valued, like Nicoll is, sketchbooks take on additional meaning, assisting curators, collectors or interested artists in understanding the evolution of an artist or a work."

Sketching a moment in art history

The three black, dog-eared, 9" x 12" coil-bound books feature mainly pencil sketches of figures in different poses, as well as costume and set designs for various stage productions.

Dunne says the sketchbook provides unique insight into the artist themselves.
"Consider it a visual diary or a journal of sorts - it is both personal and practical. It can be used to work out ideas and thoughts, record emotion, plan for future works, and it often contains a recollection of the day to day.

"It is also the place where most artists practice their craft. It is through our sketches that our work can evolve and grow."

The sketchbooks were part of the collection at the campus art gallery, which had operated from the 1970s to the 1990s, and were donated to Mount Royal by Peter Ohler of the Masters Gallery.

"Having access to an artist's sketchbook provides invaluable insight into how the artist worked, his or her thought process, and the things that caught the artist's interest either conceptually or visually, aesthetically," says Natasha Pashak, who accessed the sketchbooks while doing research for her MA in Art History at Concordia University in 2010.

Her thesis, Marion Nicoll: Almost Outnumbered: The Role of Alberta in the Life and Work of Marion Nicoll, is available through ProQuest.

Sketchbooks show a different side of Nicoll

Nicoll was known as one of Alberta's premier abstract artists, yet the sketchbooks' yellowed pages offer a rare window into Nicoll's artistic process as they are primarily realistic in nature, ranging from a great dane to a sketch of a female body.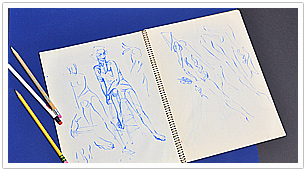 Nicoll was heavily involved in the Calgary art community throughout her lifetime.

She was part of the influential "Calgary Group" of painters that included Jack MacDonald and Maxwell Bates, and was also a strong supporter and member of the Alberta Society of Artists and the Print and Drawing Council of Canada.

In the late 1950s, she received the Province of Alberta Achievement award and also became the first woman from the prairies to become a member of the prestigious Royal Canadian Academy of Art.

Known for its bold composition and imagery, Nicoll's art has been acquired by many private collectors throughout North America, as well as by public institutions such as the Alberta Art Foundation, the University of Alberta and Memorial University in Newfoundland.

Pashak says that Nicoll's work was what she considers characteristically Albertan: "She was undeterred by the opinions and limited imaginations of other people, instead making the work she wanted to make and living the life she wanted to live."

The sketchbooks, which were donated to Mount Royal on the condition that they neither be separated nor sold, offer a fascinating glimpse into the mind of a groundbreaking artist. Archives director Pat Roome is considering various options for displaying these artifacts in the future.

- Teresa Wong, July 21, 2011