Student amputee to climb Everest
Sudarshan Gautam has sees the world from several unique perspectives; as a political activist who fled his home country because of terrorist threats.
As a man who lost both his arms in a tragic accident as a young teenager.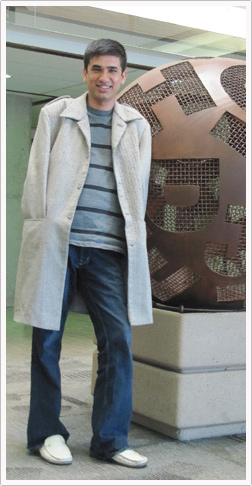 Sudarshan Gautam lost his arms as a young teenager, when a kite he was flying got tangled in power lines.
And as a mountain climber who has stood on some of the world's highest points - he looks forward to adding the world's highest peak to that list in the near future.He will be only the second disabled person to make the heralded climb and the first amputee.
Gautam, a native of Nepal, moved to Canada, and after bouncing around for several years he and his wife Ambika finally found a new home in Calgary in 2006. Shortly thereafter Ambika gave birth to a baby boy, Aarshin.
Thinking of his wife and son, there's no way he could have risked staying in Nepal.
After being kidnapped by terrorists in Nepal who disagreed with some of his statements and activities as president of the student union at his last university, Gautam finds Calgary refreshingly liberated.
As part of his new life, he currently studies English as a Second Language here at Mount Royal University.
Plans to be first amputee to summit Everest
Gautam, who recently announced his plans to climb Mount Everest in 2012, hopes the climb will help him raise money to open a school for orphans and disabled children in his native country.
He seems amazed people consider his lack of arms such a big obstacle in life.
"I never felt as if I don't have both arms," says Gautam resolutely. "There's nothing I believe I can't do."
Fateful moment that changed his life
His perspective sets an inspirational example for able-bodied and the disabled alike. But it's the sincere look of shock that crosses over his face when asked for the trillionth time how hard life is without arms or how difficult it was to adjust after the accident.
Gautam looks back on the accident as a simple twist of fate as much as anything. As a 14-year-old, he had been flying a kite from the rooftop of his house when it got caught in a set of 11,000-volt power lines.
He yanked on the kite, attempting to pull it free and the rest is history.
"The only thing I remember after that is waking up in the hospital room," says Gautam, quite candidly.
"They told me I'd lost my arms. Of course it was a shock, but the entire time I was in the hospital my family and friends were standing around me crying and I didn't understand why."
Gautam chose to live life differently rather than live it less.
What's next?
He has since traveled all over the world telling his story, trying to inspire others to overcome their physical, emotional and mental disabilities. This summer he is touring Europe to tell his story and raise money for his Everest climb and more importantly, the school.
When he's not working on raising his $1-million goal, he will be training here in the Rocky Mountains, which he says offer some of the most technical climbing in the world.
When asked the obvious question: how do you climb a mountain with no arms? Gautam explains matter of factly that he'll do it with the help of Sherpas, his teeth and feet. He has several expert mountain guides who have worked with him before on a climb of the 5,732m Mt. Yala, also in the Himalayas.
Gautam, says that as long as the weather cooperates and his training goes well, he should have no problem summiting the world's most revered and storied mountain top.
Mountain-climbing, learning, inspiring aside, Gautam's true passion is children and if he can help improve the lives of a few needy kids, it'll mean more to him than summiting all the mountains in the world.

- Steven Noble, May 20, 2010