Preventative Dental Care available at Mount Royal
Students and staff who are looking for convenient preventative dental care for themselves and their families can now access basic dental services at the newly opened Bright Dental Health Centre, handily located in Wyckham House.
Dental health services have been offered at Mount Royal for about a year, originally through Optimal Therapies at the EnCana Wellness Centre. Demand grew to the point where a bigger location was required, says Manager Joelle Pickles.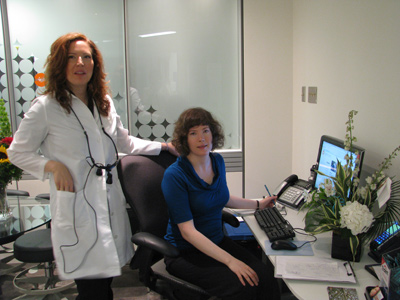 Joelle Pickles (left) is the manager of the new dental healthcare clinic in Wyckham Centre.
She worked with the Students Association of Mount Royal University to move dental health services to a new location, Z006 in the lower level of Wyckham House.
"My experiences at the EnCana Wellness Centre helped define the new dental health clinic's core values - partnership, education and prevention," Pickles says.
"Preventive dental health care has been an absorbing interest for me," she adds. "It parallels trends in other holistic wellness therapies such as chiropractic, acupuncture and naturopathic care. The common goal is to help clients prevent and recover from health concerns, rather than continue to experience the cycle of chronic disease."
Studies have shown that oral health is linked to overall health and wellness, and poor oral health can lead to increased risk of diabetes, heart attack, stroke and complications during pregnancy.
To keep everyone healthy, Bright Dental Health has introduced new strategies to reduce and reverse early decay, while still advocating the old standbys of proper flossing and brushing.
Services currently provided at Bright Dental Health include hygiene assessments, digital dental x-rays, ultrasonic teeth cleaning, cosmetic teeth whitening and polishing, remineralizing therapies and treatments for cold-sensitive teeth.
The clinic also makes custom fabricated athletic mouth guards and provides sealants for cavity-prone teeth, Pickles says.
Feeling stressed about going to the dentist? Bright Dental Health will get you relaxed with massaging dental chairs and what Pickles calls "an exceptionally gentle and effective" teeth cleaning system. Further relaxation is on the way via soon-to-be installed cable HDTVs.
And, Pickles says, working closely with interior and graphic designers has helped to create a beautiful, modern space.
Current staff include two registered dental hygienists and two assistants, with Pickles' husband Scott providing assistance as architect and business manager.
The clinic is now in discussions with a dentist to join the team in order to offer more comprehensive dental services such as fillings and extractions.
A new
website
allows clients to submit online appointment requests. The clinic is open Monday to Friday from 8 a.m. to 3 p.m., with Saturday appointments also available.
- Rhonda Greenaway, Sept. 24, 2009