Mount Royal's Forensic Research Network is growing rapidly
A forensic research group set up earlier this year at Mount Royal University is collaborating on topical legal-related projects intended to make a real difference in the real world.
The Forensic Research Network was launched in Feb. 2009 with the mission of coordinating forensic research and investigation into issues such as domestic violence, sexual assault, dating violence and elder abuse.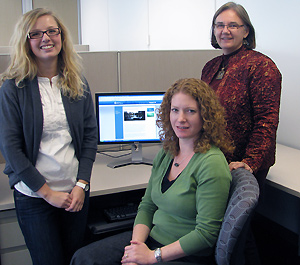 Forensic Research Network, Cathy Carter-Snell (right) has enjoyed the steady growth of the Network despite it being less than a year old. The funds to hire staff like Morgan Brown, research assistant (left) and
Amber Berg (seated), research coordinator are a sure sign of the good work people believe this Centre is capable of.

The network consists of eight Mount Royal researchers and six Calgary-based external partners or agencies, as well as two American counterparts
The genesis of the group came about when Cathy Carter-Snell, coordinator of Mount Royal's Forensic Studies Program and associate professor in Forensic Studies and Advanced Studies in Critical Care Nursing, saw parallels between other proposed research projects at Mount Royal and her own work.
"I knew what was going on in forensic nursing, but didn't know what was happening in forensic social work or criminal justice," says Carter-Snell.
She decided to coordinate researchers from the field in the fall of 2008, and the network was born.
They began by setting up a Blackboard site for internal researchers to share information on the kinds of projects being looked at, available funding sources and opportunities for collaboration.
"The whole forensic area has implications for law, the police, health care, educators and the like, so a multidisciplinary network is really vital," says Carter-Snell, now network director. "It rounds out the research so much better if you have multiple perspectives on it."
In February of this year, Mount Royal's Office of Research Services helped arrange funding with the Alberta Association of Colleges and Technical Institutes (AACTI).
The $40,000 granted by AACTI was matched by Mount Royal's in-kind funding, which allowed hiring of a research coordinator, Amber Berg, and two student research assistants, Morgan Brown, a Nursing student, and Caitlain West, a Justice Studies student, at the end of September.
Funding also allowed the network to establish more formal partnerships with internal and external agencies.
Projects began to be published and several studies were submitted for grants, ensuring the group's survival.
"Research Services has been extremely supportive of this and see forensic research as a future direction of the University," Carter-Snell says.
Some of the topics the group has investigated include sexual assault, dating violence, sexting and pornography, assault prosecution and bullying.
'Sexting' refers to sending photos of one's body parts to friends via cellphone, which is currently quite popular among 14-to-16 year-olds.
It also happens to be classified as distribution pornography, and therefore, subject to criminal charges.
"This is a real issue that has to be dealt with, and there's very little written about it," Carter-Snell says.
"We've prepared a multidisciplinary proposal on dating violence and we're looking for funding sources now," she adds.
"We also have another proposal in development on jury perceptions of sexual assault, and a number of research reviews of literature on sexting and pornography and their implications for adolescents."
Although sexual assault is a major focus for the network, it's agreed with partners such as Alberta Mental Health, HomeFront - a community-justice response to domestic violence in Calgary - and the University of Calgary's RESOLVE (Research and Education for Solutions to Violence and Abuse) Alberta network to work on any timely topic which requires urgent attention.
"We're welcoming anybody interested in forensic issues," Carter-Snell says.
"We're matching agency important requests with researchers with expertise in that area."
Some of the network's research is already being used - for example, a project involving DNA interpretation by juries and presentations by Carter-Snell in her area of expertise, sexual assault injuries and factors that influence those, mainly to police officers and prosecutors.
"One of my biggest concerns is that research be useable and implemented," she says. "If the research question comes from the end-user, you know it's an important question, it's not an ivory tower question.
"The clinical or professional implications for practice are very important to us in the summaries of our research.
Carter-Snell has nothing but praise for the students hired as research assistants.
"They're just going to set the world on fire," she says.
"They're very enthusiastic and quick to catch on."
The two students are working their way through several literature reviews which will then be given to the researchers
"The next logical step is dissemination," Carter-Snell says.
"The intended outcome for any of these projects includes guidelines for professionals and a website which includes prevention and information strategies for public and professional consumption."
Long-term, the group hopes to become a centre for forensic research, a move which is dependent on funding and which could happen in about two years.
- Rhonda Greenaway, Nov. 5, 2009