Exercise like an executive
When the Manger of Mount Royal's Wellness Centre, Kandi McElary noticed that President Dave Marshall was wearing a sport watch at a recent meeting, she thought, "How many university presidents wear a sport watch?"
It dawned on her that the rest of the executive team also take a serious approach to health and wellness.
That may partially explain the executive's demeanor around campus.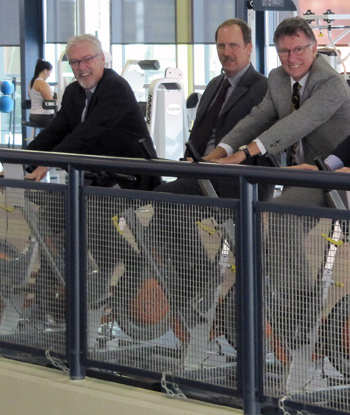 Mount Royal's executive find that staying fit physically helps them better handle the demands of their jobs.
Although they may have some of the most demanding and stressful positions at Mount Royal, you wouldn't think that when passing them in the halls or sitting across from them in meetings.
"They all seem calm and collected whenever you approach them," says McElary.
She thinks this may have something to do with their habits outside of the office.
President Dave Marshall
President Dave Marshal
l
feels strongly about having an active lifestyle.
"Exercise has always been an important part of my life," he says.
Marshall played basketball for many years and continues to be a very active mountain biker and cross-country skier. He used to do 30+ km cross-country ski trips while living in Northern Ontario.
"I tend to see my exercise routine as staying fit so I can be active," explains Marshall. "There is a mountain in Africa that I like to climb every year or two and that requires a high level of fitness … and the rigours of my daily schedule require me to stay mentally sharp and energetic through long days of meetings."
Marshall tries to exercise three days a week, combining aerobics and weight training. He even sets aside time when on the road to workout using hotel facilities.
While he sees the benefits of staying fit in his golf game, Marshall still has visions of biking across Canada or going on long hikes in faraway lands.
"Those dreams are best kept alive when I am reasonably fit," he says.

Provost and Vice-president, Academic, Robin Fisher

Provost and Vice-President, Academic, Robin Fisher watches what he eats but also enjoys a good run.
"My main form of exercise is running because it is solitary, easy to do at any time and does not involve great expense," Fisher says.
Running is definitely a stress reliever for him. He says, "I go running for exercise because it is enjoyable and if I don't do it, it makes me crazy."
Fisher believes in the connection between a sound body and a sound mind.
"I think that it is interesting that the point made by the Roman poet, Juvenal, two centuries ago, that we should strive for a sound mind in a sound body, is now proven out by medical science," he says.
Vice-president of University Advancement, Hunter Wight

For many years now, the Vice-President of University Advancement, Hunter Wight, has been working out with a personal trainer.
A bit of an early bird, Wight works with his trainer three days a week at 6 a.m. and he has some four-legged motivation to keep him going as well.
"I walk my Collies all year round and bike in the better weather," says Wight.
He also believes in the mind body connection and focuses on cardiovascular fitness and core strength.
Wight's approach to physical fitness is his way of preventing any aches and pains and also helps him maintain a healthy weight.
Executive Director of Student Affairs and Campus Life, Brian Fleming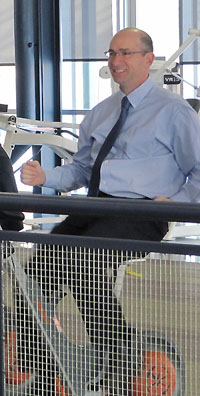 Brian Fleming is a long-time basketball player as well as squash. He even cycles once in awhile although he doesn't usually wear a suit.
Executive Director of Student Affairs and Campus Life, Brian Fleming lifts weights and also does some core work.
But what really gets Fleming going are sports like squash and basketball. He has been playing basketball for many years now.
He enjoys the thrill of competition and the camaraderie of team sports , but also appreciates the healthy benefits and the serenity that comes with doing something he really enjoys.
"Physical exercise is a very important part of my over all wellness regime. I really enjoy the social aspect of friendly competitive sport, but I also look forward to individual exercise as a time to reflect and process a fast paced world," says Fleming.
Richard Roberts, vice-president, Administrative

Richard Roberts, vice-president, Administrative Services also enjoys staying active by playing sports. In the summer he likes to golf and hike in the mountains. During the winter he gets out to ski.
"I like to do these activities because they are fun and relaxing, although golf is not always relaxing and stress free," says Roberts.
While Marshall encourages each of his colleagues to get out for more rounds of golf, something as simple as taking the stairs to their third floor offices in Kerby Hall will also pay off in the long run.
Taking the stairs is one of Roberts' New Year's resolutions and Wight has taken the stairs for many, years.
"Having an executive team that values personal health and wellness creates a positive healthy culture at Mount Royal University," McElary says.
"It makes my job a lot easier knowing that I have that kind of support from university leadership."
Marshall certainly appreciates the resources available on campus.
"At Mount Royal we are truly blessed to have such great athletic facilities," says Marshall. "It removes any excuse from all of us to not stay fit."
- Fred Cheney, Feb. 4, 2010