More and more are pursuing study of teaching and learning
While Alberta's oil boom may have receded from recent heights, Mount Royal University is in the midst of a boom of its own - a boom in research in the field of teaching and learning.
Jim Zimmer, dean of the Faculty of Teaching and Learning, says this is one area of research he hopes will continue to grow within Mount Royal's community.
"Advancement in this field can directly help the institution move forward in that area," says Zimmer. "In fact, that's one of the mandates of the Faculty of Teaching and Learning."
Zimmer and Richard Gale, visiting scholar and director of Mount Royal's Institute for Scholarship of Teaching and Learning, are fresh off leading a contingent of Mount Royal professors from a variety of different faculties to the world's largest conference on scholarship of teaching and learning, which was held in Indianapolis, Oct. 22-25.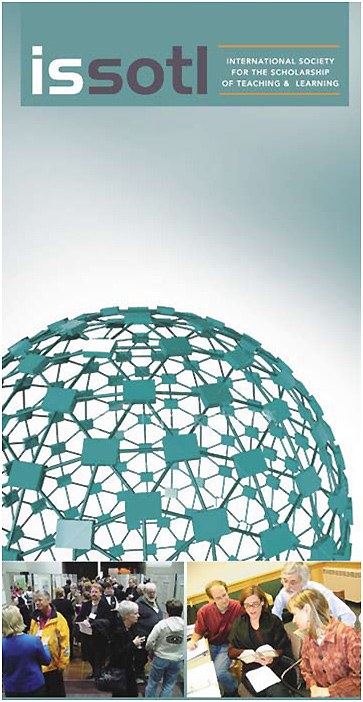 A strong contingent of Mount Royal faculty members presented research in the scholarly study of teaching and learning at the annual ISSOTL conference.
The International Society for the Scholarship of Teaching & Learning (ISSOTL), who hosts the event, is an international organization with representatives from post-secondary institutions from all over the world. Gale says it's of great benefit to the Mount Royal community.
"ISSOTL provides us with access to the most current thinking about how faculty members take on scholarly inquiry," says Gale. "It offers a vehicle for disseminating work done here at Mount Royal and it expands the intellectual community that is already so strong on campus and in Canada."
Zimmer says the trip was a particularly exciting opportunity because many of the faculty who travelled to Indianapolis presented on current work projects they are researching as part of
Mount Royal's teaching and learning scholar's program
.
"It's a cohort of faculty members moving through a facilitated process of designing and implementing learning research projects, which is headed up by Richard Gale," says Zimmer.
At the conference Zimmer and Department of Education and Schooling faculty member Norm Vaughan presented their work on the connection between student engagement and interactive technologies to a wide audience of interested colleagues.
Gale, a founding member of ISSOTL, says this type of work is vital to the future growth of Mount Royal.
"I think the real benefit is not to faculty but to students - or rather to students through faculty - although I hope to get students involved in scholarship of teaching and learning at Mount Royal as well," says Gale.
"Remember, from my perspective the only thing that matters about scholarship of teaching and learning is the improvement of student learning. So when faculty from Mount Royal share their research into student learning and hear about the research of others, well, it can only lead to a better education for all of us."
Zimmer believes our involvement with ISSOTL will open up doors for collaborative projects that will improve the field of teaching and learning here at Mount Royal as well as spread the word about the quality of our faculty and students.
"At the end of the day, the scholarship of teaching and learning is all about better understanding how our students learn and what impacts that process, both positively and negatively," says Zimmer.
"It's all about enhancing student learning and improving teaching practice, both of which are our core business. It's what we're here to do. It also ties directly to the president's mission to be Canada's leading undergraduate university based on student success and satisfaction."
- Steven Noble, Nov. 12, 2009