The business of keeping students
Nobody comes to university planning to drop out.
A student's academic routines can be derailed by a tough break-up or by getting , caught up partying too much. Maybe juggling a part-time job and dealing with a demanding workload at school proves too much - the issues surrounding student retention are complex, to say the least.
A new research project is exploring ways to expand Mount Royal's retention tools and resources.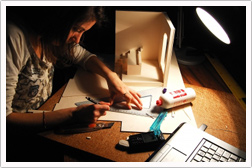 Getting acclimatized and surviving university is a completely different set of responsibilities from what many first-year students are used to.
Mount Royal staff members Janet Miller, PhD, who organized the research project, and works with Mount Royal's Student Counselling Services teamed up with Don Best, manager, decision support and accountability systems with the Office of Institutional Analysis and Planning (OIAP) for the project.
"I'm really drawn to this because I believe strongly, that student success is not just how smart you are," says Best.
"At this level, its largely about navigating your way through the demands of academic life while juggling relationships, jobs, and other pressures that come with being a part of a community.
"The two big questions we're asking are, how do we identify students at a high-risk of dropping out, and how can we help guide them towards success in their career here at Mount Royal and, ultimately, in life," adds Miller.
The research project Miller and Best are developing is in cooperation with Student Affairs and Campus Life, OIAP and is the benefactor an internal grant from the Research Office.
The need for retention tools and analysis
When Alberta's Ministry of Advanced Education and Technology granted Mount Royal permission to call itself a university, it also established stringent student retention quotas.
Some of those quotas were as high as 90%, depending on the program.
"In the past, retention wasn't a big issue because as a college part of our roll was to serving students as a transfer institution where students would get their start and then move on.
"We don't have any mechanisms yet to identify at-risk students, so this is well worth the effort. The other significance is, we don't have the resources to offer a mentorship program to every first-year student, we need to determine who really needs it and then target those students."
The team
Best and Miller were introduced by Mount Royal Vice-President, SACL, Brian Fleming. Miller works under SACL's umbrella and Best sits on an institutional sub-committee for student retention as well as the enrollment data group with Fleming.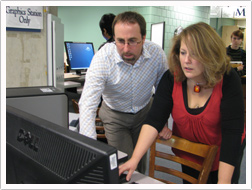 Don Best and Janet Miller survey some of the early results.
Realizing that Mount Royal needs to focus on retention more than now that we're a university, Fleming connected Miller and Best, whom he knew were both intrigued by the issue. Initially they were collaborating with Brandon Smith, who worked with students living on campus. Smith has since left Mount Royal.
"As we started to talk about the issue, we became fixated on non-traditional factors in retention - the role they play and how you can narrow them down to improve retention," says Miller.
Non-traditional factors affecting drop-out rates
Miller says Trent University in Peterborough, ON, has developed a list of 12 questions based on emotional intelligence such as stress management, flexibility, goal-setting, interpersonal awareness and interactions with others.
Trent found those questions effectively helped them predict who was at risk to drop out. She hopes this research project will help them in a similar manner, combined with Best's demographic analysis.
Best says research indicates first generation learners are at a higher risk of dropping out than students whose parents have a post-secondary degree.
Students who live in residence generally have a higher success rate than students who don't.
Family income is also proven to be a strong predictor, as do variables such as age and goal-commitment.
"We're trying to get a handle on who's leaving when they don't really have to," says Best.
"We get it if you're not academically successful, but we want to find out if there are reasons you aren't academically successful. If you are academically successful and you still leave, we want to find out what's going on there to cause that."
The breakdown
The research project will be implemented in several different phases beginning with a survey given to this year's crop of freshmen.
The survey will include a series of questions on emotional intelligence and demographic questions.
From there, Best and Miller will track those students into their second year to see who returns and whether any correlating factors link students who dropped out.
Miller hopes to use the results to develop a cost-effective, evidence-based mentorship program, which Mount Royal can offer to high-risk first-year students when they arrive on campus as of fall 2012.
"There are a whole bunch of things students can't change such as age or family income," says Miller. But she and Best feel students can change how manage stress, set goals, and retain information.
"It would be great to make the students' first experience with Mount Royal as positive as it could be."
- Steven Noble, Sept. 23, 2010