Mount Royal weighs in on the future of Canadian literature
Mount Royal University was represented by a new face on campus as lovers of language convened for this year's National Forum for the Literary Arts, held from Feb. 14 - 15 in Montreal. Poet and teacher Sharanpal Ruprai, PhD and Contract Faculty for the Department of Humanities since January 2014, attended to bring the perspectives of Mount Royal and Alberta to the table. Nearly 250 delegates discussed and debated topics such as the creation, publication, distribution and sustainability of literature in Canada.

"I thought it would be great to network with other writers. As a poet, as a creator, as an organizer, I thought I could contribute the knowledge that I have," says Ruprai. "It was a conversation about how are we going to continue to engage with literature, a discussion we've all been having for a long time."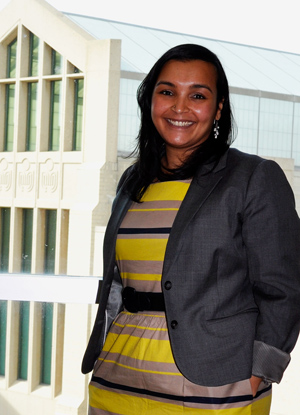 "One of the last conversations we had at the national forum was what can we do as Canadians," she says.

Ideas flowed, and included potentially adding more Canadian literature to school curriculums, making more use of tools such as the media, maybe creating shows like Book Television and increasing the amount of awards available.

Ruprai is currently working on publishing her first book of poetry, titled Seva and about a young Sikh girl growing up in Canada. Due out in the fall of this year, Mount Royal English professor Micheline Maylor is assisting with editing the final copy for publisher Frontenac House Ltd.

The power of language and its remarkable rhythms and rhymes has always been a part of Ruprai's life. Growing up in Canada in a Sikh household in Winnipeg surrounded her with words stuffed with delectable sounds like Naaniji, Papaji, gurdwara and Granthi. Her poems describe her upbringing through narrative and lyrical "mini-stories," as Ruprai describes them, and centres around how her family's ethnicity resulted in a childhood that was full of cultural influence and illumination. Seva includes five sections around the five K's in the Sikh religion: kesh, kara, kanga, kaccha and kirpan, and the poems provide a glimpse into the life of a Punjabi family maintaining a sense of traditional normalcy while making their way in Canada.

"I began to notice that I had a very different upbringing from the people around me," she says. "My brother wore his hair in a juda, then a turban, and I had my hair long in braids and wore a kara."

There was a flow to the household as herself and her brother took themselves to and from school while their parents went to work and the gurdwara (place of worship) every day.

"My mom worked at 7-11 and my dad was an engineer," she says, and she and her brother spent a lot of time at their mother's store. "It didn't occur to me until I was about 23 years old that, right. We're the stereotype."

Ruprai sees poetry as a vehicle for understanding the distinctions between people.
"Poetry elicits emotion with bits and pieces of description that make unfamiliar surroundings recognizable for people who would never have had a chance to visit or experience these places or events," she says. "It's important because it allows us to have conversations around topics we couldn't before."

Poetry introduces people to different cultures in their own languages, Ruprai says, and is, "one way that we can think about things. It is about interpretation. We are trying to bring forth voices that we wouldn't otherwise get to hear."

"It can help you understand your own past, help put connections together, but in a different way - the way that's exactly in your head or exactly how you saw it," says Ruprai.

Observations often arrive in bits and pieces, and poetry is a way to arrange those inspirational flashes. Through Canadian literature and writers such as Ruprai, learning to read poetry is learning to understand others.
- Michelle Bodnar, March 22, 2014
Educated Family
By Sharanpal Ruprai
Because your sons, my Maamajis, did not think it was important for you to have an obituary, Naaniji.
At the age of eighty-six or is it ninety?
You wanted to be like your granddaughters.
In an arranged marriage that reached seventy years
you never thought yourself alone.
With a husband beside you did not worry
about signing rent cheques or addressing letters.
Once again, our Mums said not to waste time teaching
an old woman new tricks.
But we, granddaughters, understood your fear
and disobeyed our mothers, again. A doctor and pharmacists
consulted about your medication, a chef prepares chai
with full fat milk and two tablespoons of sugar,
a teacher finds a pen and paper.
Bookended by Harpeet and Navjot,
Amritpal places a cup of chai
in front of you. I, we, encourage courage.
Surrounded by professional granddaughters
you picked up the pen then paper
wrote your name in Punjabi then English
Dhian Kaur Manku