Breaking down the mental health barriers
The school year may be over but students were top of mind at the Mount Royal University event, Addressing the Stigma of Mental Health: A Research Perspective.

The event attracted a diverse audience of Mount Royal faculty members, students as well as faculty members from other universities in Alberta. Front-line mental health researchers and practitioners with Alberta Health Services also attended.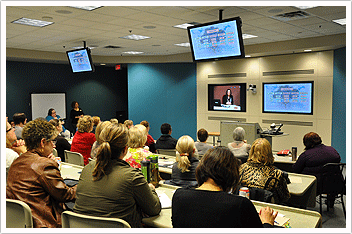 Deborah Smillie, assistant professor in the School of Nursing and member of the Mount Royal University Mental Health Strategy Research subcommittee, helped organize the event.

"It was a great opportunity for people to network and hear from experts in the field," says Smillie.

"It's about bringing individuals around the table with an interest in research around stigma and mental health in students and talk about ways we can increase or build capacity for research in this particular area," says Smillie of the May 2 event that was so well attended it prompted a wait list.

A platform for student mental health research

Mental health concerns among students are on the rise according to National College Health Assessment (NCHA) surveys conducted by Wellness Services at Mount Royal.

"Some of the data that has come forward regarding mental health concerns for students is quite alarming," says Smillie. "It has been identified as an area that the Mount Royal University Mental Health Strategy group is really interested in shifting."

Internationally renowned researcher in mental health Heather Stuart, PhD, spoke via video conference.

Stuart is a professor in the Department of Community Health and Epidemiology, with cross appointments to the Department of Psychiatry and the School of Rehabilitation Therapy at Queens University. She is also the newly appointed Bell Canada Mental Health and Anti-Stigma research chair.

She has also worked extensively with the World Psychiatric Association's Global Anti-Stigma program and is the chair and co-founder of the World Psychiatric Association's Scientific Section on Stigma and Mental Disorders.

Stuart does anti-stigma activities through the Mental Health Commission and is currently collaborating with Statistics Canada to develop a stigma assessment module that can be incorporated into national health surveys.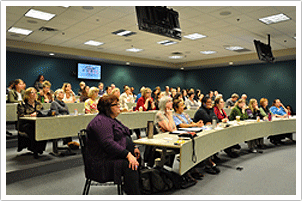 "You can offer mental health services but if people won't access them because they're afraid they will be stigmatized and you're not going to get very far," says Stuart.

"Explicitly acknowledging that and figuring out how to incorporate anti-stigma strategies and evaluation components are very important."
Call to action

During the video conference, Stuart encouraged attendees to educate faculty members and front-line staff about their role in helping to remove the stigma from student mental health.

She also talked about the importance of equipping individuals with the necessary skills and competencies to identify those students who are struggling with mental health issues and know where to send them.

"Review the policies and practices at every level of the university. If mental health isn't explicitly identified and relevant, it should be," says Stuart.

"Think about what you can do in the classroom to help students better manage their stresses and anxieties."

- Jondrea De Ruyter, May 10, 2012