Ryan Johnson, Evan Hudson and Danielle Gariepy may have travelled different roads, but they all arrived at the same place - Valedictorian of their graduating class.
Congratulations to our Valedictorians and to the entire graduating class of 2014!
Ryan Jon Johnson
As Ryan Johnson walks down the stairs of the Convocation stage, he leaves with more than just an education and a Bachelor of Arts - Criminal Justice parchment; he also leaves with a new take on family, friends and how to best impact the lives of those around him.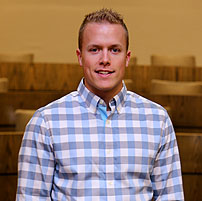 Valedictorian Ryan Johnson is looking forward to a career out helping the community as a police officer. ~Photo by Michal Waissman
Looking forward to his career as a police officer, Johnson plans on taking the sense of citizenship he built at Mount Royal with him to strengthen communities wherever he ends up.
As a Resident Advisor (RA) for several years, building and supporting communities is nothing new for this student leader.
"Becoming an RA was one of the best experiences," says Johnson. "I got to meet and really get to know a lot of like-minded people and help support my peers when they really just needed someone to talk to."
Always eager to lend a hand, volunteering and landing a subsequent internship with the Calgary Police Services' Victim Assistance Unit is further proof of the caring nature of this Valedictorian.
On campus, Johnson's strong values and keen interest in supporting fellow students led him to volunteer for Mount Royal's Academic Misconduct Board and to work with Security Services to support the safety of the campus community as part of his RA duties. He also involved himself with Accessibility Services by taking notes for a fellow student with a disability.
"My experience here has been far more than I could have ever hoped for - it's definitely been more than an education," says Johnson. "And that is the true value that you get from Mount Royal."
As Johnson prepares to extend his commitment to growing social capital, his reluctance to leave the community he has called home for the last several years is only overshadowed by his excitement to become a leader in a new community.
"Learning takes place in the least expected ways," says Johnson. "And I'm excited to take all of the lessons I have learned and represent Mount Royal as an ambassador in the community."
Being part of Mount Royal's lifeblood inspired Johnson's success. With an impressive 3.96 GPA, Johnson has also been selected as the Centennial Medal recipient for 2014.
The 2014 recipient of the Centennial Medal - Ryan Jon Johnson
Johnson has demonstrated both academic excellence and leadership in his various roles on campus and in the community.
Given to one Valedictorian each year, the Centennial Medal is patterned after the Henry Birks and Sons Gold Medal, which was Mount Royal's highest award for student academic achievement from 1935 to 1985.
The Centennial Medal commemorates a deep tradition of student academic achievement and leadership at Mount Royal. The medal is embossed with the Mount Royal badge on one side, and the date surrounded by a crescent of wheat sheaves on the other.
Congratulations Ryan!
Evan Christina Hudson

Leadership is nothing new to Evan Hudson. It's something she takes with her both onto the courts and into the classroom.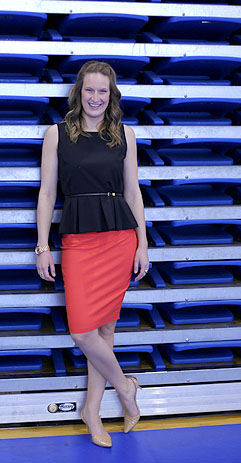 Valedictorian Evan Hudson is also a two-time captain for the Cougars' womens basketball team. ~Photo by Michal Waissmann
Hudson has earned a Bachelor of Business Administration - Accounting degree, and is ready to start her career in the fall at a top accounting firm.
Hudson embodies the spirit of Cougar Athletics, and from the day she was recruited to play on the women's basketball team from her high school team in Ponoka, she knew Mount Royal was where she wanted to live, learn and play.
"I came for basketball, but stayed for school," says Hudson, a two-time womens' basketball team captain, who admits she wasn't always the strongest player on the team, but always pushed her teammates to be their best academically and athletically.

As an active volunteer through Cougar Athletics, Hudson engaged with youth and applied her skills as a mentor. She was also a volunteer for the Athletic Student Advisory Board and earned a National Scholar Award from the Canadian Collegiate Athletic Association (CCAA) in recognition of her outstanding academic accomplishments as a CCAA student athlete.

Hudson says her experience at Mount Royal helped build the self-confidence and mental-toughness that she looks forward to carrying into her career.

"University brings out the strengths in people that will enable them to overcome barriers and really make a difference," says Hudson. "The lessons we've learned here will benefit us in our futures tenfold."

True to her athletic spirit, Hudson is quick to credit the team that has helped her succeed at Mount Royal - her family, faculty members and peers.

"My family has been my rock. My mom, my dad and my brother - without them, I wouldn't be here today," says Hudson. "They have all made me extremely proud to wear my last name on the back of my jersey, while my teammates make me proud to wear our logo on the front."
As a graduate, Hudson looks forward to the opportunities her new education will provide, and describes her time at Mount Royal as a well-balanced experience that she wouldn't have received at another University. She admits if she could do it all again, she would go back in a second.

"I am so honoured to have been selected as Valedictorian. I never imagined it possible and this is my proudest moment to date."

Danielle Jacqueline Elizabeth Gariepy

Some things just run in the family, and as Danielle (Dani) Gariepy's mother watches her daughter cross the stage today with a Bachelor of Nursing, she will not only be proud of her university graduate, but of her soon-to-be colleague.
Looking beyond the traditional take on a nursing career, it's Gariepy's interest in global health inequities that she hopes will lead her to a career in community development outside of the usual nursing paradigm.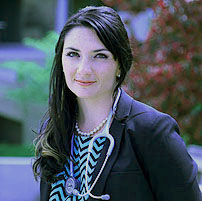 Valedictorian Dani Gariepy urges fellow graduates to, "Take your piece of blue with you wherever you go." ~Photo by Michal Waissmann
Always focused on taking the most from her experiences, Gariepy became well ingrained in the campus community working as a Resident Advisor (RA), a Residence Community Advisor, a Recreation employee, and through participation in community projects, including a symposium on dating violence.
"While living in Residence I was approached and asked to be an RA. For me, that was very special," says Gariepy. "So, over the four years I lived on campus, I really made it my home - the friends that I made in my very first year will be my friends forever."
As president of the Mount Royal Womens' Ringette Club for two years and as an avid player, Gariepy was able to represent Mount Royal twice on a national stage.
Taking a year hiatus from her studies to be a Stampede Princess for the Calgary Stampede's centennial celebration, Gariepy had the unique opportunity to be an ambassador for her city, but leaving her home on campus made her realize how much Mount Royal life meant to her.
"I really felt like the community took me in," says Gariepy. "And, in leaving I felt sad, but I had no doubt that I would be back, and I'm just thankful for the support I received that allowed me to go and have those amazing experiences."
That support she received from the campus community was what she credits for helping her persevere through moments of doubt during the academically rigorous Nursing program.
"Every test was a challenge," she says. "And, I often doubted myself, but the support of Mount Royal faculty helped to ensure that I overcame those challenges."
From someone who worked, learned, lived and played on campus, Gariepy says she will miss the community but looks forward to entering the workforce with her peers as an ambassador for the University.
"Take your piece of blue with you wherever you go. Take what you have learned during your time here and build it into your own community."
-Brendan Greenslade, June 5, 2014