How one alumna turned her fascination with sex into a careerJenna Nakamura has been interested in sex for as long as she can remember. During junior high she would secretly stay up late to watch the Sunday Night Sex Show with Sue Johanson.
"Here was this grandma, and she would talk openly about sex and have all these little sex dolls and show different positions. I thought it was so cool," says Nakamura.
Despite her fascination with the subject matter, the 30-year-old had no idea it could transition into a career. After graduating high school and unsure of what to do next, she took a job as a receptionist at a temp agency, where she was later promoted to recruiter. She had already started her journey at Mount Royal by upgrading some of her high school courses before beginning a degree in sociology, taking one or two classes per semester while holding down her full-time job.
"I loved Mount Royal because of the small class sizes," says Nakamura. "I knew a lot of people and it didn't have that 'institution' feeling."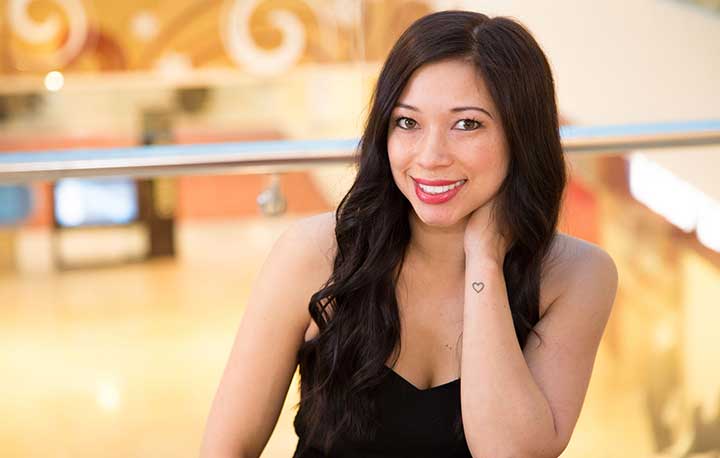 As Nakamura learned more about the programs offered at Mount Royal, she realized the Business Administration Certificate ― Human Resources would be a better fit.
"The Human Resources certificate program was great because our teachers had actually worked in HR and brought their experience with them into the classroom," says Nakamura. One of her professors was Christian Cook, PhD. Like Nakamura, Cook's career path has taken several twists and turns.
"I didn't begin my career planning to be a teacher, to be honest," laughs Cook. "I am a human resources professional by trade but when I started teaching part-time, I loved it so much that I went back to school and completed my PhD."
Cook says the certificate program is great for people who want to get into HR, who may be working in HR and want to enhance their toolkit, or employees at small companies who've had to take on HR duties.
By the time Nakamura graduated with her HR certificate in 2015, she had been working as a recruiter for over seven years. She was also working part-time at a sex store, volunteering at the Calgary Sexual Health Centre and had just completed a Sexual Health Educator's Certificate from a clinic in B.C. When an educator position popped up at the Calgary Sexual Health Centre, Nakamura landed the job - and says it was a dream come true. "It was something I didn't think would happen. A lot of the postings said you needed a degree, but I finished the certificates and had experience volunteering and everything just lined up."
Cook says it's amazing that Nakamura was able to take her schooling and experience and put it together to achieve her dream career.
"That's what university is for, especially these days. When I teach human resources, I get it. I recognize that not all students will dedicate their whole career to HR, but they will certainly work with other humans, so how can we help them to get on? We try to pique our students' interests and cultivate curiosity because we know that most will have multiple careers. What we are doing in the classroom is more useful than just serving that one purpose or career."
As a sexual health educator, Nakamura travels to junior and senior high schools and teaches comprehensive sexual health education. She says the students are really curious and it's rewarding to set a foundation for students to become competent sexual beings.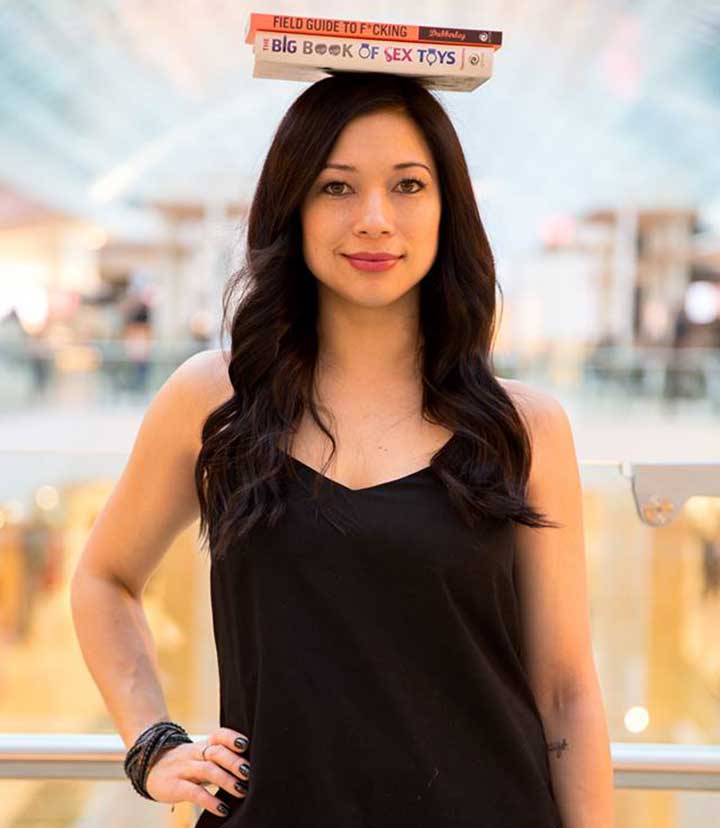 Nakamura hasn't stopped there. In addition to her educator role, she launched her own podcast - The Sex Dojo.
"I wanted to interview people about their sexual experiences, discuss sex in the media and share my thoughts," she says.
She calls her podcast "edu-tainment" - a blend of education and entertainment. The format seems to be working. She's created 31 episodes and has over 45,000 downloads so far.
Nakamura also finds time to volunteer with Eudaimonia - an organization that offers inclusive and pleasure-based sex education to post-secondary students. The group provides orgasm workshops and sex trivia nights and has been involved in the sex toy bingo at Mount Royal.
"The students love it," says Nakamura. "We've had sold-out events and it just keeps getting bigger. There's tons of interest, which shows there is a need for it."
Rachelle McGrath, the Healthy Campus Team Lead at Mount Royal, would agree.
"Sexual health is always an area where we can be doing more, having more spaces for dialogue. If you look at the purposes of sexual health education, it was traditionally to avoid negative outcomes like infections and unintended pregnancies, but now we want people to think about making positive choices as a healthy person," says McGrath.
Despite working in her dream field, Nakamura has big plans for the future. She wants to offer more "adult parties" - a spin on passion parties - that would provide sexual information and demonstrations to small groups in a safe setting. Nakamura's mission is clear - normalize sexual health to reduce the shame and stigma that so many people carry and help people have better and more satisfying sex.
Nov. 21, 2016 ― Felicia Zuniga