MRU student helping change perceptions of Alberta patients
Contrary to popular belief, a bump on the head may not require heavy-duty imagingA third-year Mount Royal University Information Design student is asking emergency room patients to think twice about CT scans.
This initiative was presented to Denise Boudreau as a task this past summer when she accepted a work placement position with Alberta Health Services' (AHS) Emergency Strategic Clinical Network (ESCN).
Boudreau's first job was to work with Choosing Wisely Canada, contributing content to their messaging around ten areas of focus that physicians and patients should consider.
Out of the the original five high-level Choosing Wisely areas of focus (now 10), her project is related to CT scans for mild traumatic brain injuries. It's an area where AHS feels the public may not have enough information. In many instances, tests are being done that aren't necessarily required.
Boudreau was challenged to create an emergency room info graphic related to the topic.
"It's about the safety of the patient," says Boudreau.
Currently the infographic is being shown at both the Peter Lougheed Centre and the Foothills Hospital as part of a four week trial. If the pilot project is successful, Boudreau's efforts will be on display in 103 emergency departments and six urgent care centres across the province. Early data is being collected via Google Analytics and a survey to determine the success rate.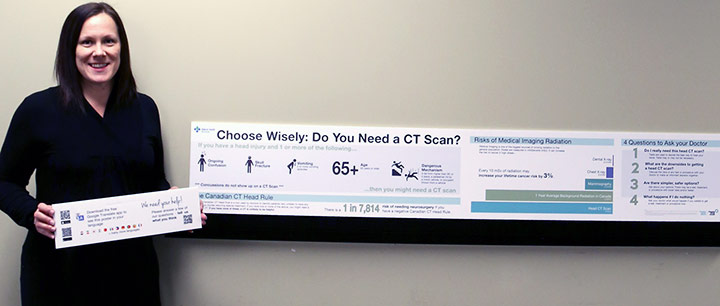 Her assignment commenced in a contrasting manner compared to most internships.
Boudreau found herself working with the Foothills Hospital's research department, specific physicians and regular patients to break down and better understand the correct messaging to align with Choosing Wisely's national campaign.
"Being able to communicate with all those people at different levels, knowing the right questions to ask, based on the situation, I feel like Mount Royal really prepared for a number of different audiences to make the end result a success," says Heather Hair, executive director with ECSN. "The experience has been really quite profound. It's been unique to work with someone who is so eager to learn. The communications infographic portfolio program within the program is a skill set that was lacking within what we were needing, so that was the rationale behind bringing her on board."
Boudreau's work was immediately greeted with much support from her employer. They felt she excelled on multiple levels including nailing down a budget, understanding successful measurements, designing an aggressive work-back plan, and all the different phases that are required for a product launch.
Hair said Boudreau attended focus groups, completed and analyzed surveys and, eventually, utilized her knowledge of language barriers to justify font colour and size.
"I had her even go and sit in the waiting room to study patients," says Hair. "This is really about an attitude that was readily open to learn and jump in. She was extremely eager and a good partner to work with. A real pleasure."
The purpose of the infographic is to spark dialogue between patients and their physicians to take a collective approach to their health. With an increase in knowledge, Boudreau tried to get patients to begin the discussion of risk versus reward with a CT scan.
For example, concussions cannot be detected by a CT scan.
"Many people just want a CT scan, but they are also putting themselves at risk," explains Boudreau. "One scan is more than what your annual radiation intake should be."
Boudreau recalls her experience being much more than just demonstrating design skills. She believes her job was really to create a communication piece that resulted in being an infographic.
The finished product is aimed at incorporating different cultural components including addressing patients whose first language may not be English. The graphic will be as accessible to as many people as possible using Google translate. Its language is designed to make patients feel comfortable asking questions and to ensure they are making the right choice for their health.
"What we wanted to do is leverage cell phone technology using QR codes, scanning the info graphic will take you to a survey to help you make better decision," says Hair, who still employs Boudreau part-time with AHS. Boudreau's outstanding work was originally the focal point of a community service learning project that caught the eye of AHS.
Her achievements inside and outside of the classroom are widely known and should be appreciated, according to Glenn Ruhl, PhD and an Information Design professor with Mount Royal. "Employers in crucial and impactful areas are beginning to recognize the need for students from the MRU Information Design program," says Ruhl. "The Choosing Wisely campaign is a great example of how our students are helping to make a difference in vitally important areas." Ruhl adds that Boudreau's contributions with AHS ― challenging and pressure-filled ― are atypical of a second- or third-year student's work.
Scroll right to left to view the full info graphic

"It is safe to say not all second-year students could handle such high demands as skillfully as Denise Boudreau," Ruhl says. "In many instances, the work the student completes in the first internship does not have such an immediate and lasting impact. In this case, however, she met, and is continuing to meet, the challenges of the campaign."
Nov. 30, 2016 - Jonathan Anderson