MRU celebrates $6M for campus spaces
Community, government and institutional leaders came together on April 27 to celebrate a trifecta of much-welcomed investments in spaces at Mount Royal University.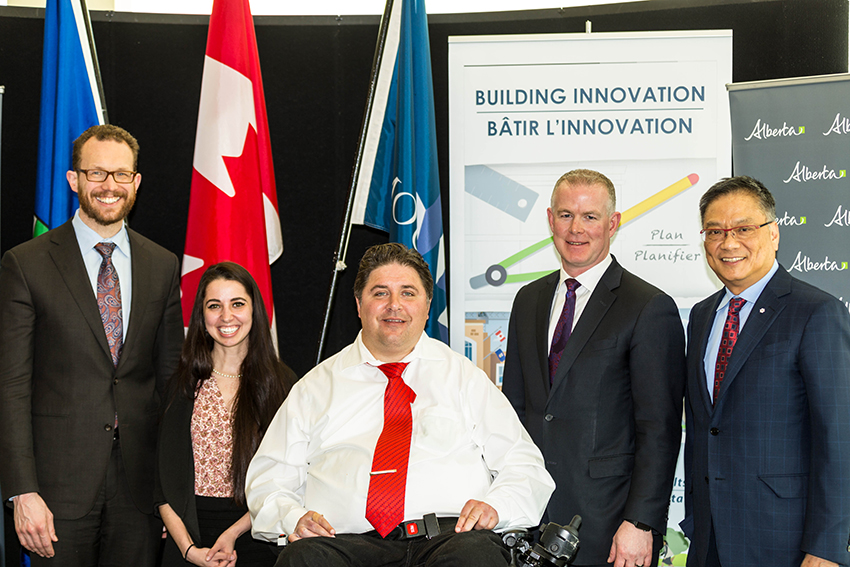 A total of $6 million was announced at a special event held inside a boardroom in the Bissett School of Business. Half of the new funding arrived from the Government of Canada's Post-Secondary Institutions Strategic Investment Fund, while another third came from the province of Alberta. Additional funding was provided by Trico Homes and the Trico Foundation, as well as Mount Royal's Infrastructure Maintenance Program.
The investments are earmarked for the recommissioning of mechanical systems and for the newly-minted Trico Changemakers Studio, a social innovation hub.
Vice-President of University Advancement Paul Rossmann thanked Mount Royal's generous funding partners. In addressing alumnus Kent Hehr, Minister of Veterans Affairs and Associate Minister of National Defence, Rossmann underscored the importance of the mechanical system upgrade.
"In fact, I can tell you that the last time the main building mechanical systems on campus were updated to the extent now being funded, Minister Hehr was not yet a student here," said Rossmann to laughter. "It was 1988."
Built in 1972, the original Lincoln Park campus underwent a major renovation in 1988. While the aging infrastructure has been well-managed and maintained, the growth of the University has outpaced those aging systems and it is time for a major upgrade.
"This funding makes that possible," said Rossmann.
Work on heating and cooling infrastructure will create cutting-edge, premium-efficiency systems and smart technology. Energy-efficient improvements will include a solar panel installation on the rooftop of the Recreation facility. The work will reduce operating costs and the campus' environmental footprint, and increase reliability.

In his remarks, Minister Hehr looked back fondly on his time at Mount Royal, while also highlighting the bright future ahead for the University.
"This historic investment by the Government of Canada is a down payment on the government's vision to position Canada as a global centre for innovation," said the Calgary-Centre Member of Parliament. "That means making Canada a world leader in turning ideas into solutions, science into technologies, skills into middle-class jobs and start-up companies into global successes."
Hehr was joined by Minister of Advanced Education Marlin Schmidt, who welcomed Mount Royal's commitment to economic diversification and environmental sustainability.
"These significant investments help Alberta students put their best foot forward by maximizing the number of new, modernized learning spaces, while also creating much-needed jobs to spur economic growth," said Schmidt.
The Trico Changemakers Studio will also be created through federal funding. The new space - to be located on the third floor of the Bissett School of Business - is intended to be a place where community, innovation and learning converge. Students and academics will work side-by-side with leaders from for- and non-profit businesses to test concepts, come up with policy solutions and create new products.
Faculty of Arts student Alexandra Daignault told the audience, which included Wayne Chiu and Dan Overall of Trico, that she has learned to identify herself an entrepreneur and an innovator - labels not always associated with her academic discipline.
"I didn't know that social entrepreneurship and innovation are really about embodying a mindset of mindfulness, taking steps to address the gaps we see and experience in systems," said Daignault. "I didn't realize that social entrepreneur and social activist are really just two sides of the same coin, within the multidisciplinary language of changemaking.
"This changed for me last year, when I participated in the Canadian Alliance for Community Service Learning Conference, hosted here on campus."
April 27, 2017