Teaching midwifery instructors in Addis Ababa, Ethiopia
Ethiopia has many obstacles to overcome to achieve the goal for every woman to have a skilled birth attendant with her while giving birth. Mount Royal University is partnering with the University of Alberta and the Ethiopian Health Ministry to provide an education program for midwives that builds capacity for maternal and newborn care. I feel confident the participants in this project will return to their communities with a wider perspective on teaching a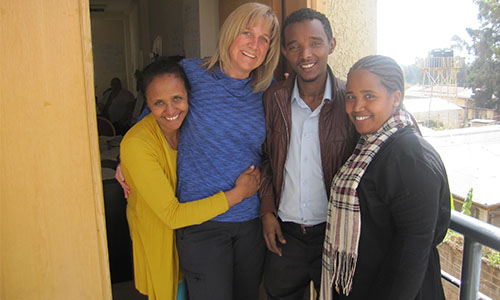 nd skill techniques.

While the teaching facilities at the local hospital were new and clean, we needed to learn how to work with intermittent running water and power. There was also the expected culture shock. The walk down the little dirt road beside the hospital to get to lunch took us past the line-up at Emergency. As I passed I remember being thankful for our health care system.
Once we made it to the restaurant, the traditional Ethiopian lunches were delicious! I'm still not sure what exactly I was eating but the spongy flatbread was very helpful in picking up the stewed meats and vegetables. The deep-fried things were always a yummy surprise - sometimes fish, sometimes potato and sometimes sweet. Except for one day, my stomach did well with the various foods we ate.
My favorite part of the whole Ethiopian experience was getting to know the participants in the project. There were 26 midwives, men and women, from all regions of Ethiopia with varying degrees of teaching and clinical experience. I found them to be enthusiastic, funny, smart and eager to learn different ways of practicing and teaching. I was most impressed with the way they helped each other. If someone was struggling to grasp a skill or concept, two or three other participants were quick to explain or demonstrate it. By sharing experiences and stories we discussed and collaborated on workable and sustainable strategies that meet the needs of child bearing families in Ethiopia. Through this process I quickly learned how important it is to ask about available resources and local cultural customs. Given the opportunity, I would love to go back.
Wendy Wood, MRU BMid Preceptor
(Went to Ethiopia in February 2015)