Mount Royal researchers explore the most effective methods for providing resettlement information to Syrian refugees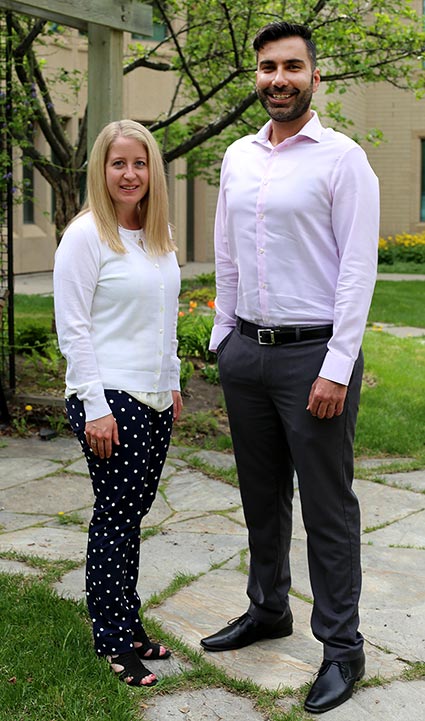 Research being carried out at Mount Royal is set to play a pivotal part in ensuring the successful resettlement of Syrian refugees to Canada.
Professors Leah Hamilton and Mohammed El Hazzouri of the Bissett School of Business have been investigating the settlement and information needs of Syrian refugees to Canada. Since November 2015, approximately 40,000 Syrian refugees have arrived in Canada, with roughly 2,000 resettling in Calgary. The research adds important insights regarding how the provision of information helps Syrian refugees navigate the Canadian system, have realistic expectations about what life in Canada is like, and access settlement and other services that will support their integration into Canadian society. Funded by a Social Sciences and Humanities Research Council (SSHRC) Rapid Response Grant, the project is being led by Victoria Esses from Western University/Pathways to Prosperity and involves interviews and focus groups with settlement service providers and with Syrian refugees in Calgary and London, Ont. There are four community partners on the project: Calgary Catholic Immigration Society,Calgary Immigrant Women's Association,London Cross Cultural Learner Centre and the South London Neighbourhood Resource Centre.
The scholars have been working with key informants from the settlement sector including front-line workers. In June, Hamilton and El Hazzouri will be conducting focus groups directly with Syrian refugees. By speaking with both key informants and Syrian refugees, Hamilton and El Hazzouri hope to gain valuable insights into innovative strategies for providing information to refugees and ultimately fostering their successful resettlement.
Hamilton says, "At present, we know very little about the information needs of recently arrived Syrian refugees in Canada and how to best fill these needs. Our research addresses this challenge and contributes valuable knowledge on best practices in information provision to refugees in general."
Fast-tracked arrival meant gaps in information
Through their interviews with key informants, Hamilton and El Hazzouri have noted some challenges that arose due to the uniqueness of the situation in which the Syrian refugees arrived. El Hazzouri says, "Starting a new life in a different country is challenging. So much information is required, everything from basic information about how transit works, to information on housing, schools, healthcare and employment."
El Hazzouri, who came to Canada from Lebanon, says that he has seen first-hand the effects of the Syrian refugee crisis. Lebanon's population of 4 million has increased by at least another million consisting solely of Syrian refugees. For Syrian refugees living in countries such as Lebanon, Jordan, and Turkey, daily life is a struggle, and the majority of refugees live below the poverty line. Canada's effort to resettle over 40,000 refugees was fast-tracked due to the dire situation.
"This massive operation that happened (end 2015/early 2016) meant that the Syrian refugees did not receive a lot of information before coming to Canada. They knew about the cold weather, but they did not receive the formal orientation program that refugees typically get."
Preliminary findings
Even though the Syrian refugees did not have the same amount of pre-arrival information that other refugees receive, they still came to Canada with the hope of a better life. And both Hamilton and El Hazzouri say that the settlement sector has used innovative strategies to quickly get information into the hands of refugees. Some organizations have engaged in extensive outreach efforts that involve delivering information right to refugees' doorsteps. Hamilton, El Hazzouri, and their collaborators are analyzing these promising practices and plan to get this information back into the hands of stakeholders from the settlement sector and government.
Preliminary findings from the project suggest that, immediately upon arriving in Canada, refugees need and seek a lot of information. In order to ensure this information provision is effective and not overwhelming, it is important to explore the optimal timing and sources through which this information is presented. One of the most important pieces of information is how to access settlement services, particularly language classes. Over time, as refugees have spent more time in Canada, their information needs change. They need information about how to search for a job and how to transition to long-term housing.
There's much more to come from this project, but the initial results of the research have already been presented at two conferences: the National Resettlement Assistance Program Conference; and the National Metropolis Conference. Both researchers indicate that successful refugee resettlement is a tremendous task with a lot of effort exerted not only by the refugees but also by settlement agencies.
"This is an important project," say Hamilton and El Hazzouri. "We are really looking forward to the next phase."
Learn more about the programs offered through the Bissett School of Business.
May 24, 2017 ― Michelle Bodnar

Media request contact information.
Have a story idea? Please fill out this form.