Vivacity challenge seeks to put life back into downtown
Mount Royal University students generate solutions for unprecedented vacancy rates in Calgary's core
In spite of a gloomy couple of years, the next generation of workers is offering up some bright ideas.
As part of this year's Vivacity challenge, Mount Royal University students spent a semester stationed in two vacant floors of a skyscraper in downtown Calgary. Together, they came up with some potential solutions for the glut of empty office space by re-envisioning the core of Calgary.
On April 12, four student-led teams presented their semester-long projects in the culmination of one of MRU's Social Innovation courses ― Civic Innovation ― to 200 community leaders, including Mayor Naheed Nenshi. Their life-sized concepts included a U-Brew, a holistic wellness centre, a 24-hour creative space for artists and a collaborative Devonian Gardens-type space with a twist!
"Calgary is in a prime position to reimagine itself as a city as a result of the economic downturn," said Catherine Pearl, Assistant Professor of social innovation at Mount Royal who taught the course.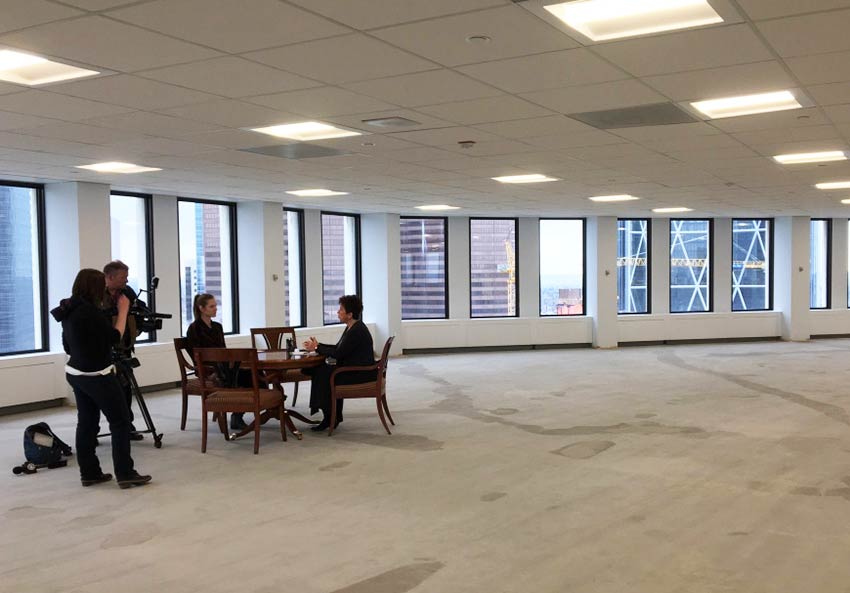 Comprised of students of varied academic disciplines from Mount Royal University, the University of Calgary and Ambrose University (non-MRU students were able to earn credit from their home institutions), and working in partnership with Calgary Economic Development and Aspen Properties, the challenge capitalized on students' imagination and their drive to keep Calgary viable, attractive and livable.
The first phase began with a 24-hour challenge in November 2016 and included students from three additional post-secondary institutions: SAIT, the University of Lethbridge and Bow Valley College. It evolved into a series of conversations with the community around the issue of vacant space, and the credit course finished off the series.
"Our students are at the forefront, working with faculty, industry experts and community partners to bring new ideas to life," says Pearl.
Turning challenge into opportunity
Allison Cassidy, a third-year student in the Bissett School of Business with a general management major and a double minor in social innovation and innovation and entrepreneurship, plans to run a business that will bring people together to make a change for the better.
But, she admits to being a bit nervous about the state of the economy in Calgary. Originally from Stettler, Alta., she is worried about getting a job right out of university.
"Coming from a small town, I thought Calgary was the place to be for business," she says. "But now I realize that there are many people leaving, so that's something I really want to figure out and change. Because when people aren't here, this isn't the city at all."
Her group came up with "Irenic" as their showcase solution, which is a holistic wellness centre that would include an organic smoothie bar, zero-gravity sensory deprivation beds and meditation spaces. Irenic would be a (voluntary) technology-free zone, offering a detox from the stress of constant connection to work and social media.
"We're targeting corporate Calgary," said Cassidy. "The workers who stay up late, wake up early, get little rest and who often don't take the time to address their mental health.
"The fact that one in two people will develop a mental illness by the age of 40 is a concern to us."
Fourth-year Bachelor of Health and Physical Education ― Sport and Recreation Management student Brandon Diprose, who grew up in Raleigh, Alta, also took part in the showcase. His team created Forge Collaborative Brewing, a U-Brew concept allowing downtown denizens to enjoy the fun of brewing beer without the costly equipment, space requirements and expert knowledge.
"You could come during lunch break, get everything ready, then come after work and put it all together," Diprose says. Two weeks later, you have your own batch of beer.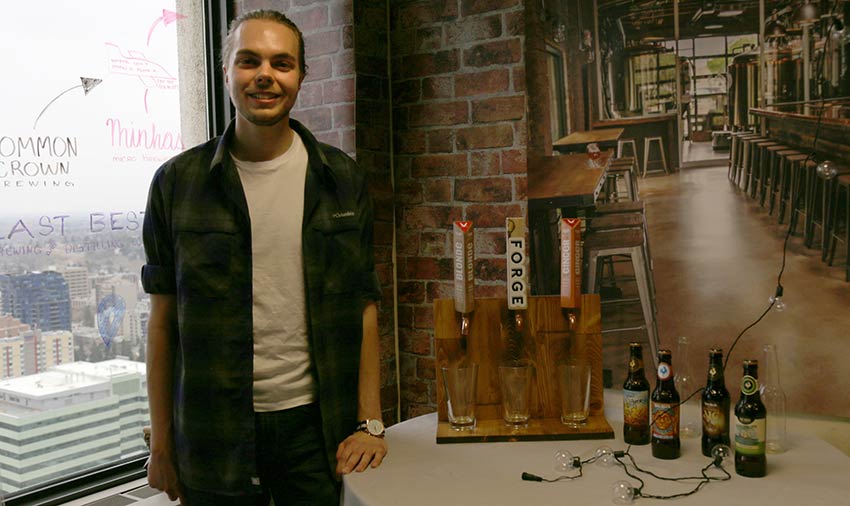 Diprose says he jumped at the opportunity to take the course, and that the interdisciplinary aspect made it an interesting experience. His teammates were studying public relations, marketing, social innovation and Arts.
"You usually don't get that, you kind of stick to your program, so this was great," he says.
The group from "Third Space" pitched the idea of repurposing unused offices as a fitness studio and coffee shop, offering classes that require minimal or no gym equipment such as yoga, meditation and barre. The cafe space would be engulfed in plants and greenery, with the "outdoorsy vibe" pitched as a competitive advantage.
And, Roost looked to establish a 24-hour creative hub for artists to work on their craft, network with the community and share their skills. Roost would give artists of all ages the much-needed chance to feel supported and empowered.
"The four groups worked on their concepts and designs throughout the semester. Based on research and feedback from industry mentors, coaches, colleagues as well as myself, the students collaborated as they prepared to showcase their project prototypes, says Pearl."
Rob Blackwell, senior vice-president of Investments and Asset Management at Aspen Properties, says it was rewarding to see young people taking an interest in urban issues and leading an active civic life.
"We value their input and will be reviewing their business plans with a keen eye to the future of our city," Blackwell says.
What is Vivacity?
"Vivacity is the brand around a broader initiative, which is to get people interested in repurposing civic space. It's life meets city," says James Stauch, director of Mount Royal's Institute for Community Prosperity.
"Vivacity is a container where a number of things can happen over many years."
Noting that after 6 o'clock, Calgary's downtown tends to empty out, Stauch says that it's imperative to keep the core top of mind to ensure the city remains somewhere people actually want to live - and stay.
"Cities that thrive, historically, have vital downtowns that are memorable, distinctive and alive," he says. "And it creates place. It's connected to the larger question of, 'Why would people stay here? Is this just a place to work for a while, then retire or move somewhere else? And are we OK with that?'
"If we are, then we should recognize that in 100 years, we'll be tiny. We'll go the way both Buffalo and Detroit went. Buffalo was a city of two million people, now it's at 200,000."
Court Ellingson, vice-president of Research and Strategy at Calgary Economic Development, believes that the official downtown vacancy rate is floating around 25 per cent, but if you add in the "unofficial" vacancy rate, which is space that's technically still leased but not actually occupied, it's more likely at around 30 per cent.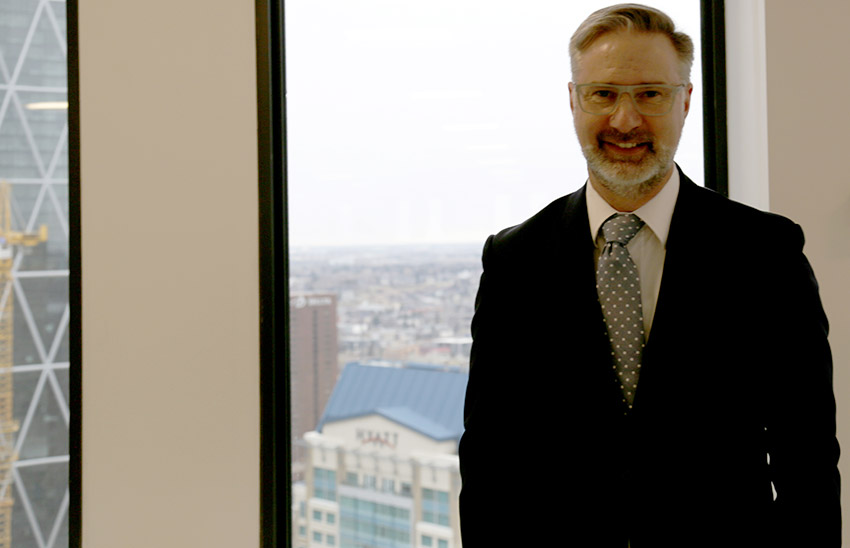 "It is significant and it will get higher," Ellingson says, and there is an additional danger other than lack of job prospects.
"By having a high vacancy rate in the downtown, it projects an image that our city is no longer vibrant, which I think, in fact, belies the truth."
The Millennial "brain-drain"
Pearl says that the Vivacity challenge addressed two levels of concern for Calgarians: a downtown that is losing its attractiveness and the Millennial "brain drain," which is a recent exodus of young people from the city.
"The brain drain is real," she says. "In this economy, if you can't find a job the chances are considerable that you may leave.
"Students are graduating and have asked me to be a reference for jobs that are located elsewhere, I have not seen that before! And the reality is that ― if we see our children and our students leave the city ― it may be very hard to get them back."
That's why post-secondaries are a great place to get young people invested in their cities and culture.
"We look to university students as the leaders of tomorrow," said Court Ellingson, from Calgary Economic Development. "Their ideas are key to meeting the needs of our city's changing urban landscape."
April 19, 2017 ― Michelle Bodnar