2017 Writer in Residence: Di Brandt
Award-winning poet to explore the Tender Heart of Poetry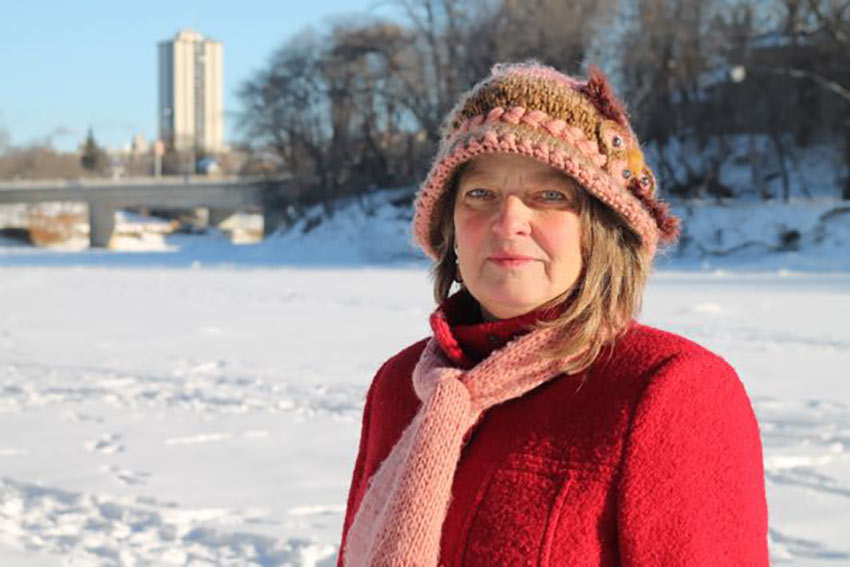 This year's Writer in Residence is the renowned poet Di Brandt, whose award-winning titles include questions i asked my mother (which won the Governor General's Award); Agnes in the sky; mother, not mother; Now You Care; and Walking to Mojacar. She is also a writer of creative non-fiction and is a literary critic and editor.
Currently a professor at Brandon University, Brandt was brought up in traditional Mennonite village in southern Manitoba. She left home at the age of 17 and was educated at the Canadian Mennonite Bible College (Winnipeg), the University of Alberta and the University of Toronto, achieving her PhD in Canadian literature from the University of Manitoba in 1993. She has written much about her patriarchal upbringing, which she attempts to reconcile with her fierce feminist values, as well as the complicated nature of mother/daughter relationships. Due to her rural upbringing, Brandt feels a deep responsibility towards the land and is known as a strong advocate for the environment.
During the week of March 6 to 10 Brandt will be visiting classrooms, giving presentations, hosting debates, holding one-on-one manuscript consultations and meeting with faculty of the Department of English, Languages, and Cultures. The most anticipated event is this year's public reading and book signing, to be held March 8 in The Knuckle (EA 3001).
The Writer in Residence program began in 2007 at MRU, and provides students and the chance to meet, interact and receive mentorship from national and international authors. In anticipation of her arrival, we asked Brandt a few questions.
Why be a poet?
All it takes to be a poet is an interest in language, and rhythm, and cadence, and a sense of curiosity, and adventure, and fun, and the desire to explore these things further in language. Everyone has at least some of that, so everyone is a poet, at least little bit.
To become a professional poet, in Canada, takes a considerable amount of commitment and fortitude, because it's not a very well paid profession now. Poetry has taken a hit in the postmodern era, and is no longer considered the "queen of the discourses," no longer revered and honoured the way it was in the past. And yet, it is still the most powerful way to be in language, and can move people immensely, both in the writing and reading and hearing of it.
Why is poetry important?
There's something magical about poetry, something deeply transformational and visionary in it. Sir Philip Sidney, the Renaissance courtier, said poets are more sensitive and deep feeling than other people, and by expressing their extraordinary sensibilities in words, they help everyone become more sensitive and intelligent. He also said that the foregrounding of rhythm and cadence and sound in poetry puts the poet (and reader/listener) directly in touch with the rhythms and cadences of the created universe, and so has the profound capacity to connect us with the very forces of creation, with the divine. He said that words "attract" each other and beauty "attracts" poets, the way heavenly bodies "attract" each other. What if we called that love and desire and appreciation instead of "gravity"??
Learning to read and write poetry should be a required subject for all students (as it used to be and still is in other countries in the world), because of its extraordinary capacity to enlarge our sensibility, expressiveness, and understanding of ourselves and the world around us. It's a language of connection, and interconnection, a language that is able to address us in multidimensional ways, a holistic language, that touches people's hearts in unexpected, powerful, lovely, and tender ways. It's a very efficient and simple language, that any child can understand, and yet that can hold the deepest meanings. It's a language of inspiration, and hope, and love. Poetry can be silly, deep, philosophical and fun - all at once! Who can do without it?
Is poetry making a comeback?
It's lovely to see poetry coming back into public occasions like City Council meetings (through the National Mayor's Poetry Challenge, initiated by the League of Canadian Poets and currently sponsored by Calgary's wonderful poet mayor, Naheed Nenshi), and the various Poet Laureateships across the country. It would be great to see people expanding the practice of writing original verse for weddings, funerals, graduations, birthdays, retirements and other ritual occasions, as was once widely done. It would be great to bring back the memorization and public recitation of poetry as well - my mother could recite thousands of poems into her old age, it's a great way to exercise the memory, and it's so lovely to have a huge delightful poetic repertoire at your fingertips at all times.
It's great that Calgary has become such a hotbed for innovative poetry in recent years. Mayor Nenshi probably had something to do with that, as well as the fine Creative Writing programs at the universities, and the lively arts scene at Banff Centre for Arts and Creativity. And the vibrant youthful energies of this growing city. And the electric vibes of the mountains meeting the prairies. A magical place.
Writer in Residence public reading and book signing
Tender Heart of Poetry, or: the Battle of Flowers

by Di Brandt
Di Brandt makes the case, in this presentation, for a more cosmologically oriented, spiritually inflected, mythopoetic writing practice than is generally the case in contemporary English poetry. She does so in a brief survey of various poetic and cultural traditions and literary texts, from medieval European folktales to ancient Aztec and Assyrian customs, old and recent Jewish poetry, and tail-end glimpses of the shape of modernity, in poetic texts of the early modern and late postmodern periods.
Wednesday, March 8 from noon to 2 p.m. - The Knuckle (EA 3001)
Feb. 22, 2017 — Michelle Bodnar