Office of Academic Indigenization celebrates grand opening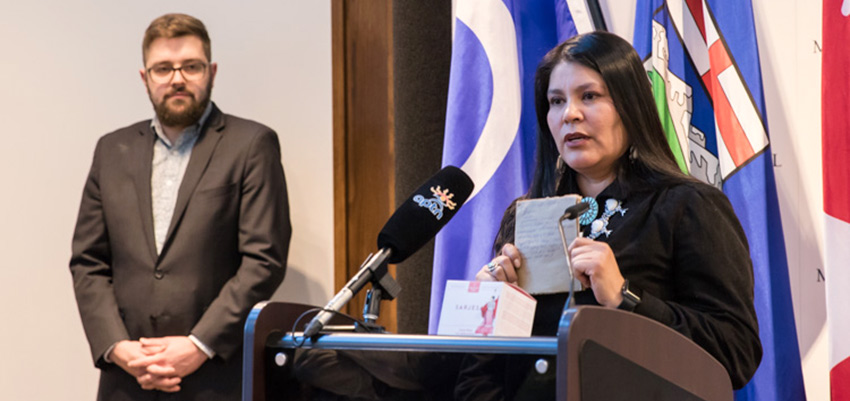 The new Office of Academic Indigenization (OAI) celebrated its grand opening on January 26, marking a significant milestone towards indigenizing curriculum across programs and disciplines.
Nearly 200 people from across campus and Indigenous communities attended the event, which included a pipe ceremony, a blessing by Elder Miiksika'am Clarence Wolfleg, the unveiling of a mural by Niitsitapi (Blackfoot) Dené artist Lauren Crazy Bull, and speakers from the Treaty 7 area, including Alice Kaquitts and Thomas Snow from the Îyârhe Nakoda Nation.
In announcing the opening and appointment of the OAI's two co-directors-Renae Watchman and Liam Haggarty-vice-provost and associate vice-president of Teaching and Learning Jim Zimmer said he is optimistic about the University's ability to support students.
"I hope and believe we will be able to influence students profoundly and positively in at least three ways. First, by increasing the number of Indigenous students on campus. Second, by ensuring not only their success but their excellence here. And third, enabling all Mount Royal students graduate with a deepened understanding and appreciation of Indigenous Peoples and their history in Canada."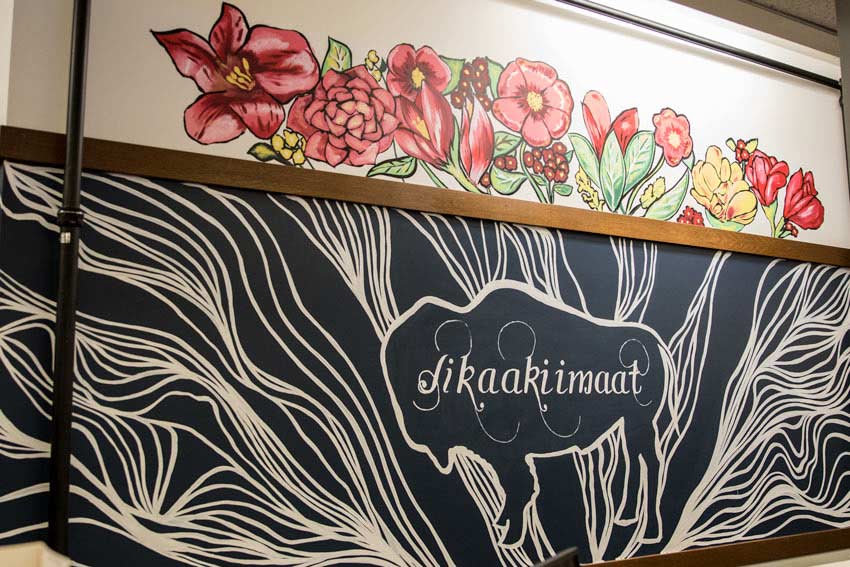 Watchman and Haggarty, both tenured associate professors in the Faculty of Arts and key contributors to the University's Indigenous Strategic Plan, were appointed last year. In her remarks Watchman spoke about the importance of working together as co-directors, something she and Haggarty learned from some of the Indigenous communities and leaders they work with.
"We're wanting to embody the leadership we've seen in our partners, usually a male and a female, and the power that multiple perspectives and voices have as a leadership model," she explained. "We're trying to dismantle the typical hierarchy that exists in the academy and instead do this work in pairs. That's a step toward decolonial leadership."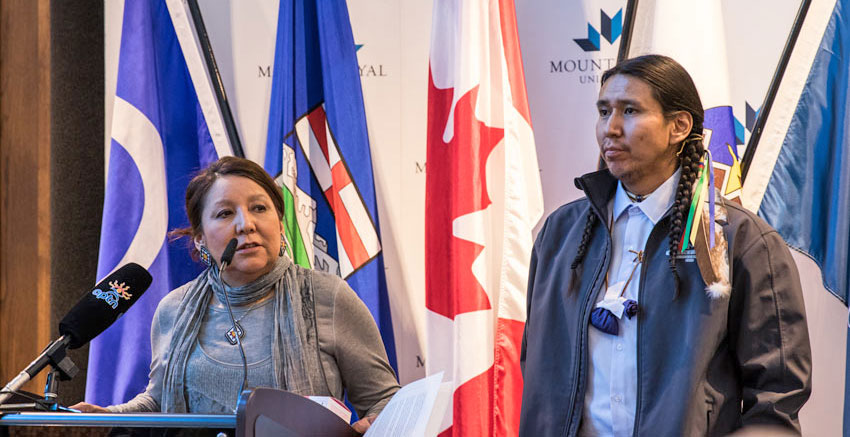 Haggarty thanked Wolfleg, Kaquitts, Snow, and the Turning Robes as well as Alvine and Spike Eaglespeaker and other community members for their leadership, trust and generosity in sharing what they know.
"You are our teachers, our mentors, our professors. It's your work and your teachings that have laid the foundation for this office," he said. "In opening this office, it's really your work we're celebrating. Without you, we wouldn't be here and this work wouldn't be possible. We are indebted to all of you, and we are honoured and humbled that you continue to share with us your gifts and your knowledge."
The formal ceremony ended with an honour song composed by Darcy and Frank Turning Robe, who composed the song as a gift to the OAI to commemorate the occasion.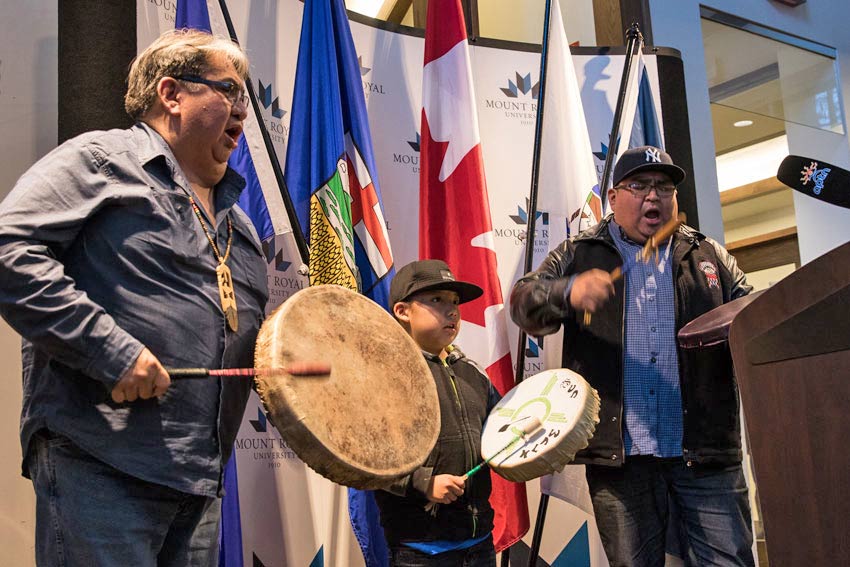 The OAI, located in T 123, will consult and collaborate with stakeholders within and beyond Mount Royal to promote culturally responsible and respectful curricula that integrates Indigenous pedagogies and ways of knowing. The Office will lead in the professional development of faculty wanting to increase their understanding of what it means to indigenize, which will include speakers and other events on campus.
Discover indigenous Mount Royal.
Jan. 31, 2018 ― Melissa Rolfe
Media request contact information.
Have a story idea? Please fill out this form.