Mount Royal announces 22 new full-time faculty hires
Opportunities and challenges addressed at Academic Town Hall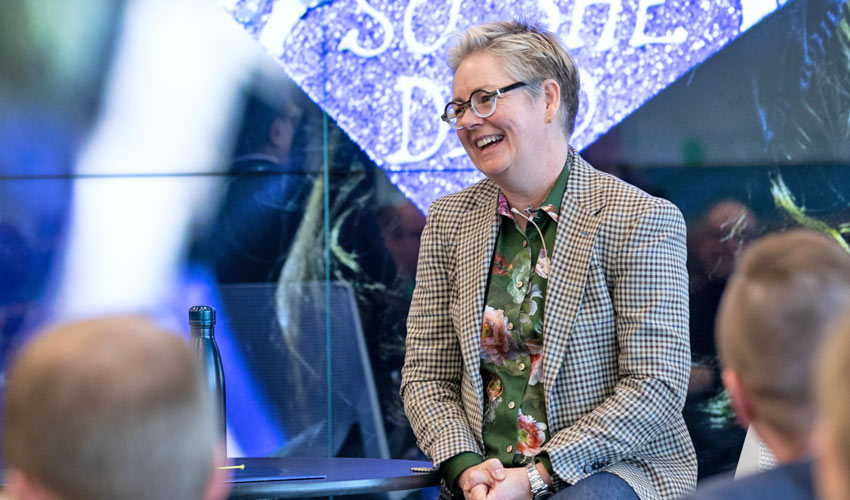 Mount Royal University will be home to another 21 assistant professors and one permanent lab instructor in 2019. This further complements the 16 tenure-track hires who started at Mount Royal in the fall of 2018.
Provost and Vice-President, Academic Lesley Brown, PhD, was pleased to share the news at an end-of-semester update to the community.
"This is the largest single investment in new full-time faculty in the history of Mount Royal University," Brown told attendees of the first-ever Academic Town Hall. "I am proud of this investment in our academic mission and I can't wait to welcome these 22 exceptional educators to their new positions."
While later revisiting a question from the floor, Brown clarified that data confirms it is the largest one-time hiring effort in the nearly 10-year history of the University. Though she also noted the transition to a university from a college required a significant investment.
Funding for the new recruits comes from the Possibilities Fund, which was created in the 2018/19 to 2020/21 budget approved by the Board of Governors in May 2018. The Possibilities Fund is made up of seed funding from President's Executive Committee, as well as the continued re-investment through the centralization of vacant faculty positions.
In future years, the Possibilities Fund will be sustained through centralizing of faculty vacancies, which is standard practice at other universities.
"The composition of MRU's faculty complement has long been a point of discussion at this institution," said Brown. "I believe this is the most significant step we could take to address this longstanding challenge."
The Academic Town Hall was an open opportunity to receive updates from Mount Royal's chief academic officer and special guests. Brown was joined by Cordelia Snowdon, vice-president, Academic of the Students' Association of Mount Royal University and Karim Dharamsi, PhD, chair of General Education.
"Town halls such as ours can be invitations to political liberty, to public freedom - it forces all who attend and those who present to recognize that the right to share in political power is not being surrendered - that we all owe to ourselves this duty," said Dharamsi in his opening remarks.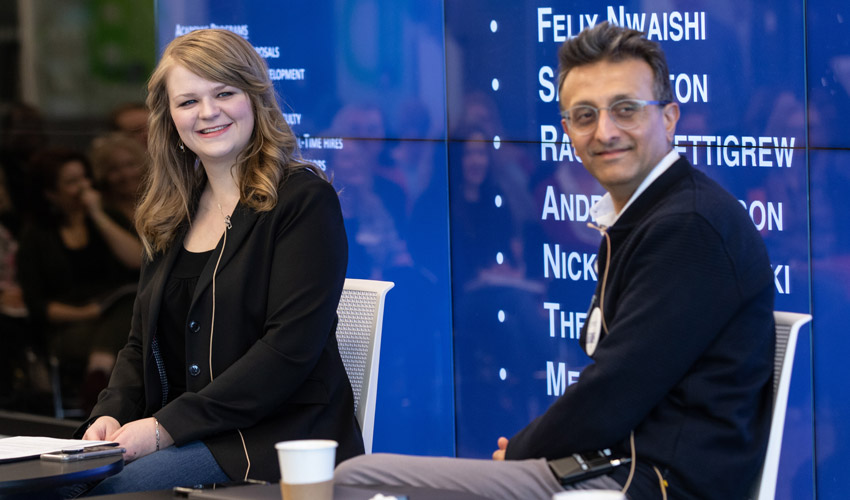 The trio proceeded to run through a wide-ranging program that included updates on new program development, including new majors in the works for finance, supply chain management, international business, business economics, computer science, biology and philosophy.
A new proposal for a Bachelor of Social Work degree is currently under review by the Ministry of Advanced Education.
Shared were many stories of student successes, including a mention of Bachelor of Science ― Health Science student Stian French's use of the Riddell Library and Learning Centre's 3D printer to create his own 3D printer, which Brown described as a bit "cheeky," but also extraordinary.
While sharing many stories of student success, Brown noted there are also students facing barriers.
In her role, Snowden speaks often with students having difficulties within the post-secondary system and has made academic accommodations a priority within her portfolio, noting they are a student's right. Without an accommodation, she said, students will either withdraw from a class or try to get through without the necessary support.
"It's really important that we find solutions," Snowdon said, adding that she is pleased with how faculty members have responded to her bringing the issue forward. "I am looking forward to how we are going to address this."
The Provost's Office has engaged the expertise of Accessibility Services in responding to the challenges around academic accommodations.
Also on the agenda was a fast-paced mash-up - dubbed a "lightning round" - that spanned topics from the role of research at an undergraduate, teaching-focused university to student evaluations of teaching to open educational resources.
The town hall also provided a window into how Academic Affairs plans to meet its enrolment target of 10,675 full-load equivalent students in 2020/21. There has been an "extraordinary increase" in the number of degree students who are staying at Mount Royal, said Brown, citing an almost 10 per cent increase in persistence (a measure of retention) rates, according to Phil Warsaba, associate vice-president of Enrolment Management.
"I would suggest that is unheard of in the national context," Brown said after the town hall. "For a mental image, that is the equivalent of filling the Bella Concert Hall with students who would have left our institution in the past."
She attributed the increase in persistence to a deliberate effort to make high-demand courses available to students and reduce bottleneck courses. Brown also highlighted Mount Royal's changing enrolment profile, with nearly 80 per cent of MRU students now putting down deeper roots in degree programs.
"I believe that more work is needed to create a culture of retention," Brown continued. "That involves everyone - in both academic and non-academic portfolios."
In her closing remarks, Brown toasted Vice-Provost and Associate Vice-President, Teaching and Learning Jim Zimmer, PhD, who recently announced he was headed back to the classroom after a dozen years in senior leadership roles.
Dec. 14, 2018
Media request contact information.
Have a story idea? Please fill out this form.