An accessible Recreation facilitates sports participation by all people
Physical activity a basic human right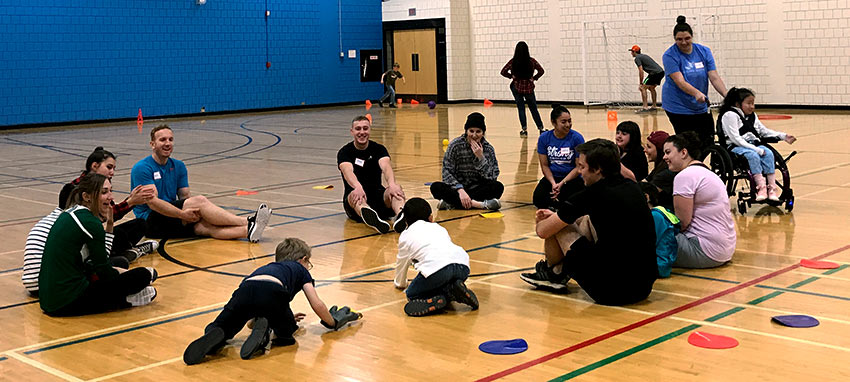 David Legg, PhD, is Mount Royal's outspoken advocate for accessible athletics. As chair of the Department of Health and Physical Education, combining ease of access for everyone with sport and physical activity is a high priority.
"In our department we obviously recognize the benefits from fitness and health. It's important to one's well-being, from all kinds of different metrics. I would argue that for people with disabilities, it's even more important."
Legg grew up with a father who had multiple sclerosis and in a family that was always interested in keeping active. When working on his physical education undergraduate degree at McMaster University, Legg took a course on adaptive physical activity, the concept of which he says "just stuck." When he moved on to complete a master's at the University of Windsor, he wrote his thesis on why people volunteered in sport for the disabled versus able-bodied sport. Legg says his research showed most adaptive volunteers were more connected to the competitors, and levels of satisfaction and commitment were far higher than in able-bodied sport.
Legg has served as a board member and president of the Canadian Paralympic Committee, and more recently found himself on the Calgary Bid Exploration Committee for the 2026 Olympics. His role was to look at facility accessibility, fitting since he has been essential to making Mount Royal's Recreation facilities as accessible as possible.
The result has been an inclusive facility recognized by the City of Calgary with an Accessibility Award and a recent nomination by the 2017 Developmental Disabilities Resource Centre for a Calgary Inclusion Award. The nominator stated that, "The staff at the recreation facility are very polite, friendly, and approachable for our clients (adults with developmental disabilities), and have made an effort to make them feel comfortable while using the facility. They have made a point of getting to know our clients and foster an inclusive environment."
Mount Royal Recreation now includes specialized equipment such as a Functional Electrical Stimulation bike through a grant from the Craig H. Neilsen Foundation, innovative swimming lessons for children with disabilities called H2Able, accessible fitness equipment and fitness staff trained specifically to work with persons with disabilities.
Mount Royal also runs a wheelchair intramural basketball program through a partnership with the local wheelchair basketball club.
Students with disabilities can participate alongside their able-bodied peers, who can use the local club's sport wheelchairs. It is believed that this is the only wheelchair sport offered as an intramural program in Canada.
Children's Adapted Physical Activity Program
In addition to Legg's influence and experience adding to the sport and athletic experience for people with disabilities at Recreation, he has also been the driving force behind the Children's Adapted Physical Activity Program (CAPA) at Mount Royal. Since 2010 the program has paired student volunteers with children aged 4 to 13 years who have special needs of any type (physical, sensory, developmental and/or intellectual). The parents of each child involved are asked to describe the nature of their child's needs and any specific goals they may have for their participation. Each volunteer is provided that information, and over the course of the program they develop a long-term plan, which takes place over seven weekends. Activities include organized games and sports, obstacle courses, craft-making and story-telling in both the gym and the pool.
"I would say close to 90 per cent of the parents' biggest concern is that their child makes a friend. I see sport and rec and physical activity as a conduit by which to address, really, what for all of us is a core desire to be around other people," says Legg.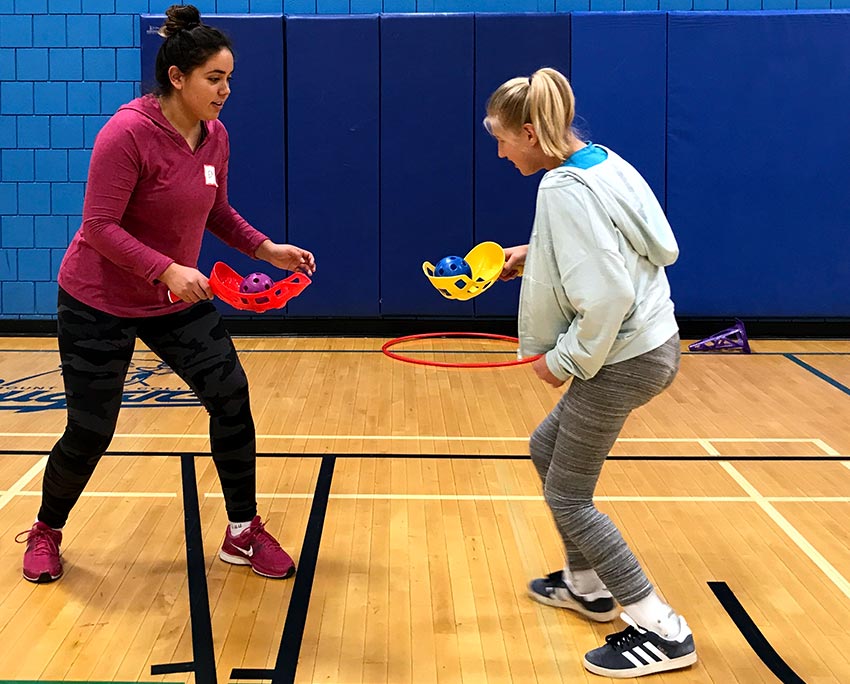 CAPA originally started as a program to provide practical experience for students in Legg's Adaptive Physical Activity course. Legg's thinking was that the program would give his students an opportunity to complete their practicum experience on campus on a Saturday when they didn't have classes. While seven years later the majority of the volunteers for the program are still from the adapted class, there are also many from the University of Calgary kinesiology program who lend a helping hand while gaining experience in the field.
The program has filled up every semester within 24 hours of opening registration, all based on word-of-mouth marketing.
Another benefit to this program is the opportunity for others to develop their leadership skills. This year's student lead for the CAPA program is Katlyn Sproule, a fourth-year health and physical education student majoring in Ecotourism and Outdoor Leadership.
Following graduation, Sproule aims to volunteer with a non-profit organization internationally. Her areas of interest include working with children, youth and young adults in developmental settings.
Sproule opted to get involved with CAPA as it gave her an opportunity to work with her peers in a setting that brings joy to children who sometimes feel left out. Sproule refers to her volunteer activity as essentially two hours of play time with kids who are excited to have fun and hang out with their friends.
The program officially began its 2017 circuit on Sept. 30. Sproule admits there were challenges, but she has tackled them head on.
"It's so rewarding seeing the children smile and laugh and play together with their volunteer buddy or other kids. This is what CAPA is all about," says Sproule. "Yes, we want to work with them to achieve the physical, cognitive, and/or social goals their parents set for them, but the priority is to have fun."
For Legg the program represents Mount Royal's commitment to inclusion and opportunity.
"It's really about meeting a basic human right. It's perhaps comparatively easy for an able-bodied person to take it for granted but if you do have a disability and you are suddenly precluded from participating in post-secondary education, that's a barrier. We embrace diversity, we encourage individuals of all stripes to be a part of our fabric," says Legg.

Learn more about the accessible equipment available at Mount Royal Recreation.

Oct. 23, 2017 — Jonathan Anderson