Exhibit tells story of Alberta strikes in 1919
Workers face similar issues in age of automation and gig economy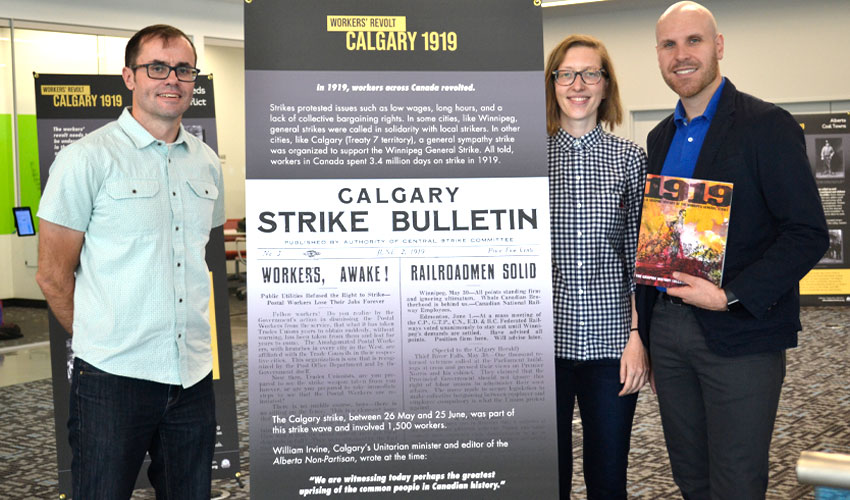 Calgary's self-identity tends to centre on cowboys and oil - a bastion of individualism and entrepreneurial spirit. But history shows another Calgary deeply rooted in the labour movement among the men and women who toiled for the railway and in the province's coalmines.
To mark a milestone anniversary in that history, Kirk Niergarth, PhD, associate professor and assistant chair of the Department of Humanities at Mount Royal University; Sean Carleton, PhD, assistant professor of general education at MRU, and University of Alberta post-doctoral fellow Julia Smith are the authors of a museum-style exhibit about the 1919 Calgary General Strike. The exhibit is currently on display at the Riddell Library and Learning Centre and over the next few months will tour a variety of schools, libraries and union events in Calgary, Red Deer, Lethbridge and Edmonton.
The exhibit's 13 banners, designed by Karen Mills with the support of the Alberta Labour History Institute, tell how Alberta workers responded during a moment of international unrest at the end of the First World War. An introductory panel sets the stage for topics that include: Seeds of Conflict, Workers Organize, Freight Handlers, Working-Class Life, Labour Conference, Winnipeg Strike, Coal Towns, Edmonton Strike, Strike Begins, Women Strike, Capital Strikes Back, and Lessons and Legacy.
The Calgary General Strike involved 1,500 workers and was held in sympathy with the better-known Winnipeg General Strike that saw some 35,000 workers walk the picket lines protesting issues such as low wages, long hours and a lack of collective bargaining rights.
"1919 is this moment of crisis coming out of the First World War. Soldiers return, the economy is adjusting from wartime production and workers faced a number of years where their wages hadn't kept up with inflation, on top of rising unemployment," explains Niergarth.
"The war sped up trends that had been emerging over the course of the early 20th century where larger scale, assembly line production led to skilled trades having their security and relative prosperity undermined. So where unions had organized by trades, at the end of the war increasingly these don't seem to be adequate to protect workers' standards of living."
The strikes were part of an international period of revolt from 1917 through to the end of 1920 in the United States and Canada. Meanwhile, employers were also organizing, forming manufacturers associations and looking for block negotiations.
The fuel that drove the economy
Any account of the 1919 strikes in Alberta through the spring and summer also needs to include the massive and violent strikes in the coalfields ranging from Canmore south to Drumheller, near Lethbridge and in the Crowsnest Pass.
Calgary owes its existence to the railway and its support of ranching. Fuelling the railway and the city was coal. Coal miners and railway employees were the biggest groups out in 1919 and were the drivers of the economy of Alberta until the large-scale discovery of oil.
"They recruited returning soldiers in Calgary to go and either work as replacement workers or police the mines," Niergarth says. "In Drumheller, they were taking strikers and driving them out of town. People were evicted from their homes. Some were literally tarred and feathered. A strike leader was forced to kiss the flag at gunpoint. Some 8,000 of them went out on strike at the same time."
Having just finished a successful stay at Calgary's new central library, the exhibit is now on the fourth floor of the RLLC at Mount Royal until Sept. 20, then will travel to the Fish Creek Library and go on a tour of the province with singer/songwriter Maria Dunn. In October, it will be presented at the AUPE convention and then organizers hope to engage social studies teachers in Alberta schools who teach Canadian history.
'History doesn't repeat itself but it sometimes rhymes'
Carleton says showing the exhibit at MRU demonstrates to students how what they are learning now can help others learn later.
"This project is a product of academic research and it's important for students to be able to see what's possible with their education, what they can do after graduation with some of the tools we're asking them to develop in the classroom," he says. "For historians, creating these kinds of public projects are a way to take those tools outside of the classroom."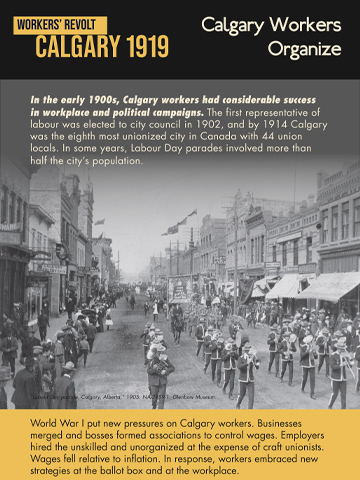 The exhibit's 13 panels explores a number of themes associated with the workers' revolt of 1919 in Alberta.
At a presentation on the exhibit at the central library, Niergarth heard from an oilpatch worker about a process that five years ago took 18 workers and now requires only 12. This dynamic, says Niergarth, is only the tip of the iceberg with the rise of the gig economy, automation, off-shoring adding to workers' anxieties.
"History doesn't repeat itself but it sometimes rhymes," he says, "and what you see in 1919 is this widespread insecurity, people's fear about their livelihood and standard of living because of transformations in employment and where it seemed that the organizations that had served them well, the traditional trade unions, were completely ineffective."
Assembly lines broke jobs that skilled tradespersons had performed into menial tasks, making workers easy to replace.
"In March of 1919 in the Labour Temple of Calgary, they were wrestling with adapting their organizations to a new circumstance. It's a real challenge to imagine in what ways people who are now living a precarious existence, who are threatened by these forces today, can find vehicles to offer them the ability to determine the conditions of their own work and to be protected against exploitation."
The exhibit is also a kind of people's history, seen through the eyes of the working people of the time.
"Most students," Smith points out, "are workers right now or will be workers. We often learn about big-name politicians who shape history and I think this exhibit really shows how working people shape history as well and play an important role in social and political change."
View the banners here or come to the Riddell Library and Learning Centre before Sept. 20.
Sept. 11, 2019 — Peter Glenn
Media request contact information.
Have a story idea? Please fill out this form