Separate nursing paths begin and end in the same place
Two generations apart, alumna and Elder inexplicably tied together
For Samantha Cardinal, crossing the Convocation stage on June 1 to receive her Bachelor of Nursing was not only one of her dreams, but the end of a path she chose to create a life of opportunity for her and her daughter. As her graduating class celebrated what is also the 50th anniversary of nursing at Mount Royal, Cardinal shared the platform with Grandmother Doreen Spence, one of the Spring 2017 Honorary Degree recipients. In a serendipitous twist, Grandmother Doreen is an Elder from Cardinal's home community of the Saddle Lake Cree Nation.

While receiving an honorary Bachelor of Nursing for her tremendous contributions to Mount Royal, Indigenous Peoples and the nursing profession, Grandmother reminded the audience that she grew up in a different time. As mandated by the Indian Act, Indigenous children were not permitted to continue schooling past the third grade. Her grandparents, however, believed in the value of formal education, and insisted that she continue in school off the reservation. While Grandmother faced many challenges, including racism and discrimination, one experience guided her to move forward and act with unconditional love.

"I'll never forget the one teacher who changed my life. He told me I could be anything I wanted to be, and he was the first teacher I ever had that didn't beat me up," says Grandmother. "It was the first time anyone had ever told me that, and it stuck with me and helped me overcome so many challenges and obstacles in getting my education."

By the ninth grade, Grandmother was teaching the primary school children in her community while completing the remainder of high school through correspondence. One day missionaries arrived on horseback offering a post-secondary scholarship if she was able to memorize 500 bible verses. Seeing a singular opportunity to continue her education, she accepted and accomplished the task.

At the time of applying to the nursing diploma program, the application had only two options to identify oneself as either a Catholic or landed immigrant. Not sure how to respond, Grandmother identified as a landed immigrant, noting her date of arrival as her date of birth. What equated to an administrative inaccuracy meant a new world of opportunity for Grandmother, despite encountering relentless racism and doubt of her ability to succeed.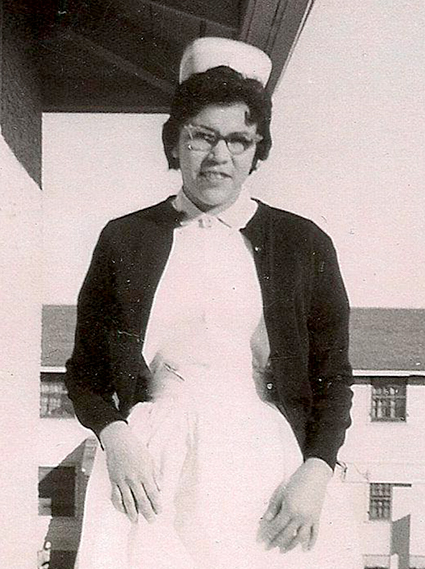 Doreen went on to complete her nursing education, kicking off a 40-year career before becoming an accomplished author and an active Elder for the United Nations. She has worked tirelessly to advance human rights and protect fundamental freedoms for Indigenous Peoples throughout the world. Grandmother served as president of the Plains Cultural Survival School for 18 years, and also founded and ran the Canadian Indigenous Women's Resource Institute, both in Calgary. Her many accomplishments include a Nobel Peace Prize nomination as part of the 1000 Women for the Nobel Peace Prize project, and receiving, along with His Holiness the Dalai Lama, an award at the New Zealand Spiritual Elders Conference. In 2017, Grandmother received the highest honour available within the Indigenous community in Canada ― the national Indspire Award for Culture, Heritage and Spirituality.

Despite having not known each other prior to Mount Royal, Cardinal and Spence crossed paths through an Indigenous child health nursing field school course with Andrea Kennedy, PhD. Their connection was quickly and deeply acknowledged, and Cardinal was able to draw immense inspiration from Grandmother and their shared journey, several decades later. Cardinal has also had the honour of contributing to a book chapter on indigeneity and the field school community-service learning experience, with Grandmother as the lead author.

"Although Grandmother Doreen and I did not meet (or know each other) until after the field school, I feel that it was meant for our paths to cross," says Cardinal. "It is more than a mere coincidence that we are from the same community, attended the same nursing program at the same school, and are crossing the same stage.

"In some ways, I believe it was the Creator's way of bringing us together through our experiences and serves as medium for guidance and mentorship by passing knowledge from one generation to the next."
Join in on Mount Royal's 50th anniversary of nursing celebrations.


June 15, 2017 ― Brendan Greenslade

Media request contact information.
Have a story idea? Please fill out this form.