"Those who create sparks"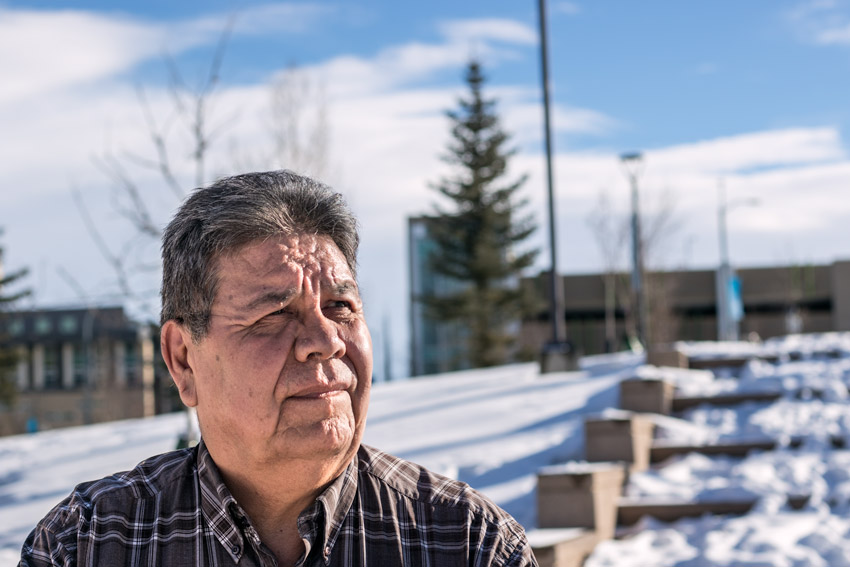 Created through the Bissett School of Business and the School of Communication Studies, the Apaat tsi kani takiiks project produces and promotes Indigenous-centred curriculum and programming for the next generation of leaders, working to increase access to education for Indigenous students in an attempt to address reconciliation. The three-year initiative began in May 2017 as a continuation of the Suncor Aboriginal Business Education pilot project.
Katharine McGowan, PhD and faculty champion of Apaat tsi kani takiiks, as well as a professor in the Department of Entrepreneurship, Marketing and Social Innovation, explains that Apaat tsi kani takiiks is about creating a space for change to happen.
"We want to shift the entire way education is done, and that's what is going to make a difference," McGowan says. "I think it will make us better for all of our students."
Included among Apaat tsi kani takiiks's five major initiatives is the bringing on of an elder-in-residence. In fall 2017, Roy Bear Chief was named to the position. A Social Work diploma (1996) graduate of Mount Royal, Bear Chief went on to continue his education at the University of Calgary, earning his bachelor's and master's in the same discipline.
"This institution provided me with the tools to go out and do my work. And now I've come back full circle," he says.
Bear Chief grew up at the Siksika Nation and coined the project's name. Apaat tsi kani takiiks means "Those who create sparks" in the Blackfoot language.
"Because that's what I saw (at Mount Royal)," Bear Chief says.
"That's what changemaking and social innovation is ― creating sparks. As long as there's that little spark that indicates there's life, it's the people and the process that keep it alive."
McGowan notes the name is perfectly applicable to the program, and she is extremely proud to have been able to bring in Bear Chief's expertise. "'Sparking' seems to have been adopted by other social innovation spaces independent of us, so that suggests to me that there is a common interest (in the term). Not necessarily in how you get to the end result, because that's still ambiguous, but how do you get people to start."
Bear Chief says he's starting by spreading out a spider web according to his teachings. Seeing himself as standing between two lines, one being his language and culture, and the other the non-Indigenous world, Bear Chief says he is able to take his knowledge and learnings and incorporate them into "everyday" life. He uses a story told to him by his brother Clement as an example.
"Anitopisi is the spider web. Creator told the spider, 'I want you to take your web with the people and the world in it and put it down here. Then he told Man, 'I will leave you with anitopisi. If there are any problems, one of the strands of the web will vibrate. And I will come and help. But I want you to pattern your life after anitopisi. When you create your relationships, if there's a vibration, you go and help.'
"And that's what I'm trying to do here at Mount Royal."
Building the web
Part of Bear Chief's role is to create a mobilization plan. To bring things together.
"Let's not work in isolation," he says. "If this institution wants to really address reconciliation, it has to work together. Let's break down the silos. Anitopisi is everywhere, he connects everything."
McGowan says Bear Chief's approach is imperative to making sure indigenization works. The Bissett School of Business and the School of Communication Studies are working together on Apaat tsi kani takiiks, and the Office of Academic Indigenization is being involved with the advisory committee to help Indigenize some business courses. They have put together a committee of experts from Treaty 7 who have the traditional, business and academic knowledge and training to do so.
In addition, Apaat tsi kani takiiks is working to develop a social innovation space, encourage Indigenous-centred research and research by Indigenous students, build links with Indigenous business and social communities and develop strategies for faculty to indigenize curricula and create Indigenous content and courses.
One initiative - to nurture Indigenous educators in the Faculty of Business and Communication Studies - has been taking more time than anticipated, says McGowan.
"It's just an issue now of finding the right idea at the right time," says McGowan. "We have a few instructors we think would be great, but it's just finding the right balance of expertise. It might mean developing new courses and modules. We want to create classes that teach things like leadership, Indigenous business and even Indigenous socialization, and have those be taught be Indigenous Peoples.
"We have to think fast and slow on this one. We have to think, 'What can we do tomorrow? And what do we want to get to in ten years.'"
The student impact
Bear Chief says he finds the most hope for reconciliation in the students of Mount Royal, especially when he visits classrooms.
Kahsha Patterson, who is of Blackfoot heritage (Piikani First Nation) is set to graduate from the Public Relations program this year. She attended the Spark! Social Innovation conference, which was held in Toronto in the fall and sponsored by Apaat tsi kani takiiks.
"Some of the topics ranged from generating a reconciliation economy through Indigenous innovation, systemic change in the social sector, funding social innovation and policy and corporate changemaking," she says. "It was pleasing to see how the daily discussions included how social innovation can contribute to reconciliation with Indigenous Peoples in Canada."
Patterson has also attended the annual Indigenous Innovation Summit for the past three years, which she says has been beneficial in growing her skills and passion in Indigenous relations work. She sees Apaat tsi kani takiiks working by making each student more aware of Canada's somber Indigenous history, and believes that reconciliation can "ignite dialogue for moving forward in a positive way."
"It is clear that Canada is moving towards reconciliation, and students need to be aware of that before entering into their careers ― because those discussions are already happening ― so that they don't get left behind in the professional world," Patterson says.

There remains issues from the residential schools that continue to haunt Bear Chief. He attended the Old Sun Anglican Indian Residential School near Gleichen, leaving in 1964 after nine years when he was 16 years old. He spoke of his experiences on Feb. 13 at the Intergenerational Healing Series: Survivors' Voices panel held at Ross Glen Hall along with other survivors.
McGowan, who studied Canadian history throughout her undergraduate and post-graduate career with a special interest in Indigenous history, says, "It struck me as so wrong, and I thought it was my job to fix it. I have since learned that it is not my job to fix it." She was at an institution in the east with zero contact with any Indigenous person or scholar. It wasn't until she came out west that she did.
"It's been a learning journey for me. It's very different to read about residential schools than meeting people who actually went to them. It shifted that prerogative of responsibility away from 'solving' it to just being part of the positive conversation. And being very humble and responsible to whatever you say.
"A friend of mine says about reconciliation that, 'someday we will be friends again.' And I love that," she says.
Read Roy Bear Chief's blog about his experiences at Mount Royal titled From Project Go Ahead to Elder-in-Residence at mru.ca/ElderBlog.
Feb. 26, 2018 ― Michelle Bodnar
Media request contact information.
Have a story idea? Please fill out this form.