Sandra Cheung receives nomination for Co-op Student of the Year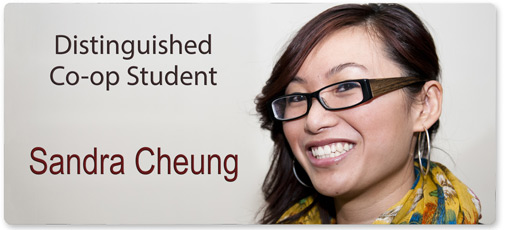 Fourth year Bachelor of Arts - Psychology major Sandra Cheung was recently one of 32 Canadian post-secondary students nominated for the distinguished CAFCE Co-op Student of the Year Award. This award is bestowed upon two students from across Canada who demonstrate excellence in job performance and academic achievement, as well as exceptional service to their co-op employer and the community-at-large.
Recognized for her work with TEC Canada, which specializes in executive peer mentoring, Sandra modestly comments: "I couldn't believe that they nominated me! I went into the co-op program to gain experience and to figure out what I wanted to do after graduation, but was given a set of skills and knowledge that most students do not receive in traditional classrooms! I'm still surprised and humbled by the experience."
Since starting at MRU in 2009, Sandra has completed three co-op placements in addition to actively volunteering and maintaining two part-time jobs. She is also working as a research assistant for Dr. Anne Vernon, Chair of the Psychology Department, on a project entitled "Deathographies: Undergraduates' autobiographical narratives of death and loss experiences." Sandra's supervisor at TEC Canada, where she now works full-time, recommended Sandra for the award.
- Kimberly Getz, March, 2013