Designing a bee-friendly campus
Science instructor and Grounds team create a pollinator pathway for native bees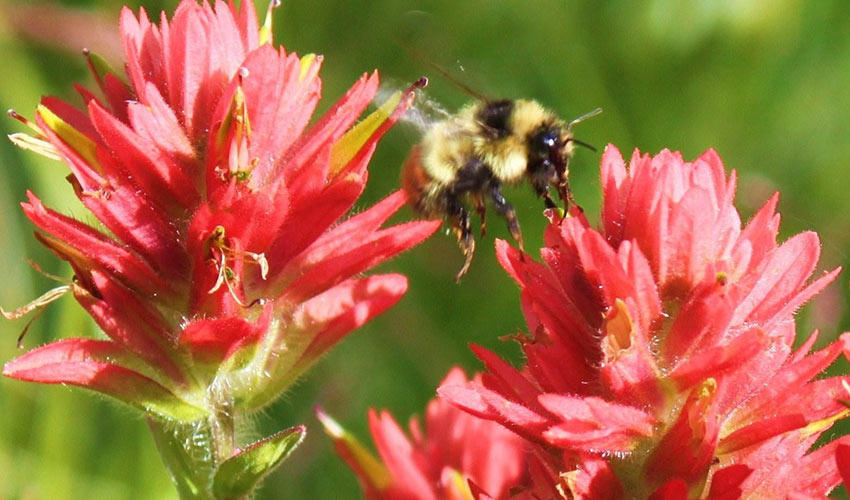 A Mount Royal science instructor and the University's Grounds team are collaborating to transform the campus landscape to attract native bee species. Senior lab instructor Alexandria Farmer of the biology department and horticultural specialist Michele Pisicoli of Grounds are designing sections of landscaping with three-season native plants to address a decline of habitat and food sources for bees in Alberta. The concept is commonly known as a pollinator pathway and at Mount Royal also includes the installation of nesting boxes and sand pits as habitats for bees.
"Protecting native species is so important," explains Pisicoli. "Plants, animals and insects are losing more and more of their habitat and we have to be better stewards. A lot of species of plants and insects have very close relationships."
There are 327 native species of bees in Alberta ― such as 'sweat bees' (halictid), 'leaf-cutters' (Megachile rotundata) and 'Nevada bumblebees' (Bombus nevadensis), according to Farmer, and conservation efforts should be focused on these species.
"Honey bees are fine," Farmer says. "It's the native pollinators that need nurturing."
Urban beekeeping is threatening native species because it increases competition for limited resources, according to Farmer. "Honey bees are also more numerous and tend to displace the gentler native populations and can also become invasive."
"We often get so focused on 'monocultures', but for an ecosystem to be resilient it needs biodiversity," she adds. A variety of native plant species are being added in targeted spots across campus to provide food sources in spring, summer and fall, and seeds are being grown in the greenhouse for more planting this year. The large planters at the West and East Gates and beds near the westside bus loop will now also include annuals that attract bees, including sunflowers, rudbeckia and cosmos.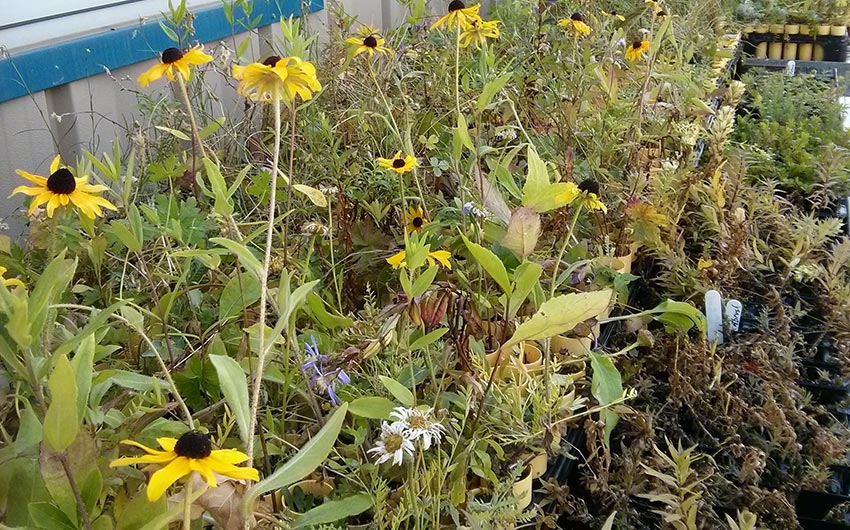 Farmer and the Grounds team hope people take note of the new, more natural areas. "The educational component is huge. We're changing people's views of what a landscape should look like," explains Pisicoli. "A manicured lawn has no ecological value."
Native plants, sandpits and nesting boxes are being added around the main pond and amphitheatre on campus and the storm ponds around the Taylor Centre.
Manager of Grounds Shane Williams says everyone involved is committed to the success of the project. "We are fortunate that we have people who care enough to do these projects here. We have the support and interest, and this is over and above what we normally do to take care of the grounds." He says signage may be installed to explain the project and remind people to keep to the pathways.
Pisicoli says the bees are on campus, but it's too soon to say what effect the new landscaping is having. "If we have lots of good plants right now, it means a good start for bee colonies in the summer."
"We'll know this is working as we sample the population," explains Farmer. "We're looking to keep an inventory of species diversity and abundance over the years."
Farmer says the hope is to expand the pollinator pathway. "We're going to focus on a couple of areas this year and then see where else we could increase habitat. I think we can definitely look at additional areas in the future. I'm a big believer in the idea that 'if you build it, they will come.'"
In addition to the pollinator pathway on campus, Alexandria Farmer is involved with a City of Calgary project to create a
'bee boulevard'
in the southeast neighbourhood of Parkland, next to Fish Creek Park.

The pollinator garden features logs with holes drilled for solitary bee habitats and sand pits for ground-nesting bees. Other project participants, including the University of Calgary, installed nesting boxes, and last fall more than 300 schoolkids planted milkweed on the site for Monarch butterflies.

Farmer says that at the end of the month people will be invited to come to the site to learn how to build a nesting box and either install it in the garden or take it home to create their own habitat for native bees.
Immerse yourself in the study of life at Mount Royal's Department of Biology.
June 4, 2018 ― Melissa Rolfe
Media request contact information.
Have a story idea? Please fill out this form.