Bissett bulldogger has sights set on Calgary Stampede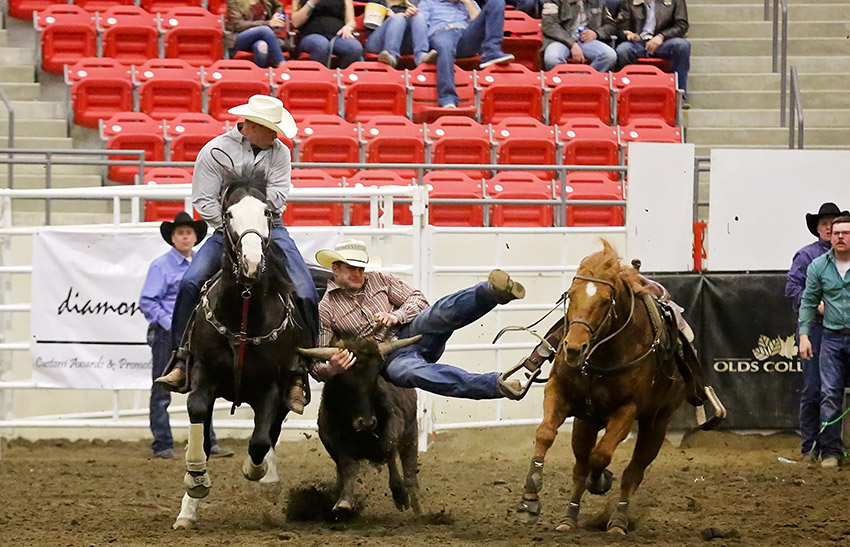 In a province known for steers and spurs, there's a new sheriff coming out of Mount Royal University.
Taylor Weinberger, a Bissett School of Business student, recently captured the top prize in steer wrestling at the 2017 Canadian College Finals Rodeo. The illustrious competition is exclusive to post-secondary students and saw nearly 50 cowboys compete for bragging rights, with Weinberger being the last left standing following the championship round.
What makes the achievement more impressive is he only began competing in rodeo two years ago.
"I knew from day one that I loved the sport and that's what I wanted to do. I set some rather large goals but I think they're reasonable," says Weinberger.
Next fall the Millarville cowboy will return to campus. It will be Weinberger's last semester as he aims to complete his undergraduate experience with a Bachelor of Business Administration ―General Management to go along with an International Business minor.
In the meantime the 2017 Canadian College Champion aims to achieve a few more gold belt buckles.
"By the end of this season I want to be a season leader," says Weinberger, who at 24 years old currently sits atop the leaderboard in two of the three circuits he's competing in at the moment.
Eventually, Weinberger has aspirations to be ranked among the top 10 professional steer wrestlers in North America and ultimately compete at the world-famous Calgary Stampede within the next five years.
According to some, he might just find himself at the greatest outdoor show on earth sooner than later.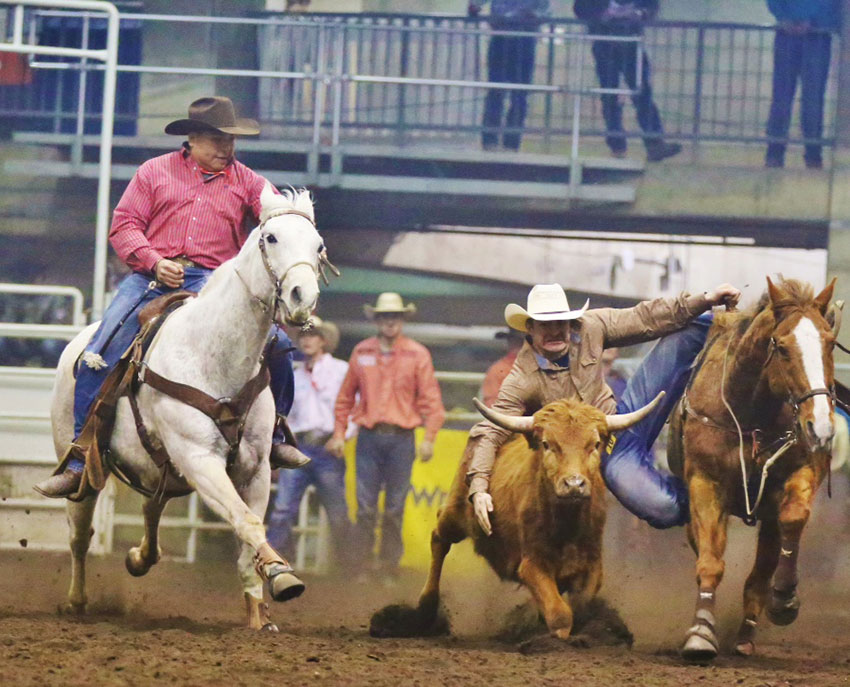 Shawn Sky, a professor in the Department of Health and Physical Education primarily teaching sport and exercise psychology, has seen Weinberger's dedication to both academics and athletics first-hand.
Sky, who doubles as the Cougars men's volleyball coach, describes Weinberger as very engaged and inquisitive.
"With his background in rodeo he was super keen in terms of the application of it," says Sky. "I've been teaching this course for 14 years and this is the first time I've had someone with a rodeo background participate."
Ready to giddy up and go, Weinberger soon started implemented Sky's teaching into his craft outside of the classroom walls and in the rodeo ring.
"You could just see that he was intent on applying it. A lot of students are just looking for a grade but he was constantly looking for ways to use (his education)."
Sky admits as an educator he always enjoys seeing what students do with the knowledge his class offers. He was thoroughly impressed not only with Weinberger's in-class participation, but also the conversations they would have after class.
"Right away he was putting the content into play. We'd have a few discussions after class about how he was already applying it to his trade. As an educator it's motivating and exciting to see someone put that confidence into play."
As someone with a background in competitive hockey and baseball, Weinberger went into Sky's class knowing the value of balancing a healthy mental state with sport.
"I've always known the importance of a positive mental attitude in sports. Some of the classes I took at MRU really brought some light to the way I see rodeo and sports," says Weinberger who is also quick to point out his gratitude to the University as he strives to become a full-time professional steer wrestler.
"MRU has been very accommodating: I just feel so comfortable there. But, in the long run I know my education has to come first if I want to continue to rodeo."
Knowing the dangers of the sport, Weinberger concedes that if he does, in fact, "take a steer," he hopes to use his Mount Royal education to trade in his cowboy boots and hat for a three-piece suit and eventually begin working in finance.
"He's got a bright future," says Sky.


Learn more about the Bissett School of Business.


July 12, 2017 — Jonathan Anderson

Media request contact information.
Have a story idea? Please fill out this form.