Bissett human resources students among the best in Western Canada
Team triumphs at business case competition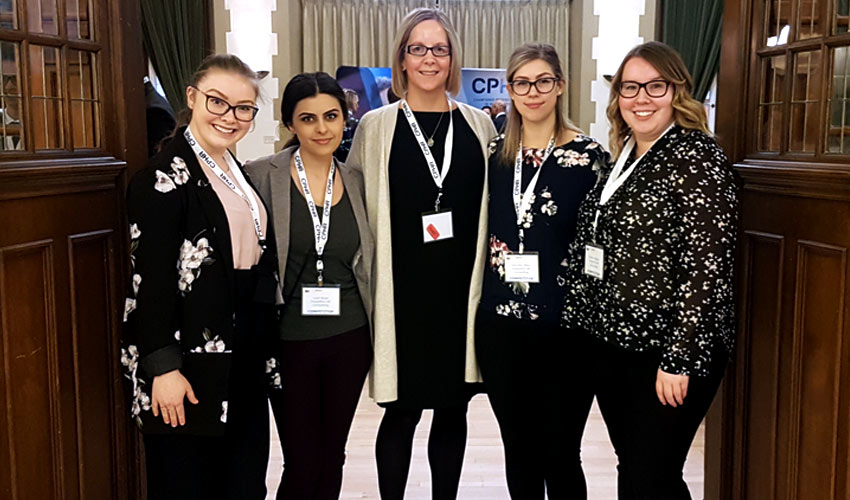 Students from Mount Royal's Bissett School of Business placed second at the fifth annual HRC West Case Competition last month.
The team of four from the Bachelor of Business Administration - Human Resources program competed against 16 post-secondary institutions under the name Insightful HR.
"Layli Ataie, Colleen Berner, Meredith Johnson and Jennifer Miko invested heavily in this event by competing internally to be selected to the team, practicing and prepping for close to three months and attending the event at SAIT on March 2 and 3," says Bissett School of Business professor and Insightful HR's coach, Christian Cook, PhD.
Ataie echoes Cook's account of the effort involved preparing for the competition.
"Some weeks we met twice to practice. Christian would provide us with a business case to work through and every session was treated like event day. This gave our team an amazing chance to practice what the competition would actually be like."
A polished presentation
Anticipation was high on event day. On the Saturday morning, each team was handed a case to analyze and had a maximum of three hours to prepare a persuasive argument to a panel of judges from various industries.
Insightful HR was quick on their feet and their learnings kicked in. The group delivered a polished 20-minute presentation and responded to 10 minutes of questions from the judges.
"They eloquently responded to intense questions in a very public forum," said Cook.
The finals of the competition involved a second presentation to the entire case competition delegation in front of a new panel of judges and over 100 audience members.
Insightful HR delivered a strong performance and came in behind the University of Lethbridge.
"My hope is that Insightful HR feels as proud of themselves as we do of them, in the Bissett School of Business and across the University," said Cook.
All members of the Insightful HR relished the opportunity to learn from and collaborate with Professor Cook.
"Working with Christian was a fantastic experience. I have had her as a professor for a previous human resources course, but it was even better having her as our coach to learn from on a weekly basis," says Miko.
"She went above and beyond to make sure we were prepared for event day," said Johnson.
"Christian provided so much guidance and knowledge and we definitely could not have done it without her," said Ataie.
Berner explained that Cook's goal was to set Insightful HR up for success, and she nailed that goal.
"She has so much knowledge within the HR field and it was so nice to be privy to that. She is an inspiring business woman," says Berner.
Women taking risks
Cook believes that some women cannot picture themselves taking part in business-related activities and that this self-assessment needs to change.
"Not all women get close enough to the line of sight to see themselves, and to encourage others, in participating, risk taking, leading, winning and taking on business roles, and certainly competitions of this nature and caliber."
Insightful HR is a concrete example of what can be achieved when confidence, hard work and a supportive faculty are combined. The all-women group are role models who demonstrate that it is possible to achieve success in education, business and leadership.
Miko offers a piece of advice for individuals to succeed in business.
"Always take on any opportunity that comes your way and have confidence in yourself. MRU has an amazing business community and there is so much to learn from other students, professors and industry professionals."
Cook continues to play a significant role in empowering female students at MRU and agrees that the University's faculty are doing their part. "MRU continues to find ways where female students can see the achievements of others and envision a path to success, and for them to see it is possible here, and in business, and in leadership post-graduation."
"This was also the largest case competition of its kind and this story, and these women starring in it, are important to highlight," said Cook.
First in western Canada
HRC West is the first business case competition in western Canada dedicated entirely to human resources.
This competition is an opportunity to connect post-secondary students with industry professionals, meet future business leaders and gain real-world HR experience.
Berner recommends that HR students apply to participate at the annual HRC West Case Competition.
"It is a great learning experience from an HR discipline perspective and also from a self-growth perspective."
The sixth-annual HRC West Case Competition will take place in Kamloops, BC. Interested participants can contact Kelly Aslanowicz, senior manager, Business Development, CPHR BC & Yukon.
Learn more the Bissett School of Business and its programs.
April 9, 2018 — Rob Petrollini
Media request contact information.
Have a story idea? Please fill out this form.