Finding new ways to manage mental health
For many post-secondary students, the pressures associated with university life can feel absolute.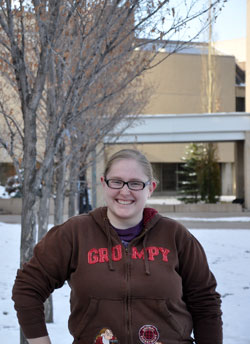 Third-year nursing student Samantha McDowell played an active role in the development of Breathing Room as part of the pilot program.
The constant march of assignments and exams, the dislocation of a new environment with new expectations, financial stress and adjusting to a change in lifestyle can put a tremendous strain on an individual.
Anxiety, stress and other mental health issues can become the norm, and more students are entering into university with pre-existing mental health conditions and more are seeking help, often with issues that are complex and multifaceted.
Finding room to breathe - to build a sense of resilience and cope with the challenges that face each student - has become a key element in ensuring that students get an undergraduate experience that meets their needs.
Finding new ways to help all students build that resilience has been a focus at Mount Royal since 2012 with the inception of the President's Task Force on Student Mental Health, and the results of that initiative are playing out across campus - and even online.
An innovative initiative
Beginning in November, Mount Royal's Wellness Services is proud to offer students Breathing Room - a revolutionary eight-module online program that aims to improve mental health and transform lives.
Designed by the Canadian Institute of Natural and Integrative Medicine (CINIM), Breathing Room is the result of more than four years of research and collaboration between the University community and CINIM. Designed to be completed over eight weeks, the foundational principles of Breathing Room are supported by an extensive body of literature. As part of the program's development, CINIM conducted three rigorous studies, including two randomized control trials with adult and youth populations.
"Mount Royal students were instrumental in getting the program online," says Patti Paccagnan, Registered Nurse and member of CINIM's Breathing Room development team. "Breathing Room really began when we went to students in Professor Dawne Clark's class in early 2008 to provide feedback on the first versions of the program."
"Interviews with students who completed the program indicated that Breathing Room changed how they see - how they perceived themselves and what is around them; changed what they do - behaviors, abilities and actions; and changed how they feel - changes in emotions and sense of well-being," says Patricia Steele, CIMIM's Executive Director. "Remarkably, follow up visits 24 weeks later showed lasting personal transformation.
"This is the first time a university has taken on something of this nature. This is a very innovative approach - a uniquely Canadian and Albertan initiative."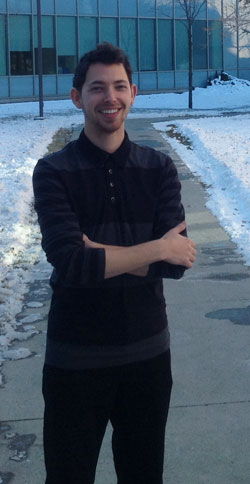 Second-year Information Design student Orry Roth participated in the Breathing Room pilot program.
A celebration of success
Along with the launch of Breathing Room, Mount Royal is hosting a special event to introduce the program to the campus and Calgary community as part of Mental Help Month, Mount Royal's campus-wide initiative to support students and highlight mental health services at the University.
Hosted in Wellness Services with special MC Gord Gilles on Nov. 12, Breathing Room will be demoed to Mount Royal faculty and staff along with members of the provincial government and donors who were essential to the funding and development of Breathing Room. Also featured in the event will be interviews with Mount Royal students who participated in the Breathing Room pilot.
A new path to wellness
For third-year nursing student Samantha McDowell, her participation in Breathing Room began in September 2011 as a pilot and study participant. Coming to the program with no expectations after trying medication and counseling to manage her mental health, McDowell felt like she had nothing to lose by trying a new system.
"I was just hoping to get some new tools to help me in everyday life - not just during the tough times, but with the normal stuff everyone deals with," says McDowell. "I realized right away that what you put into the program is what you get out of it."
Throughout the program, they are speaking to you directly, without condescending or demanding anything from you. They are saying, as equals, let's try something new."
Second-year information design student and fellow Breathing Room pilot participant Orry Roth echoes McDowell's sentiment.
"Despite Breathing Room being a virtual space, I felt like I was connected to other people," says Roth. "The freedom and anonymity of an online program gave me the flexibility to commit and engage with the material in my own way without feeling forced."
"The experience was both insightful and reflective, exposing me to different perspectives that helped me get to a place in my life that I hadn't been in a long time."

Colin Brandt - Nov. 7, 2013