Solving crimes and helping families
Recent graduate lands rare opportunity in criminal justice system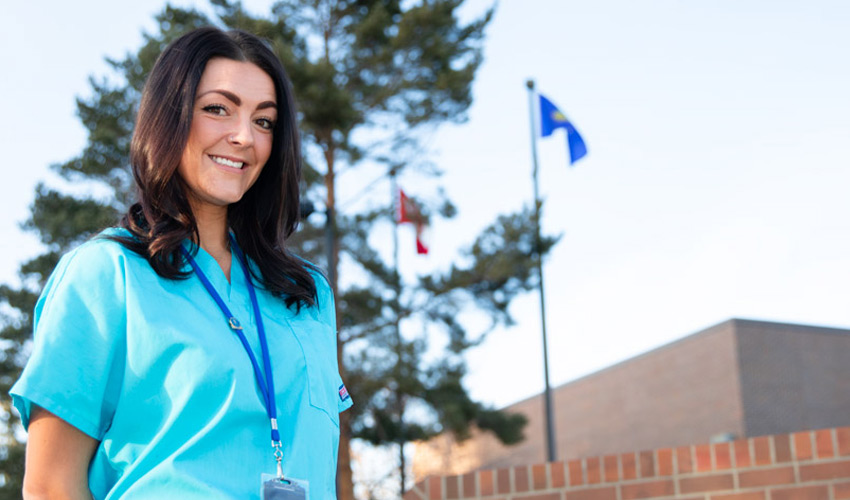 When Brittany Kremer enrolled in criminal justice hoping for a career on the front lines of solving crimes, she ended up closer than she'd ever imagined. Kremer, who graduated in June 2018, now works full time with the Office of the Chief Medical Examiner (ME).
As an autopsy technician, Kremer performs external examinations of bodies, organ removal and the extraction of fluids and tissue samples for toxicology tests.
"Every day is different, and I never know what I'm walking into," she says. The office handles more than 40 examinations a week from Calgary and southern Alberta, all cases of unexplained or sudden deaths. The cases can include crime victims, suicides, drug overdoses and anyone who died alone, unexpectedly or assisted, to rule out foul play.
Kremer was offered the full-time position after completing a practicum in the office during her final semester last spring. She is one of a handful of students chosen for the practicum since the opportunity arose a year and a half ago.
Professor Janne Holmgren, PhD, who oversees the partnership with the ME's office along with academic advisor and practicum coordinator Leann Acheson, says students are rigorously screened before being considered for the rare, highly competitive opportunity.
"We screen them really, really well. We only accept senior students who are mature and professional and who can respect the confidentiality that's required," she says. As autopsy technicians, the students will examine bodies of crime victims, and because cases can take a long time to be solved the students have to remain tight-lipped.
Holmgren specializes in DNA evidence and teaches senior-level courses including Aberrant (Psychological Explanations), Critical Analysis of Forensic Science Techniques, and Forensic Interviewing.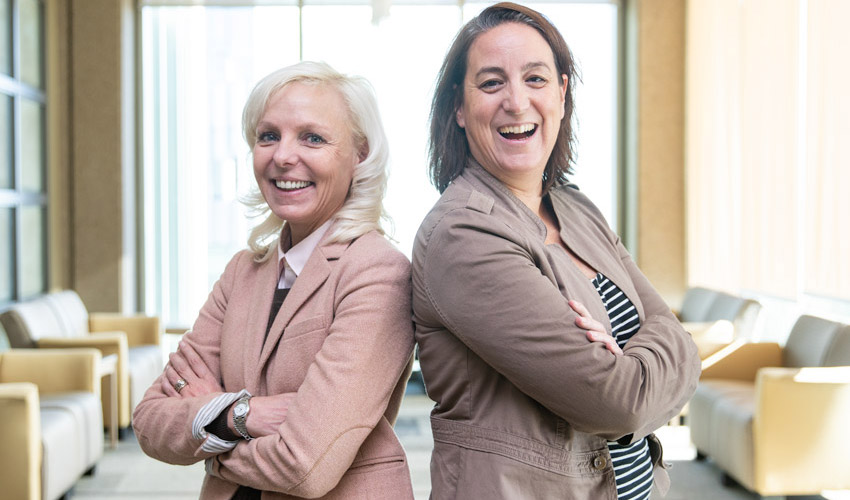 Students who are potentially interested in the practicum are shown a video of a full autopsy to help them understand what they would actually have to do. Not everyone can handle it, says Holmgren, and some choose not to apply, but all of the students selected for the practicum have completed the full term there, which consists of three days a week for up to 14 weeks.
Holmgren provides support for the students up front and throughout the practicum experience.
"I spend the first day with them. We take lots of breaks and we talk about what's happening, what we're seeing," she explains. She stays in regular contact with the students to make sure they're doing OK as they take on more responsibility.
"They're trained there. They observe for the first week and then there's a gradual increase in responsibilities and tasks, and I monitor how comfortable the student is with that experience."
Kremer appreciates the support she received from Holmgren and the strong team at the ME's office.
"At first I was warned multiple times to ensure that I was exercising self-awareness and speaking up if I was uncomfortable, especially the first few days I was there. It was mentally overwhelming. I couldn't believe I was going to be able to actually do it. It took a couple of days to get used to the sights, and then it was baby steps."
Kremer was given warnings ahead of time about what she was going to see. "The other techs were amazing. They were very attentive, checking in, asking how I was feeling."
Kremer admits some cases are harder than others. "They asked me if I could cope with children's deaths, which are not infrequent. The most difficult cases for me are car accidents because of the amount of trauma to the bodies. Nothing prepares you for that."
Autopsy technicians aren't allowed to discuss any of their cases. "I can't go home and say 'this is what I saw today,' just that it was a difficult case." The office environment and team provide support and access to programs to help the technicians cope with trauma.
Kremer says it's critical that she know her limits. "It takes a certain type of person. You have to be very self-aware of how you're feeling. If I'm uncomfortable with something, I remove myself from the situation. The damage it can cause if you push yourself too hard is irreparable."
Still, it's worth it to her. "It is a great, great experience," she says.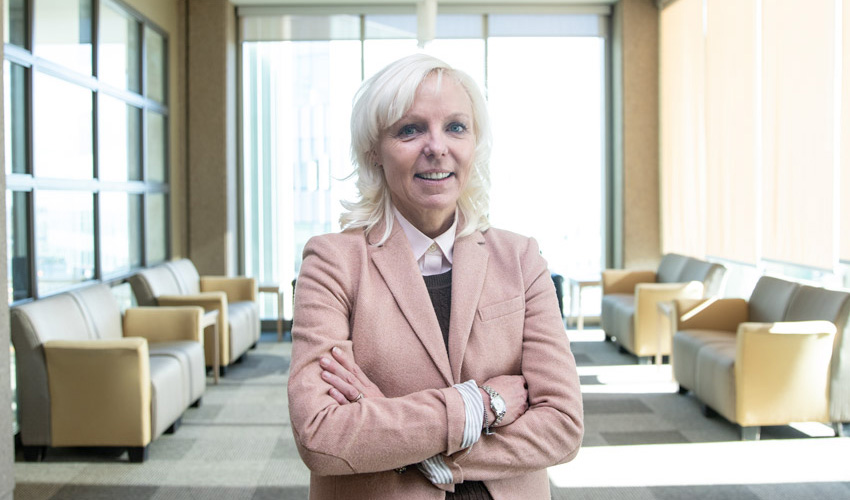 When she talks about her job, Kremer is often asked if she's in medical school and admits she had a lot to learn about anatomy when she started her practicum. "This job is a good mix of medical and criminal justice fields.
"More and more, as I do this work, I spot conditions or abnormalities in the bodies and I never would have thought I could do that. Textbooks don't do it justice; you have to see it to know it. I'm learning so much."
Holmgren adds that autopsies give a voice to the victims of fatal crimes, and Mount Royal's students understand that.
"An opportunity like this would typically go to medical students studying pathology. Our students are well versed in legalities and the criminal justice system. Our advantage is the legal background we give our students, around homicides and understanding how sacred and secure that information has to be as part of the evidence-collecting process."
Kremer is drawn to the investigation into a death and getting all the facts of how it happened. "It's a really fascinating process to see," she says. "I am very fascinated by why people do the things they do, and homicides are an extreme example of human behaviour. I would love to delve deeper into that, but right now I am focused on the victims."
And despite being surrounded by death and often tragedy, Kremer says autopsies serve an important public good - and that's why she does it.
"It's seeing the impact an autopsy has on the family, especially for sudden deaths where there were no warnings. We give them insights into what happened, like an undiagnosed medical condition, and we remove the constant state of wondering about their loved one.
"I love the job. It is by far the coolest thing I could ever imagine myself doing right after graduation."
Kremer is one of five students to have completed the practicum and the first to land a full-time job as a result. Other graduates are pursuing law degrees or police work. The sixth student to do the practicum starts in January.
The criminal justice program prepares students for careers in social justice, criminology, law, police services, corrections and border services. Graduates are in high demand by a wide range of employers within the justice system for jobs like probation and parole officers, youth outreach workers, crime statistics analysts, emergency communications officers, police officers and crisis intervention workers.
Find out more about Criminal Justice at Mount Royal University and other programs in the Faculty of Arts.
Dec. 7, 2018 ― Melissa Rolfe
Media request contact information.
Have a story idea? Please fill out this form.