Results of first phase of campus commuting survey are in
Recommendations include more public transit and telecommuting options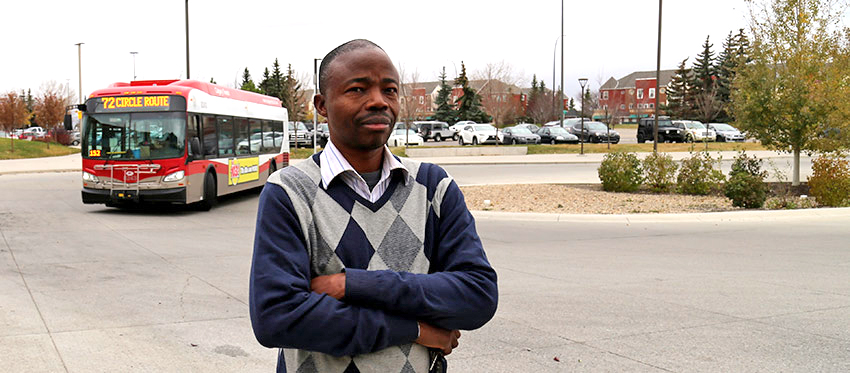 Individuals driving single-occupant vehicles to campus are contributing an average of 87 kilograms of carbon dioxide per year to the environment, says Faculty of Science and Technology Professor Israel Dunmade. That is about the equivalent of burning 29 kilograms of coal.
"If 100 people stopped driving to Mount Royal, that would reduce carbon dioxide emissions by 8,700 kilograms per year, which is the equivalent of energy consumed by 37 Alberta families per month," says Dunmade.
These findings are part of Dunmade's research delving in to the commuting habits of Mount Royal University's populace in an effort to combat global warming and discover alternatives that will help faculty, staff and students better understand their transportation choices.
"I'm interested in campus sustainability," says Dunmade, who also studies lifecycle management, sustainable remediation, biomaterials and sustainable design and manufacturing. His paper, titled, "A Study on Potential Climate Change Impact of Commuting to Mount Royal University, Calgary, Alberta," marks the conclusion of the first phase of his inquiry, which began in the fall of 2014. A faculty member in the Department of Earth and Environmental Sciences, Dunmade is one of the campus's greatest advocates for sustainability, and has presented his preliminary findings to the Sustainable MRU Committee for initial implementation of the findings.
Grant Sommerfeld, associate vice-president of Facilities Management and a committee member, says, "As an institution MRU is committed to operating in a sustainable manner, and that means we must address the needs of the present without compromising the ability of future generations to meet their own needs. That's a big and multi-faceted challenge. One facet is the buildings, which use electricity and natural gas, increasing our carbon footprint. Another is how people act inside the buildings measured by the water they use and the waste they create.
"Professor Dunmade's research has identified another area where we as individuals have an opportunity to make a difference. Operating in an environmentally sustainable manner is a team effort and one where small, individual decisions add up to having a big impact. How we choose to get to campus is another one of those decisions."
What affects sustainability?
Dunmade says one of the major factors affecting our sustainability is emissions.
"The emissions from the tailpipe of a car consists of carbon dioxide, carbon monoxide, sulfur dioxide, sulfur trioxide, nitrogen dioxide, and particulate matter - two forms of which are deadly - PM10 and PM25. When inhaled, these can lead to lung cancer. Emissions depend on how well the vehicle has been maintained, the make of the car and the age of the car."
Interestingly, after surveying 1,145 members of the campus community Dunmade found that the most popular vehicle make populating Mount Royal's parking lots is the Toyota, however, the most-owned model of car is the Honda Civic, which actually has the lowest emission rating as well. The majority of the vehicles owned by Mount Royal staff and students were manufactured in 2007.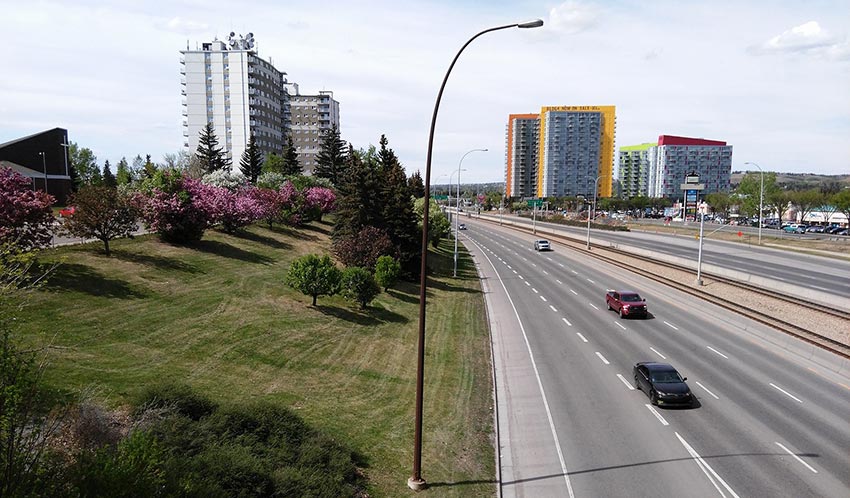 The combined results of the students, staff and faculty who responded showed that 49.3% use a personal vehicle (single occupant), 19% use public transportation, 16% carpool, 8.4% walk and 3.7% bike.
Dunmade says that those who spend 30 hours a week on campus are the least likely to take public transit. Those who spend less time - from 17 to 30 hours - use public transportation as their main method of getting to campus.
Dunmade himself admits to driving to work, as his commute using transit would take an hour and a half or more. He says that like him, the majority of the respondents would like to make changes to their method of commute, however it would be subject to some conditions.
First, they would like to see changes to the transportation infrastructure, meaning better public transit. "We found out that people want a direct transit route from their home to campus," says Dunmade, and that the development of bus rapid transit routes (BRTs) was of great importance. Good news for Mount Royal came on Nov. 13, as city council voted to follow through with the southwest leg of the city's BRT system, which will funnel transit-takers directly to the University and downtown Calgary.
The respondents also indicated they would like to see more incentives for taking transit, such as subsidies.
The next steps towards total sustainability
Dunmade's recommendations include consistent education to stakeholders about the impact of their choice of commuting on their health, on the environment and how making change can actually slow down the effects of climate change. And awareness-building must be consistent.
Another recommendation is the development of an official policy for telecommuting for staff. "There are some telecommuting options, but they are not formalized. There should be a policy for the maximum of how many hours or days a month, perhaps, that people can telecommute."
Another recommendation is possibly exploring a UPass - such as those available for students - for faculty and staff.
Work schedules should also match the timing of classes. The majority of classes or programming are scheduled in the morning, so that's when everyone climb in their cars and head to campus. This causes a number of people to only travel during rush hour, which causes more emissions as drivers are not able to operate vehicles at the appropriate speed.
"Scheduling outside of rush hour will optimize commuting," says Dunmade.
The final recommendation is to explore additional BRT options. Although BRT routes do currently serve MRU, "some would like to see (buses) arrive more often, more frequently."
The next phase of Dunmade's research will be to look at the infrastructure available on campus and how it affects choices.
"The University's management has been putting a lot of effort towards our becoming a sustainable campus," says Dunmade. "I see this research as complimenting their efforts. If you don't know where you are, you won't know the progress you are making. This kind of study helps us to know where we are so we can target how to improve."
Learn more about sustainability efforts at Mount Royal University.
Nov. 30, 2017 — Michelle Bodnar
Media request contact information.
Have a story idea? Please fill out this form.