Care in the home, not the hospital
New program will help community paramedics provide care for vulnerable patient populations without an ambulance ride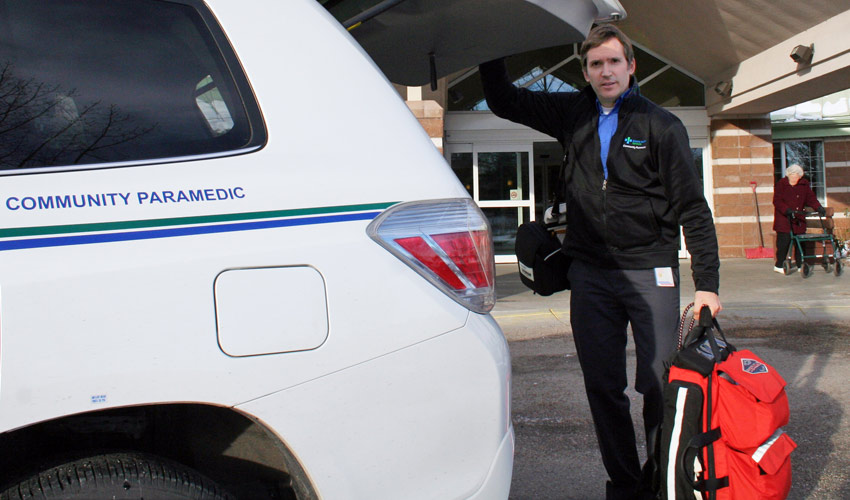 A new program from Mount Royal University's Faculty of Continuing Education and Extension, developed in collaboration with Alberta Health Services, will help paramedics provide urgent and specialized health care to vulnerable patient populations within the community.
Mount Royal University's Community Paramedicine Extension Certificate is a new program for experienced advanced care paramedics. The first of its kind in Alberta, the program consists of seven online courses and three practicum components, and launches this September.
A community paramedic delivers comprehensive primary care in a patient's home. Some examples of care include providing intravenous medication, doing an electrocardiogram and caring for wounds. They also conduct comprehensive geriatric evaluation and care, and advanced bedside testing and treatments.
"Mount Royal is thrilled to be able to provide this training for paramedics - one that, in consultation with physicians and families, reinforces the continuum of care," said Brad Mahon, PhD, interim dean of Continuing Education at Mount Royal. "Vulnerable populations, such as the chronically ill or those recently released from hospital, will be able to have care come to them."
Community paramedics are also in demand at long-term care facilities. Staff can reach out if a resident needs medical attention, rather than calling 911. Treating a resident in the facility, rather than at the hospital, relieves pressure on the emergency department and keeps more beds open.
Currently there are about 100 community paramedics practising in Calgary, Edmonton and in smaller centres across Alberta.
"This is a real growth area and provides greater efficiencies for the health system. Over the last six months, we've tripled in size to the point where we have taken in as many paramedics as we can without affecting their service levels," said Ryan Kozicky, director - EMS Mobile Integrated Healthcare with Alberta Health Services.
"Previously, we offered our program in-house over five to six weeks and a lot of the learning was done on the job," Kozicky said. "We saw the need for a longer, more structured and intensive education program through a post-secondary institution. The practicum component is an important part of that process, as students have to translate the education into practical application in the field."
Go further in your career with continuing education at Mount Royal.
July 18, 2018 ― Peter Glenn
Media request contact information.
Have a story idea? Please fill out this form.