Taking financial research to the next level
Financial analysis - particularly securities analysis - is a tough job with an enormous amount of pressure. Decisions made by financial analysts on whether to buy, sell or hold a stock can have profound effects on the business, the marketplace and on the livelihoods of individuals. In an increasingly complex financial landscape, learning how to do the hard work and to make the right call can make all the difference.
Putting themselves in the shoes of the analysts in a head-to-head competition with teams from six other universities in the prairie provinces, five students not only showed that they understood the nature of the work - they delivered the first ever win for Mount Royal at the CFA Institute Research Challenge Canadian Prairies final.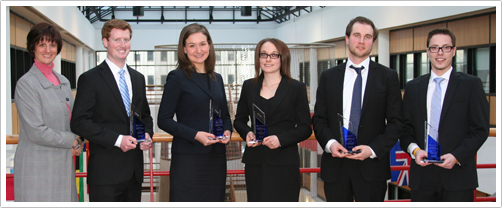 The winning team, from left to right: Faculty Advisor Cathy Roy-Heaton, Kyle Spence, Corinne Thiessen, Lisa Mongomery, John Hunt and Mark Lowen.
High stakes and high scores
The CFA Institute is the global association of Chartered Financial Analyst® designation holders, credentialed investment professionals that set the standard for performance and ethics in the investment community. The CFA Institute Research Challenge is a global competition involving teams of three to five university students who work directly with a local, publicly-traded company in researching and preparing a company analysis and presentation with an ultimate recommendation to buy, sell or hold stock in that company.
Their research report is reviewed and scored by a group of judges from the CFA Institute and the teams' final presentations are evaluated by high-profile panels of experts from top financial institutions. In 2012-2013, 775 universities and more than 3500 students are participating.
This year's team from Mount Royal includes four students from the Bissett School of Business' Bachelor of Business Administration program - John Hunt, Mark Lowen, Lisa Montgomery and Kyle Spence - and Corinne Thiessen, a student from the Bachelor of Communication - Public Relations program. Their team had the highest combined score between their analysis and their presentation, and are advancing to the Americas Regional Final that includes 47 winners from both North and South America, to be held in Toronto on March 20th and 21st. The winners of the four regional competitions advance to the global final, held in London, UK in April.
Details make the difference
Preparing a full equity valuation report on Enbridge Inc., this was only the third time that MRU has participated in the competition. The team has been developed and coached each year by Cathy Roy-Heaton, Assistant Professor and FNCE 4409 - Securities Analysis and Valuation instructor. Allan Dwyer, also an Assistant Professor, served as industry mentor to the group.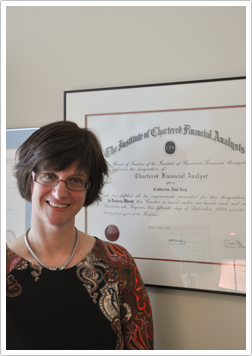 Faculty Advisor Cathy Roy-Heaton was impressed by the teamwork and detail her team put into their winning entry.
"No other inter-university competition is quite like this in terms of time commitment," says Roy-Heaton. "Successful completion of this competition requires mastery of quantitative valuation modeling, the ability to assimilate vast amounts of data and information, precise writing and confident presentation skills."
"The CFA Institute really limits the amount of assistance we as professors are allowed to provide to the students, but this year's team has put in a tremendous amount of energy and time into the project. In the weeks leading up to the competition, they could almost always be found in the Bissett building, fine tuning their presentation or getting the latest information from our Bloomberg data lab into the late hours of the evening."
The team agrees that their focus and attention to detail was likely what differentiated them from their competition. "It was intense, right up to the day of the presentation; a lot of late nights - and a lot of Timbits," laughs Mark Lowen. "We drilled down to such a degree that we even planned how we were going to stand as a team during the presentation component of the competition."
A team focus and a chance to shine
Working as a team made all the difference during those extra hours. With a blend of skills including finance, accounting and public relations, dividing and conquering the project drew on each team member's strengths and helped them go the extra mile.
As the sole BComm student working on the project, Thiessen brought a different take to the project.
"We really wanted to deliver something that would show that we had a comprehensive understanding of Enbridge. We drew on other classes and experiences beyond just securities valuation. We even built our report entirely in Adobe InDesign to add that extra layer of professionalism."
Roy-Heaton was blown away by the team's final product. "Their research report was excellent, assimilating not only financial analysis but also detailed analysis of strategy, growth, economic context, financial markets and risk. Their presentation looked beyond professional - the PowerPoint component was better than anything I could have done, and I do this for a living. Showing that diversity in skills - and the flexibility to incorporate those skills into a cohesive whole - really exemplifies the kind of professional that Bissett aspires to create."
Representing Mount Royal in a global competition
With the next round of competition in Toronto, the stakes are getting even higher for the team.
"The CFA Institute Research Challenge is such a well-run competition," says Hunt. "It's a lot more organized and a lot more structured than what we've experienced before, from the quality of judging to providing us with constant and consistent updates right up to the day of the event."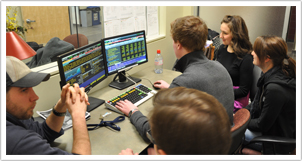 The team requires up-to-date data from Bisset's Bloomberg Lab for their presentation in Toronto.
Spence and the team are grateful for the work put in by their Bissett professors and the chance to represent Mount Royal at such a prestigious competition.
"We would like to thank our Industry Mentor Allan Dwyer and our Faculty Advisor Cathy Roy-Heaton for all of their help. It's a huge opportunity for us."
- Colin Brandt, February 28, 2013
Chartered Financial Analyst® is a trademark owned by CFA Institute.